Louise Burns, M.Sc (Guelph)
I am an experienced Designated Minister with Clergy Support Memorial Church serving my community of Kitchener and nearby areas. My background in family relations, marriage and family psychotherapy gives me the confidence and skills to ensure your ceremony is a celebration and expression of love. My intention will be to explore, listen and help you give meaning to your personalized wedding ceremony. Together we will create the ceremony to reflect who you are as individuals and the relationship and expression of love you will share with family and friends. My passion for unique, special, fun, and memorable wedding ceremonies started several decades ago for my own ceremony with my partner and children. I will provide all the support essential to reflect all your wishes and provide you with a lasting memory.
Request Louise Burns
Areas Served
Acton, Ayr, Baden, Breslau, Campbellville, Cambridge, Elmira, Elora, Fergus, Guelph, Paris, Kitchener, Mary Hill, New Hamburg, Puslinch, Rockwood, St.Agatha, St.Clements, St.Jacob, Shakespeare, Tavistock, Waterloo
Reviews
Ryan & Kseniya
Louise Burns was absolutely amazing and so easy to work with. I highly recommend her services to anyone who is getting hitched. Louise was so patient and kind throughout the entire process. A million thank yous to you! Ryan & Kseniya September 2019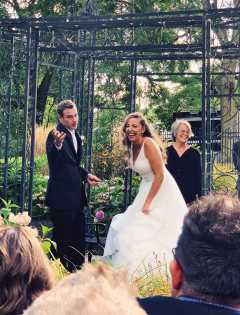 Andrew & Katie
We want to send a huge thank you to our amazing officiant, Louise Burns. Louise was not only a source of comfort on our wedding day, she was there for Andrew and I every step of the way leading up to it. The first email we received from Louise convinced us we had chosen the right person to perform our ceremony. And that feeling grew even stronger after our first in-person meeting with her. Louise is incredibly easy to talk to, and she has a natural ability to connect with couples on a personal level. Anyone who hires her as their officiant won't be disappointed. John Kerslake (from the All Seasons reservations team) was extremely helpful when we first contacted All Seasons about an officiant for our wedding, and every communication we had after that initial email was informative and professional. He was always quick to respond to our questions and made us feel valued from the beginning. Any time the opportunity comes up for us to recommend All Seasons and Louise, we will absolutely refer couples. September, 2018
Nick & Caitlin
Louise Burns met and exceeded our expectations. She met with us and helped craft a truly amazing ceremony. It was also important for us to prepare our own vows. Louise gave many helpful suggestions which we used to create vows which we forever cherish. Louise was all ways responsive and considerate of our needs and questions. From our first meeting we knew Louise was perfect for our ceremony because of the genuine interest she had for our lives. As my fiancée and I had never gone through this process before, she asked questions to learn more about us and how to design a ceremony which best represented us. I would absolutely refer Louise and All Seasons Officiants to anyone and everyone. We will never forget the dedication and time Louise put into our ceremony to make this day the most beautiful day of our lives. June, 2018
Tammy and Ed
We changed our wedding plans at the last minute and All Seasons came through for us with no problems at all. Louise Burns did an amazing job with our ceremony. She's an incredibly sweet, warm and wonderful woman. Highly recommend their services we couldn't be happier with how everything worked out! Tammy and Ed Aug 18th, 2018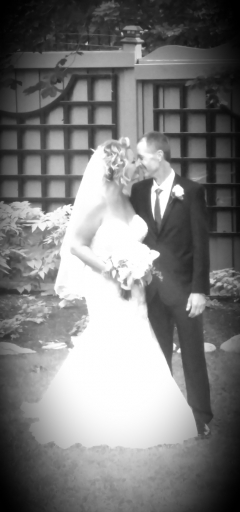 Janet & Brad
Louise Burns exceeded our expectations with her warmth, sincerity, and sense of humour. She made our wedding seem like we were getting married by a friend.
Jennifer & Steven
Louise Burns was fantastic - very helpful at guiding us with options but allowed us to make the ceremony reflect who we are, our values and style. We both thought she was perfect to marry us. She followed up with us in good time.
Christine and Jack
Thank you so much Louise Burns for making our union/reunion as special as you did. Reflecting back on this unpredictable day(the weather was wild)…we would not have had it any other way. Amongst all the ciaos there was a magical moment of "letting go" that propelled us into such a beautiful sharing. Your lead into our ceremony was kind and sincere and you captured our mighty families attention with your words and your presence. Jack and I are married now and we are so very happy that it was you that sealed our love with this commitment." Have a beautiful day Natasha,
Sara & Michael
Working with Louise was a dream. From day one, she worked with us intimately to get to know us and craft our ceremony so that it fit us as a couple perfectly. Her kindness and compassion for her job shined through beautifully. She had amazing suggestions for how to structure our ceremony, but she also listened to our needs and preferences and incorporated them seamlessly. She was very easy to communicate with throughout the process. On our wedding day she officiated the ceremony with a full heart that touched us, as well as our guests, very deeply. She did so much to make this amazing time in our lives very special!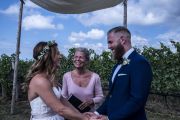 Jackie and Jonesty
Louise was amazing!! My wife and I feel we made the best choice. She was so very helpful and kind. She made our ceremony extra special.