Linda Kasprzak, BA, MBA
Born and raised in rural England, I now call Stoney Creek my home. With an education in world religions, I have a deep respect and understanding for all religious and spiritual beliefs. I am an inclusive, enthusiastic person with a great sense of humor, yet very professional with a keen eye for the detail that makes your wedding perfectly memorable. I am licensed to conduct weddings as a designated minister by the Province of Ontario.
Request Linda Kasprzak
Areas Served
Stoney Creek, Burlington, Hamilton, Dundas, Ancaster, Oakville
Reviews
Lynsey and Steve
Linda (Kasprzak)!!! Where do we begin. That was the most wonderful ceremony we could have ever asked for. I was a bawling mess. Those vows were just so true to our heart I couldn't cope. Thank you so much for making our day so amazing. Everyone loved you and your ceremony. You made that ceremony the most special part of our day. We can't thank you enough for what you have done for us. Lynsey & Steve February 2020
Colin and Megan
Thank you so much, Linda (Kasprzak). You did a spectacular job and got a lot of compliments from our guests! The boutineers was definitely a highlight of the decor for us as well. We spent a lot of time designing and building them. We both successfully choked out our vows over near tears. Overall I'm glad I could speak :)Thank you for the forms and advice. We will let you know if we have any questions or hit any snags in the process. Thank you again, and we hope to run into you at a coffee shop in the future! Colin & Megan February 2020
Michelle & David
It was such a pleasure having Linda Kasprzak as our officiant. What we truly appreciated was the fact that she had us very involved in the creation of our ceremony. She gave us support and guidance to get our ceremony to where we wanted it to be - it fit us perfectly! It was very personal and full of content that will tear at your heartstrings! During our wedding she made us feel very comfortable and if you like humour she is the one for you! Thank you for everything Linda! Michelle & David Sept 2019
Michelle & Matthew
We were so pleased to have Linda Kasprzak be part of our big day. We loved what she wrote down for our special day. It was very well written. She made us feel comfortable when we were both really nervous, and she was also funny which we both loved and made the nerves calm down. After the ceremony we were asked so many times where we found her as everyone thought she did such a great job. She captured all the guests and made the day a memorable one! Thank you so much Linda for being part of our day, we will never forget it! Michelle & Matthew, September 2019
Mathew & Michelle
Linda Kasprzak was amazing ! Thank you so much!!! For everything everyone of our guest commented on how great you were! We really appreciate it. Mathew & Michelle September 2019
Kristina and Michael
Linda (Kasprzak) took the time to meet and get to know us, helped us create a beautiful ceremony and was open to customizing the ceremony to suit us. She also inspired us as we worked on our personalized vows. On the day of, she did not mind waiting a few minutes while late-comers took their seats. During emotional moments of the ceremony, she helped guide us through. She was a pleasure to work with and our guests loved her! Thank you so much, Linda! Kristina and Michael. July 2019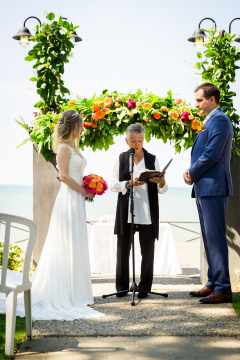 Brad & Cindy
Linda Kasprzak was a very lovely professional lady, she made our special day more special with her poem and vows. Thank you Linda! Brad & Cindy June 2019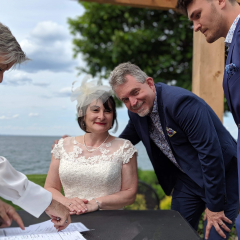 Brad & Cindy
Thank you very much Linda Kasprzak for the best wishes, and for sharing our special day. Our wedding day was truly special. Brad and I are so very pleased with the wedding ceremony it was wonderful!Thank you again for everything. Brad & Cindy June 2019
Mike & Jessica
Thank you so much Linda Kasprzak ! We loved how the ceremony was structured and we had many compliments on how well it was done. We can't wait to see the video and the reactions of our guests. Thanks again Linda. Mike & Jessica June 2019
Katie and Alexander
Linda was very helpful and professional! We were able to meet with her multiple times and she helped us create the ceremony, and respected our choices whenever we wanted to make changes. Linda was very easy-going and willing to roll with the punches – she didn't mind waiting a few minutes when a guest was running late, and didn't mind performing the ceremony outside even though it was raining and there was no cover! She has a wonderful speaking voice, and we loved how she included all our guests by asking them to shout 'Yes' if they supported the marriage. The ceremony was short and sweet and everything we wanted. We would definitely recommend Linda to anyone getting married! October 7th, 2018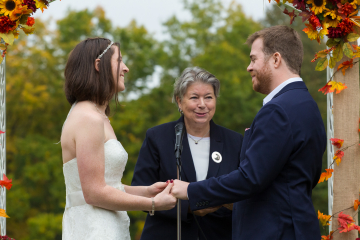 Farah and Kody
Hi Linda, Everyone came and told us how amazing you are and asked where we found you! We have many friends yet to be married so we will be sending them your way - haha. Thank you for everything!
Sheila and Scott
Hi Linda. Scott and I wanted to thank you so very much for officiating our wedding. It turned out beautiful. We really appreciated everything you did. I am so sorry I didn't get to thank you that night. I have it marked on the calendar to apply for the certificate. My maid of honor Joyce and I made the lights the week before the wedding, Thank you they turned out beautiful. The chapel was great. Everyone loved the service. Sorry I didn't get back to you sooner, we left the next morning to Punta Cana for our honeymoon for a week. Thank you again so very much!
Angie & Adam
Linda (Kasprzak) was an absolute joy to work with. Her wit, humour, experience and flexibility in terms of tailoring the ceremony made the entire process so smooth and easy. We are so happy and grateful that she was our officiant and a part of our memorable day. Angie & Adam, August 2018
Monica & Darren
Hi Linda, Thank you for the heartwarming service. You did a beautiful job. Thank you for all your help that made it painless! Best Wishes.
Anna & Carmen
Thank you so much, Linda, for officiating our wedding. You made it fun, heartfelt, beautiful and each time I read your poem I cry!! I cannot imagine it any other way. Thank you so much!!!
Rachel and Huk
Linda performed my wedding ceremony on May 19th and she was absolutely perfect. She gave us some tips and tricks prior to the ceremony that came in very handy. She was calm and available to use anytime we needed her. She was prompt with replying to emails. The ceremony was tailored to my husband and I- she allowed us to pick any readings we wanted to include. She allowed us to make the ceremony what we wanted. She was instrumental when we were writing our vows and helped us with the structure. She made everything go so seamlessly, and her calming presence during the ceremony helped me stay calm when i was about to break down during the vows! I would definitely recommend Linda to a couple looking to get married, without a second thought! Thank you Linda K. and Thank you All Seasons Weddings for making the process so seamless. Mr. and Mrs. Komlan
Dale & Diana
Thank you so much Linda (Kasprzak) for everything yesterday. It was an absolutely beautiful ceremony and Dale and I were both so thrilled that you were there with us. So many of our friends and family members commented on how much they loved the ceremony as well.
Richard & Bernadette
Thank you so much, Linda. It was the perfect day to get married! You did a fantastic job with the ceremony and I can't thank you enough for making this day special for both of us!
Richard and Mano
Thank you kindly for everything, Linda. The service was beautiful and I can't tell you enough how happy we are to have found you. You were amazing, maybe we will meet again for our friend Charlene's wedding! Mr & Mrs. Gayle! :)
Leanne, Bob and Finley.
Thank you so much for doing the ceremony today. Everyone was saying you have the perfect voice for baptizing babies...so soft and loving. We really appreciate the time you took to create such a beautiful ceremony for Finley. We wish you a very merry Christmas and a lovely new year.
Karen and Ian Heulens
Thank you so much for everything you have done for us.The ceremony was so beautiful. We had so many compliments. We didn't get a photo with you, I should have asked you to stay for a few minutes when we talked upstairs and I forgot. Thank you again!
Michele & Chad
Linda was exactly what we were looking for. She went the extra mile and followed through on all expectation.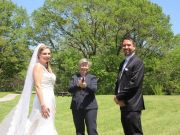 Michelle & Daniel
Linda is absolutely fantastic. We clicked from our first conversation and enjoyed the entire process with her. Linda took the time to get to know us, our story, and our sense of humour which helped to tailor our ceremony perfectly to us. We shared so many laughs during our chats and our ceremony was absolutely perfect. We have had so many compliments. Would absolutely 100% recommend Linda
Sharon and Rob
Thank you for making our ceremony so perfect, it was everything Rob and I had hoped for.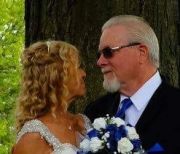 Sherry and Mike
Thank you Linda for your absolutely wonderful ceremony. Everyone loved it
Natasha & Jeff
Hi Linda, thanks for doing our ceremony. We couldn't have choosen anyone better, you really were the best part of the planning process. Jeff and i truly appreciate everything you did. Once again our deepest thanks,
Kuda Anaya and Samuel
Thank you so much Linda for your services, you were more than appreciated!
Kathryn and Scott
Thank you so much Linda - it was such a lovely day and the way it all turned out exceeded our hopes! We had many compliments on the ceremony and our vows. Thank you for being such an important part of our day - you were a very calming presence.
Stephenie and Eric
Thank you Linda! You completed such an exceptional ceremony for our special day! We cannot thank you enough.
Carla and Mark
Thank you Linda from the bottom of our hearts for performing such a lovely ceremony, it was exactly everthing we hoped for. We have been married for a week now and couldn't be happier. You are wonderful at what you do. Thanks again,
Serina and Hakim
Hakim and I can't thank you enough for the beautiful ceremony that you preformed and for being such a trooper in enduring the chilly weather. It was more than perfect in every single way. Thank you again for making our ceremony so very memorable.
Kirsten & James
Thank you times a million! You were so calming and comforting for us during such an emotional and exciting time! We can't thank you enough!
Randy & Ruby
Thank you so much for providing such a lovely and thoughtful ceremony. It was wonderful to meet you. We loved your words.
Kelly and Mike
We felt at ease right away with Linda (Kasprzak). She made my husband and I so comfortable we were actually able to say our vows. She helped us incorporate all of the "special" touches in our ceremony and offered up ways to ensure the integrity and flow of the ceremony was seamless. Our outdoor wedding turned into an indoor wedding only hours before the ceremony (hurricane up the eastern seaboard created gale like winds and cold drizzling rain!) Linda handled the entire upset with grace and ease and helped our wedding party make it seem like it was supposed to be that way all along. Many people since have praised our decision to have Linda as our officiant. Funny, professional, personable and we were all impressed. Thanks for making our ceremony beautiful and unforgettable for us and our guests...very truly Kelly and Mike
Christine & Nick
Linda Kasprzak exceeded any expectations we could have had! She was funny and light, and had excellent words of wisdom for us along the way. Linda gave us plenty of information regarding what we should expect in terms of the legalities, and had plenty of suggestions for us while we were writing our vows. I would refer Linda to everyone!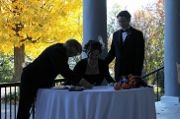 Edward & Graeme
Linda Kasprzak was an excellent choice for us. We were very pleased with her services from start to finish.Very helpful AND efficient. I would have no reservations in referring your services.
Melissa & Mark
Linda Kasprzak was fabulous. It was a blast working with her on our ceremony and she was so easy to talk to and funny. She did a great job on the wedding day having her there calmed my nerves. I would definitely recommend Linda and All Seasons to anyone I know getting married.
Sarah & Andrew
Linda Kasprzak was very friendly and professional. She provided us with a ceremony script and was very receptive to the changes that we made to it. She arrived promptly and had the revised script ready, and she delivered it confidently and beautifully. I highly recommend Linda, you won't be disappointed!
Jennifer & Michael
Linda Kasprzak was simply amazing - she helped our whole ceremony be stress-free! Everyone enjoyed themselves and we got so many compliments on how lovely the ceremony was. Thank you Linda!!!!
Brittany & Mike
Linda Kasprzak was amazing!!! everyone loved her sense of humour!
Francoise and John
Linda Kasprzak performed our ceremony we were very happy with Linda. Linda is the epitome of professionalism and made our day very special. Our thanks to Linda for all of her help.
Brent & Amanda
Linda Kasprzak was fantastic, we loved the fact that she let us customise the ceremony to fit our needs. She was very good with following-up and she made sure we were happy with our ceremony. All the feedback we got from our guests was that they loved the ceremony.
Louise & Frank
Linda was very professional and helpful to our planning of the ceremony and had tips on what to avoid. The service that Linda conducted for us was wonderful. Linda understood what we wanted and was able to accommodate that need. She was friendly to our guests and helped us feel at ease with everything that was going on. It was as though we were being married by a friend.
Jennifer & James
Linda Kasprzak exceeded my expectations. She was available to discuss our wedding plans on various occasions over the phone, in person, and via email. She has a beautiful way with words and was able to rework the ceremony script to add in our own special flare. In addition the office staff were very friendly and organized. What a lovely team you have.
Suzanne & Don
Linda Kasprzak was wonderful! Our ceremony was perfect and exactly as I wanted it. I would refer others to All Seasons Weddings. It was easy to do everything online and our officiant was willing to work with us so the service was exactly what we wanted.