Leigh Doughty, B.A., C.M.O
Leigh was born and raised in Peterborough, Ontario. With an undergraduate in Public Administration from the University of Victoria and a B.A. in Canadian History from Trent University, Leigh has worked in government for over twenty years. She is a certified municipal officer and an experienced wedding officiant, conducting more than 200 wedding ceremonies since 2005. Leigh firmly believes in the right of couples to plan the special ceremony of their choosing. With confidence and experience, she looks forward to working with you to ensure your wedding ceremony is creative, unique, memorable, and reflects the values and sentiment you wish to bring to your special day.
Request Leigh Doughty
Areas Served
Peterborough, Cavan, Fraserville, Keene, Lakefield, Millbrook, Omemee, Otonabee-South Monaghan, Bailieboro, Pontypool, Bethany, Bewdley, Bridgenorth, Ennismore, Warsaw, Douro-Dummer.
Reviews
Andrew & Sarah
Leigh Doughty did an amazing job on all aspects! 100/100 happy!! Thank you for everything. Andrew & Sarah October 2019
Kevin & Sierra
Leigh Doughty was so very helpful and approachable throughout our whole wedding process! She was amazing to work with and made the planning of the ceremony so easy, she even asked questions that I hadn't even thought of! I'm so glad Leigh was able marry us and I would definitely recommend her to other couples! Kevin & Sierra July 2019
Denis & Jenna
Leigh Doughty was amazing!! So prompt, professional, and knowledgeable. All around exactly what we were hoping for. Thank you Leigh! Denis & Jenna June 2019
Dijon & Richard
Leigh Doughty was a delight and so kind and as excited as we were for our wedding. We are extremely satisfied and will recommend her without hesitation to any friends who decide to tie the knot in the future. We will definitely refer any friends or family to your service and recommend Leigh as well.
Terry & Roberta
Leigh Doughty not only met our expectations, she exceeded them. We planned our ceremony on really short notice and were treated with courtesy and prompt efficiency. We could not have been happier with Leigh as our officiant. She was gracious and thoughtful and her reading of the service reflected these qualities. Our ceremony was small, just the two of us and our two best friends as our witnesses. The intimacy and simplicity that we wanted was carried out beautifully by Leigh and we are so happy that she was our officiant. Many Thanks Leigh and All Seasons Weddings for providing us with such great service and such a great person as our officiant.
Marie & Josh
Leigh Doughty was amazing. She put up with 50km/hr wind gusts to allow Josh and I have our dream ceremony by the lake.
Dyan & Rebecca
Leigh Doughty was awesome. Our ceremony was beautiful and perfect and she was very accommodating to our needs. The reservations office was very helpful. Thrilled with the service from All Seasons. We also really appreciated the separate listing of people who were interested in officiating gay weddings. That way we knew we were getting a supportive officiant.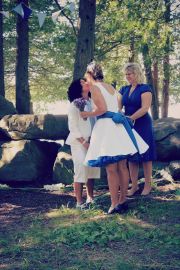 Michelle & Kevin
Leigh Doughty was amazing! We received many compliments from our guest about here. She had a great personality all the way from her smile and the way she dressed. I would definitely recommend her! She did a great job with the ceremony.
Lori-Anne & Rocky
Leigh Doughty was very thorough and informative as she walked us through the process of creating a ceremony uniquely designed to meet our needs. If anyone is looking for a stress free and enjoyable experience with people who can represent themselves with a professional approach then we believe All Seasons Weddings can provide that. Leigh was a wonderful addition to our wedding, would recommend her services.