Leah Elliott
Leah lives in Markham and is a happy, outgoing, down-to-earth professional, and who will be available to celebrate weddings until December 31, 2022. As a wedding planner for over 10 years she is privileged to have met and helped over 200 unique couples. Originally from Vancouver, Leah has a deep connection with nature and a spiritual side that reflects her belief in respecting one another and the world around us. A mother of two boys, she is unfailingly patient and has a great sense of humour. Leah is an Appointed Minister with Clergy Support Church.
Request Leah Elliott
Areas Served
Markham, Unionville, Stouffville, Richmond Hill, Thornhill, Pickering, Ajax, Whitby, Claremont, Brooklin, Uxbridge, Sharon, Mt Albert, Port Perry, Oshawa, Ballantrae, East Gwillimbury, Aurora, Newmarket, Kettleby, King City, Vaughan, Woodbridge, Etobicoke, Gormley, Maple, Keswick, Georgina, Sutton, Jackson's Point, Sunderland, Sutton, Goodwood, Utica, Pefferlaw, Udora, Concord, Holland Landing, Kleinburg, Greenbank, Brock, Pottageville, Bradford, West Gwillimbury
Reviews
Jonathan & Stephanie
Leah Elliott was amazing to work with. Super friendly, answered many of our questions and even went as far as to make helpful suggestions for possible venues when we were struggling to find something due to Covid regulations. She did a beautiful job with the ceremony, and was very accommodating. We could not have been happier. April 2022
Ryan & Marie-Claude
Leah Elliott was lovely. She did an awesome job and made everybody really comfortable. Ryan & Marie-Claude October 2020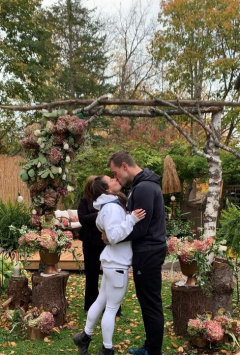 James & Tara
Leah Elliott was FANTASTIC! Professional, warm, friendly and did a great job on the ceremony. Leah surpassed our expectations. We had a short notice, small COVID wedding, and Leah was helped us turn it into something very special. James & Tara October 2020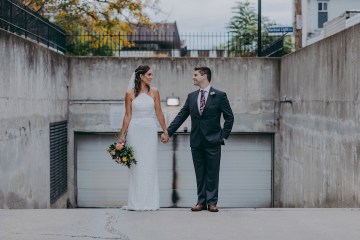 Kevin & Christi
Leah Elliott was amazing! She was able to perform our ceremony on short notice and was extremely helpful. She was very kind, understanding and patient. She is just awesome. Kevin & Christi December 2019
Mark & Sam
Leah Elliott was very helpful; very approachable. She went above and beyond to make sure our day was smooth. Thank you Leah! Mark & Sam August 2019
Michelle & Travis
We both just wanted to say thank you again for everything, you made it super easy and comfortable and were so glad we had you to marry us! Thank You, Michelle & Travis
Gord and Diana
Dear Leah (Elliott): Thank you so much. Everyone commented on how relaxed and great the ceremony was. We really lucked out with an amazing day. If you ever need a reference you let us know! With love, Gord and Diana
Kaitlyn & Brandon
Leah Elliott was extremely kind and helpful all the way through! We wanted a friend to be involved in the ceremony and she was helpful in making this happen, and was supportive with feedback to help her do a great job. She was very thorough in explaining how the day would go, which made us feel very prepared. On the day of she was calm an organized and seemed genuinely excited for us . We are so glad to have had Leah be a part of our day!
Preston & Meaghan
Absolutely, entirely, thoroughly, and much beyond our expectations. Leah Elliott was the most polite and kind women with a humbling demeanor. We had a beautiful surrounding for our ceremony and with Leah standing by our side we felt comfortable and calm. Leah simply radiates good vibes!
Jessica & Jon
Leah Elliot was amazing. She made my husband and I very comfortable and i funny so that helped a lot when i got nervous walking down the aisle with lots of people watching me. Thank You Leah! You were EXACTLY what type of officiant I wanted to marry my husband and I!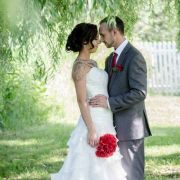 Mary & Andrew
We loved Leah! I felt like family with her!! She was truly amazing!! Would love to get married again just to have her join us!!
Erica & Nat
Leah Elliott was incredibly accommodating, meeting with us and allowing us to tailor the ceremony with less than a week's notice. She was incredibly friendly throughout and conducted the ceremony with gentleness and meaning. It was exactly what we were looking for. She also loves animals, and how could that not be a plus! Thank you, Leah, for playing such an important part of this day for us.
Carrie & Todd
Leah Elliot exceeded our expectations - an utterly perfect ceremony. She was so wonderful, even in our downpour of a ceremony. Couldn't have asked for anyone better!
Dan & Melissa
Both myself and my now husband were a bit nervous about the whole officiant thing..lol. We are not religious and didn't know what to expect. I found booking the officiant was very easy online and the blog/reviews help. I selected Leah (Elliott) and we spoke on the phone prior, which was a bit awkward, as I didn't really know what to ask her yet. When Dan and I met Leah in person it was very relaxed and I found Leah very personable, easy going and always smiling!! I'm glad we met prior so I felt more relaxed the day of the wedding. She helped us with the details we didn't even think of yet and she had some good ideas/suggestions. I feel that we selected the right officiant, our vows were great and exactly what we were looking for, we didn't really personalize them but what Leah gave us is pretty much what we wanted to say. Everything went well the day of our wedding and I would totally recommend Leah to any of my friends/family!! Thanks again!! Dan & Melissa
Jodi & Greg
Leah Elliott was amazing. She made us feel comfortable from the beginning. We will definitely refer her to any of our friends and family who may be getting married. She made our day truly wonderful.
Desiree and Jon
Leah Elliott did an AMAZING job. She really went above and beyond for us! Leah was very easy to talk to, making arrangements to meet with her was no hassle at all.. She is a great woman and choosing her for an officiant would be the BEST decision you've ever made! Thank You Leah :)