Larry Lepack
Larry and his wife live in Renfrew, ON. You will find him a caring, people-oriented person who is honest and dedicated to helping couples with their wedding ceremony. Larry is a father and grandfather, and he himself has been married over 40 years. As a Designated Minister he was educated at Canadore College, North Bay, ON, he went on to spend a long and distinguished career helping others. Larry's hobbies include a good round of golf, curling, cooking and fishing. Larry is licenced in Ontario and Quebec and brings to the table a lot of life experiences to help couples celebrate your special day, your way! He is one of our most requested officiants in Eastern Ontario.
Request Larry Lepack
Areas Served
Arnprior, Cobden, Haley Station, Pakenham, White Lake, Calabogie, Burnstown, Douglas, Eganville, Braeside, Dacre, Mount St. Patrick, Fitzroy Harbour, Renfrew County, Campbells Bay, Shawville, Horton, Pembroke, Mcnab- Braeside, Beachburg, Forester Falls
Reviews
Dawson & Suzanne
Larry Lepack was very professional and personable during our ceremony and made it fun. he was also great to deal with leading up to the wedding and answered any questions I had. We would definitely recommend him. October 2022
Zachary & Samara
Larry Lepack was amazing to work with, and we are so thankful we had him apart of our day! September 2022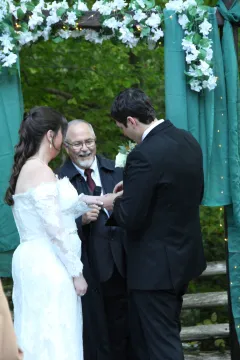 Melanie & Wayne
Larry Lepack met all our expectations. It was a beautiful ceremony. We had so many compliments from our guests about it. September 2022
David & Crystal
Larry Lepack helped make our special day perfect , We are very thankful to him to have been part of our day . May 2022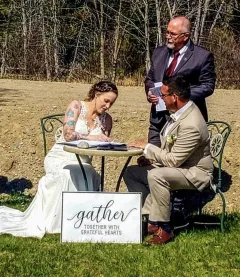 Chris & Samantha
Larry Lepack was absolutely amazing! He met and far exceeded our expectations! Planning a wedding can have its stressful parts but we didn't have to worry about a single thing when it came to our ceremony and officiant. He took care of the majorly of the paperwork and answered any questions we had. We wanted to have a different kind of wedding and he had no issues accommodating us! Many of our friends have been married by Larry as well and we're happy to join the club! Thank you for everything! October 2021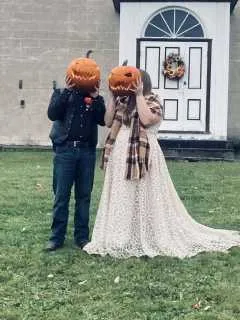 Leanne & Scott
Larry Lepack is a wonderful officiant! Helpful, professional, efficient with a side slice of humour! Larry helped us have a wonderful day. No fuss and simple suggestions which was exactly what we were looking for at our chosen venue. Our wedding vows and service were perfect. Thank you Larry for being part of our special day. Love, laughter & happily ever after! September 2021
David & Emma
Larry Lepack exceeded our expectations. Our evening with Larry was nothing short of perfect! September 2021
Vance & Pauline
Larry Lepack was absolutely excellent. His professionalism, sense of humour and personal touches during the ceremony made our day even more special. Would highly recommend Larry to anyone that would like to use the services of a wedding officiant. February 2021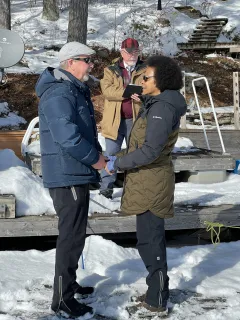 Ali & Monida
Larry was a great, friendly and personable officiant. He went above and beyond through every step and made the whole process as easy as possible, which we really appreciated - especially during a pandemic. Due to the uncertainty of the pandemic, our plans were up in the air and changed quite a bit, but Larry was so accommodating and helpful throughout! We can't thank him enough for being part of our special day! June 2020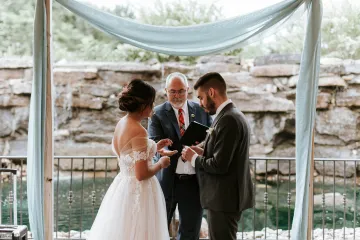 Stephanie & Joby
Larry Lepack exceeded our expectations. He was fantastic, easy to work with, professional and personalized our ceremony to suit us perfectly, plus he kept our guests entertained. He had many great ceremonies to choose from, ranging from spiritual to religious to non-denominational. Our daughter wouldn't leave my arms for the majority of the service but Larry just went with it! When we were in uncontrollable laughter he just casually ask, "are we good to continue?" with a chuckle! We received so many compliments regarding our ceremony, the most common one was that "it was the funniest ceremony they have ever witnessed; that was great!" Our ceremony could only be as good as our officiant, and it was better than good, it was great! I can't say enough good about Larry. You won't be disappointed if you decide to work with him and allow for him to celebrate your day with you! Thank you Larry for making our day extra-special and full of laughter! Stephanie & Joby Chapman February 29, 2020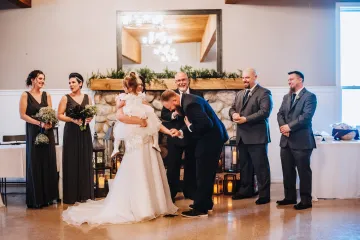 James & Adriene
Larry Lepack was amazing and very accommodating. He worked with us over multiple days well into the evening as our wedding date and times were changing. I would highly recommend his services! James & Adriene March 2020
Celine and Arlane
Larry (Lepack)'s years of experience as an officiant helped make our day perfect! He had amazing suggestions that not only enhanced our ceremony but also our connection. I would strongly recommend him as your officiant for your special day. Celine and Arlane December 2019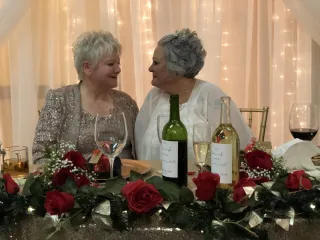 Reginald & Catherine
Larry Lepack provided solid support as I worked through the details of preparing for our wedding. He assisted with the licence procural, catching errors that would have complicated things further down the road, plus provided guidance with the service selection. Larry was flexible, accommodating and his calm nature, smile and sense of humour were significant contributions in adding to the perfection of our day. Reginald & Catherine August 2019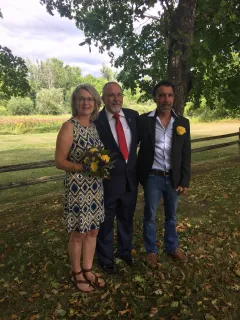 Rick & Melissa
Larry Lepack was amazing! He is very friendly and knowledgeable. He made the whole ceremony a breeze. We highly recommend him! Rick & Melissa October 2019
Derek & Laura
We are so pleased we decided to have Larry Lepack be our officiant. Shortly after booking, Larry gave us a call and warmly congratulated the two of us on our engagement and answered any questions we had. Larry provided us with numerous readings to choose from and was flexible with adding shorter readings and combining a few together. He also provided an easy to follow guide on how to obtain our marriage license and even reviewed our copy before our planning meeting to ensure everything was correct. It is such a relief to have someone guide you through these steps as for some couples, it is their first time going through this process. He met my husband and I at my parents place for our planning meeting and thoroughly went through our ceremony and truly made us feel like we had a good understand of how the ceremony would flow. On our big day Larry was so welcoming, friendly, funny and attentive. The guests loved his extra personality and humor added into our ceremony. Thank you again Larry for all your help!! Our day was perfect! Derek & Laura September 2019
Keith & Mary
Larry Lepack was wonderful we liked him the moment we met him very professional and funny thanks again Larry for our awesome wedding vows we were not much help but you said everything that we needed. Keith & Mary August 2019
Sasha & Brittany
Larry Lepack exceeded our expectations. He was amazing and friendly and made sure that our ceremony was 'us' ! He made sure we were totally comfortable with everything and answered any questions or concerns we had. He made it feel like he has known us for years and really brought the whole crowd together during our ceremony. It was a day we will remember forever. our needs were met instantly. We were always aware of what was happening and were in complete understanding. Thank you so much. Thank you so much! Sasha & Brittany. July 2019
Kaitlyn & Jason
Larry was great from the first time we booked him two years ago and succeeded our expectations on our wedding day. Larry made our day personable, about Jason and my love for one another, and even added humour! Jason and I would recommend Larry to anyone looking for a officiant, and can not thank Larry enough for all the hard work he put into making Jason and my day amazing! Thank you so much. April, 2019.
Meagan & Corrie
Larry Lepack was incredibly accommodating as we were from out of town and were only able to meet at certain times. He was prompt with email replies and was very pleasant to speak with over the phone. The process of planning our ceremony was very enjoyable, and Larry was very helpful in helping with the flow of the ceremony. All Seasons was prompt with all correspondence, we had to change the time of our ceremony slightly and they were very helpful with the process. When we were looking at previous comments and reviews on All Seasons, we knew Larry was the perfect fit for our ceremony. Our service was beautiful, with some humor to it as that was what we wanted. The groom stumbled a little during a part of the vows and Larry was very reassuring with him and helped him through it. Afterwards, we had several comments from our guests on how beautiful the ceremony was and how much they enjoyed it. October, 2018.
Sarah & Robbie
Larry Lepack went above and beyond for us! From the moment we booked him he helped us every step of the way! September, 2018.
Kelly & Adam
Larry Lepack was absolutely fantastic! He was well prepared, spoke clearly, and was funny! I would definitely recommend him to anyone. He made the ceremony part of the night feel special and magical. He worked with us to ensure that the ceremony was exactly what we wanted. Again, I can't recommend him highly enough. Kelly & Adam Dec 2018
Karrie & Evan
Larry Lepack immediately put us at ease and had all the answers to the many questions we had. He listened to what we wanted so he could deliver the most amazing ceremony and we couldn't have been happier with the outcome. He even had the tissues ready when happy tears flowed. Even our family and friends have been gushing about how the ceremony was so us and how friendly Larry was even after the ceremony was finished. We couldn't be happier with how our married life began with lots of smiles and laughter! Thanks again Larry. Your awesomeness totally shined through in everything you did ? Karrie & Evan Nov 2018
Trish & Jason
Both of us wish to extend a heartfelt "Thank you!" to Larry (Lepack) for agreeing to officiate our wedding. Right from the beginning we felt completely at ease with him in guiding us on our journey. Professional, polite, funny and extremely helpful, Larry contributed in a big way in helping to create the perfect ceremony for us. We cannot say enough about how great Larry was and will recommend him to anyone in the area searching for "the right" officiant! THANK YOU! ~Trish & Jason
Ali & Ed
On 20 May 2017 Larry Lepack officiated our wedding. Larry spoke so eloquently and with so much love and affection. He captivated our guests and they hung onto his every word. He was very professional, kind, laid back, calm and certainly organized. Larry was also extremely helpful leading up to the wedding and was always available if we had questions or if we wanted to change something. He was also very helpful when writing our own vows. He made the process less stressful with being open and understanding and he was also very flexible and we cannot thank him enough for allowing our best friend to assist him in the officiating. My husband and I could not have asked for a more perfect wedding and we owe that largely to the amazing job Larry did. Without a doubt we would recommend Larry Lepack to anyone who is looking for an officiant. He is a genuine soul and my husband and I are lucky to have him part of our day. Thank you Larry from the bottom of our hearts! Ali & Ed
Robyn & Ben
We got married on July 31 at Wilderness Tours. Larry was an amazing, kind, approachable, and professional officiant. I would recommend his services to anybody. He made himself available when we needed him, and went above and beyond mailing our certificates out and explaining how everything worked. I frankly can't believe how well priced he was for the level of service we received.
Erika & Patrick
On behalf of Patrick and I, thank you for officianting our wedding. You were an extremely professional and accommodating officiant who executed our ceremony flawlessly. We will definitely be recommending your services to family and friends. Thank you again and all the best.
Kira and Mike
Our wedding would not have been the same without you Thank you for the endless love and support you have shown us throughout the years Much Love and Appreciation
Jessica & Kévin
We would like to thank you for helping us in one of the biggest days in our lives. We could not have asked for a better celebrant than Mr. Lepack. He provided an excellent service and we are very happy with the results. Thank you, Jessica & Kévin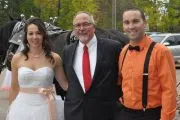 Hallie & Kenny
Hi Larry (Lepack), Thank you so much for everything!! You made our wedding special and a day we will never forget! Thank you for everything you have done for our ceremony it was perfect! You are truly an amazing officiant! Thank you for the wishes :) Hallie & Kenny 09/24/2016
Paula & Pierre
Larry Lepack was wonderful!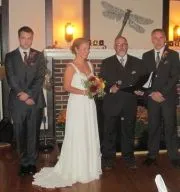 Tara & Warren
Larry Lepack was simply wonderful. He was genuine, friendly and professional. He made us both feel at ease very quickly. He was supportive and helpful during our planning meeting and our service turned out to be absolutely perfect for us. Larry is an all around lovely person that we were lucky to meet and who we would definitely recommend to others!
Jess and Adam
" Even though we were unable to meet Larry face to face before the ceremony; we felt very comfortable and natural with him as our officiant. He was calm and cool when it mattered and he made us laugh before our emotions could get the best of us. Overall he was very professional, passionate about his role in our day, and an absolute pleasure to work with! We would absolutely recommend him to friends and family."
Jason and Sara
Larry Lepack was simply amazing to work with, from the phone calls months before our wedding, to our pre wedding meeting in person, and of course on our wedding day, he was truly fantastic and helped make our day a perfect one! Larry had many suggestions that we would have not thought of on our own. Sara and I cannot thank him enough! I would highly recommend Mr. Lepack.
Emily & Mike
Larry Lepack was fantastic, he was lovely to work with and made the ceremony component to our day memorable and in line with our vision.
April & Trent
Larry Lepack was an amazing officiant. He was very friendly and professional. Larry made sure that everything ran smoothly and we are so greatful that we had him to marry us. Larry was very helpful and I would recommend Larry's services to anyone. Larry exceeded out expectations as an Officiant.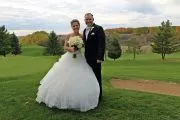 Sean and Allison
Hey Larry, Both Allison and I were beyond impressed with the wedding ceremony. We got compliments from everyone about how great it was. Even my extremely Roman catholic grandma was impressed!! Thank you so much again, and we will be referring you to anyone we can send your way! Thanks again,
Patricia & Claude
Our wedding was just what we hoped for. Thank you for your service. Larry Lepack did a wonderful job. Planning my wedding wasnt easy since it was 10 hours from where I live but finding All Seasons made my planning so much easier Thank you so much! Take care. I will definitely pass the good word forward.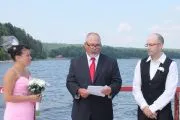 Tanya & Mike
Larry Lepack was awesome - and funny :) Thank-you!!