Kim Adeney
Congratulations on your happy news! Award winning officiant Kim Adeney has happily served couples in the Greater Toronto Area since 2006 and would love to be part of your plans. From backyards to banquet halls, surrounded by a small group of loved ones to hundreds of family and friends, she draws on the experience of over 500 weddings to help you put together your perfect ceremony, from beginning to end. With her warm personality, winning smile, compassionate spirit and professional nature, she will happily honour your needs, traditions and vision to create the ceremony you have always dreamed of. As a skilled event planner, she will also help design how your ceremony will unfold, moment by moment, from the time your guests arrive to the time she pronounces you to be a married couple! Skilled with traditional and modern, intercultural and relaxed ceremonies, she will help weave together the wedding of your dreams. Kim holds a prestigious international Wedding Industry Experts Award and is featured on episodes of television's Where To I Do and Crazy Beautiful Weddings. She is an Appointed Minister with Clergy Support Church and also conducts baptisms. Let Kim make your big day the perfect day!
Request Kim Adeney
Areas Served
Aurora, Bolton, Bradford, Brampton, Caledon, Concord, Etobicoke, Georgetown, Holland Landing, Keswick, King City, Markham, Mississauga, Newmarket, Richmond Hill, Scarborough, Stouffville, Sutton, Thornhill, Toronto, Toronto - Downtown, Unionville, Uxbridge, Vaughan, Woodbridge
Reviews
Amanda & Leon
Kim Adeney was absolutely wonderful. She was was extremely timely and thorough with answering all our questions. She is ridiculously organized and personable. Kim even graciously paused mid ceremony so our son could pee! Looking forward to using Kim again when Covid protocols allow us to have our dream wedding! Amanda & Leon July 2021
Brett & Amanda
Kim Adeney exceeded our expectations. She is a warm and kind person. She made us feel so comfortable, explained everything and decreased our anxiety. She was just wonderful. I wish we had another reason to see her again. She was the perfect choice, we are so pleased we chose her as our officiant. Thank you so much Kim!! Brett & Amanda September 2020
Adam & Erika
Kim Adeney arrived on time even earlier, she officiated the wedding with elegance and sincerity. Thank you Kim for a beautiful ceremony . Adam & Erika September 2020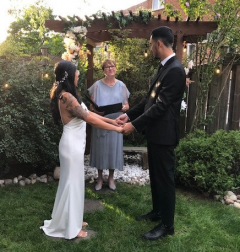 Jessica & Vincent
Kim (Adeney) is wonderful and friendly. Thanks for the memorable and intimate ceremony. I will refer you to my family and friends. Jessica & Vincent, June 2020
Ryan & Rosie
Kim Adeney was INCREDIBLE! The kindest, most professional, and genuinely happy officiant. She was exactly what we were looking and hoping for! Ryan & Rosie August 2019
Shawn & Rachel
Kim Adeney was awesome! We were running a bit behind but Kim was fine about it. The ceremony was outside on the dock by the lake and the wind was quite strong and chilly. Although her legs were shivering, she continued as if it was the most beautiful day ever. She did a great job and is such a nice, genuine person! Shawn & Rachel October 2019
Daniel & Leah
After becoming engaged, Kim Adeney was the first vendor we contacted, and we were thrilled that she was available for us. The booking process through All Seasons Weddings was clear and easy. Kim had officiated my husband's siblings' weddings and her dignified, clear eloquence is exactly what we wanted. We had a ceremony which was short ,sweet and simple . Kim created a beautifully-worded ceremony that reflected our relationship and the importance of family and friends present with us. Many guests commented on how beautiful our ceremony was. Thank you! Daniel & Leah September 2019
Luigi & Jenn
Kim Adeney was great and very knowledgeable and accommodating, thank you for everything. Luigi & Jenn September 2019
Bruno & Anna
Kim Adeney had all 250 guests teary eyed. Her words were so perfectly crafted and eloquently presented. We want to thank Kim from the bottom of our hearts for your wonderful service for our special day. Kim made it a magical day indeed. She was absolutely spectacular. We cannot tell you how many guests told us that our personalized ceremony along with the officiant that we chose was the best they ever attended. Bruno & Anna September 2019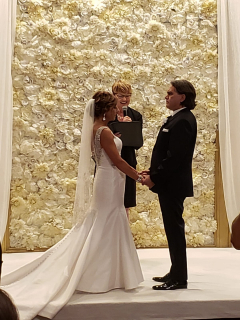 Andrea & Jaclyn
The moment we met Kim Adeney , it felt like we had known each other for a long time. She has this pleasant, endearing, and calming personality that makes you feel like your ceremony is going to be perfect. And it was! Our guests couldn't stop with the compliments. I will forever recommend Kim (and all seasons for making the process super! Andrea & Jaclyn September 2019
Paul & Lauren
We absolutely loved Kim Adeney! She did such a wonderful job performing our ceremony. From the first time we met Kim, she helped us to create the ceremony that worked for us, and gave us free reign to change or add certain things where we saw fit. On the day, the mic wasn't working following some hick ups with the weather- Kim rolled with the punches, spoke louder so all could hear and guided a beautiful outdoor ceremony. Many people after commented how great the ceremony and Kim were! We are so grateful she was part of our day and gave us the ceremony we had wanted! Thanks Kim!! Paul & Lauren August 2019
Abbas & Melanie
Kim Adeney went above and beyond our expectations! Its two months later and we are still receiving compliments about how beautiful and touching the ceremony was ! We cannot describe how much it meant to us , to have Kim officiate our ceremony. We would like to thank her eternally for how much extra love she added to that important moment. Thank you for all the effort you put into making our day special and meaningful. Abbas & Melanie June 2019
Chris & Kerri
Kim Adeney was amazing to work with! She made sure our ceremony was exactly how we imagined it would be and was so pleasant to deal with! We have had so many compliments about what a great ceremony it was! We can't thank Kim enough for helping make our big day perfect! Chris & Kerri June 2019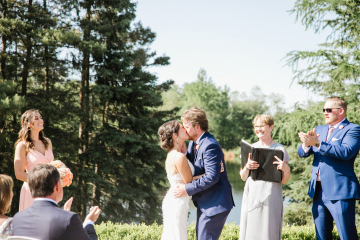 Genevieve & Scott
Kim Adeney went above and beyond our expectations. We were so happy to have her be part of our special day. All night long our guests commented that the ceremony was "lovely, fantastic and wonderful". We met with Kim prior to the wedding, she was organized, friendly and really made the process easy for us. The day of she arrived early and co-ordinated with the band and wedding planner to insure our ceremony was perfect. We are very grateful to have had such a perfect day with the help of Kim. The reservations staff were helpful and it was an easy website to use. No complaints! Everything was straight forward and quick response times with any questions. My sister also used All Seasons a few years ago and her ceremony was very well done as well. October, 2018.
Brittany & Darcie
KIM ADENEY IS AMAZING. From the first email, we knew she was the right choice for us. She was welcoming and warm, and so happy to hear about us getting married - even though she didn't even know us. The process of writing our ceremony outline was easy. Kim sent us everything we needed to get started and get ourselves on track. When we actually sat down to meet with Kim closer to the date and to discuss final details, it felt like Kim was someone we had known all our lives. She took so much time to get to know us and our story so that she could represent us accurately at our wedding. She went over every detail, calmed down every nerve we had. When she saw us on our wedding day for the first time, she literally shed a tear. You can just tell how much she truly loves being part of so many couples' special day. The ceremony was beautiful - emotional in all the right spots, funny when we needed it, and delivered so genuinely. Many guests came up to us after the ceremony asking how we knew Kim. When we told them that we didn't beyond being our officiant, they were shocked. They thought she was an old friend or family member... someone we had known for many years. We have heard so many compliments about Kim and how beautifully she conducted our ceremony. We are forever grateful for finding her and for the way that she made our ceremony so special for us. Thank you! Brittany & Darcie Sept 2018
Sandy & Benson
My husband and I were very fortunate to have Kim as our wedding officiant. We had no idea how the wedding ceremony should run. Kim made it so much easier for us by giving us a detailed run down with specific instructions to help put us at ease. To make the ceremony part more interesting, she would put forward some good recommendations for us to consider such as having a ceremonial element or reading a poetic verse by someone in the audience. We really appreciate Kim's professionalism, years of experience and her genuine passion in officiating ceremonies for newly weds. She brings people warmth and so much positivity. Once you have had a meeting with her, you know she is someone very dependable and knowledgeable. Most of all, she has a great voice. Our garden wedding at Graydon Hall Manor would not allow any sound system so we could not use a microphone at all. Kim spoke with clarity and articulated at a moderate pace. Her voice was well projected to the audience (even without the use of a microphone). She was also very presentable in terms of demeanor and choice of clothing. We normally don't write reviews for people but Kim really deserves a good accolade. I hope other newly weds will also benefit from Kim's fabulous help! Thank you!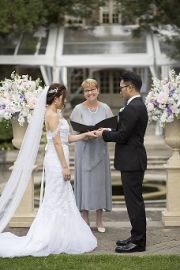 John and Genevieve
From the very first meeting until the moment I was about to walk down the aisle Kim was calm, organized and on top of everything. Maybe I'm a bit biased but our ceremony was one of the most beautiful, heartfelt wedding ceremonies I've ever seen and Kim was a huge part of that. Kim was so calm and genuine and helped us through the biggest moment of our lives. Our guests loved everything about Kim and are still telling us how amazing she was. We can't thank her enough for marrying us. It was an absolute pleasure!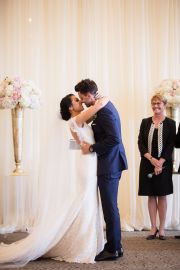 Alexandra & Vlad
Kim was absolutely incredible! She was always very friendly and easy to work with. My husband and I did a non-denominational ceremony and wanted to incorporate a few ceremonial elements that reflected us and our families. She was so open to all of our suggestions and made the ceremony flow seamlessly. We received so many compliments on how sentimental, personal and unique our ceremony was, and it was all thanks to Kim. We would absolutely refer Kim to others.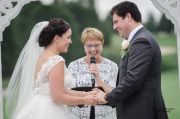 Natalie & Matt
Kim Adeney was absolutely amazing! During our meeting about a month and a half before the wedding she discussed options of how our ceremony could unfold and had already put together what she would be saying during the ceremony for our approval. She gave us a number of resources to work from and pointed out details of the ceremony to us that we had not even thought about! When we met her on the day of she was both very kind, thoughtful and professional. She was the perfect officiant for us and worked very hard to make sure our ceremony was what we wanted.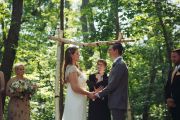 Ali & Silvano
Kim (Adeney) was such a wonderful officiant at our daughter's wedding last weekend. She took the time with Ali & Silvano to create a very special occasion. We smiled through every moment and Kim really celebrated the love between the bride and groom. Everyone took the time to comment on how special a lady she was. Thanks so much for such a wonderful memory Kim. All the very best, Toni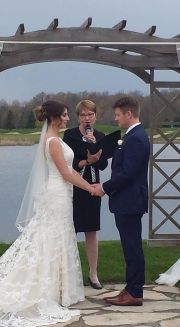 Nancy & Ed
Kim was wonderful to work with to help us customize our ceremony. Being our second time around, Kim helped us with ideas to include our children into the ceremony. Kim was open and flexible and made suggestions that made our day even more special and memorable. We would highly recommend Kim to other couple's planning their wedding ceremony. Our sincere thanks to Kim for marrying us and being a special part of our day!'
Paramananth & Thomas
Kim Adeney made our day very special, she made us feel comfortable and the ceremony she prepared was everything we were looking for. Thank You.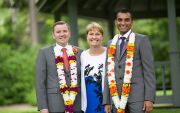 Justin & Meg
Kim Adeney was incredible! She was so kind and fun loving. She was very easy to communicate with, and made us a seamless wedding ceremony. Highly recommend her. Thanks Kim! xo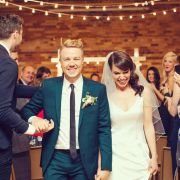 Rick & Deborah
Kim Adeney was the officiant at our wedding. She had been the officiant some years ago at a wedding we attended. We were immediately attracted to that "something" and asked for her card to follow up later. (That it took us several years to do so is obviously a reflection on us and not on Kim!) What we saw and felt "from the back of the room" several years ago is what played out before our very eyes over the past three months. This warm and caring person (not to mention professional) became our partner in the planning and undertaking of what will be the most important event in our lives. She initially provided us with volumes of information on every aspect of approaching and planning the ceremony including the overall structure, the words, the readings and, of course, the vows. She also clarified the legal documentation required before and after the wedding. She left it up to us to work our way through the material and to develop an approach which was, totally and completely, ours. She contacted us many times during the summer, mostly to just say hello and to see how we were doing but never pushed or rushed us. She was just "there." We are an older couple who both had been married before. While these circumstances obviously create different approaches and issues to marriage that might be different from others, Kim helped us to tailor an approach which met our needs and created the excitement common to all marriages of all kinds. Through several emails and an eventual Saturday morning coffee, we worked out the details and were totally relaxed (almost!) when the big day came. She immediately became one of the family in a small group of five. She made our day and we highly recommend her to anybody else contemplating marriage.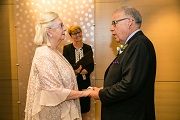 Laura and Roni
Now that the dust has settled from our wedding, I wanted to write to let you know how grateful my husband Roni and I are for Kim and your services. Words cannot begin to express our gratitude to Kim and for all she has done for us. We are finally back in Israel after a whirlwind of a trip, and we are only now beginning to understand all the magic that happened this past month. She was a HUGE part of that magic. People are still raving about our ceremony, it was SO filled with love, so honest and special. Kim was incredibly charming, and her smile lit up the room. She has an incredibly kind soul and sweet demeanor, she is articulate, intelligent, creative, present and professional. I have been told on many occasions it was the most beautiful ceremony people have witnessed, which is no surprise to me, I knew she was special since the moment we connected! We want to thank her a million times over, she has our HIGHEST recommendation!
Chipo & Patrick
Kim ensured the whole process was easy and stress-free. Despite a couple administrative hiccups on our side, Kim remained calm and flexible, assurring things would go forward without a hitch... Which they did! Her expertise and professionalism were evident from our first meeting with her. She provided many options and selections, we personalised our day with confidence. All our guests were impressed and full of compliments. We would strongly recommend Kim to anyone "taking The Leap". As we can say, with all sincerity, Kim will be with you every step of the way!
Katie & Tom
Kim Adeney went above and beyond to ensure our wedding was absolutely perfect. She helped us incorporate our personal touches into the ceremony and was always willing to offer suggestions when asked. Kim did an amazing job performing our ceremony and her warmth, kind personality and sincerity were exactly what we were looking for in an officiant. It was a pleasure having her marry us! The reservations staff were very helpful during the initial organizational process. Helped me find the right officiant and made the entire process very easy. I felt comfortable and they were extremely prompt in getting back to me and answering any questions. I will recommend your services to any of our friends. Especially Kim Adeney! Thank you again to Kim and All Seasons. You guys have all been wonderful. My husband and I couldn't have been happier to have Kim stand up and marry us. Everyone at our wedding thought she did a fantastic job and really enjoyed the ceremony!!!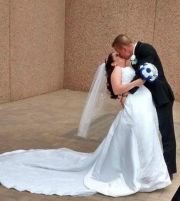 Yvonne & Kristen
Kim Adney was amazing! When we were initially searching for an officiant, we had been turned down by one because we are a same-sex couple. We were a little disappointed to say the least. We didn't know where to start or how to decide on an officiant, but when we found All Seasons Weddings and read Kim's information, we knew we wanted to meet her in person. Immediately following our first meeting, we agreed right away that we wanted to book Kim. During the ceremony, Kim's delivery was outstanding. Kim provided a lot of options for the ceremony that we pieced together to make it more meaningful to us and we also provided her with a personalized paragraph to be included in the ceremony (a quote from Einstein) and she brought the words to life. She made it seem like time had stopped and it was just my wife and I alone together making the biggest commitment of our lives to each other. Words can't describe or give justice to the atmosphere that she created through her flawless delivery of the ceremony. Thank you Kim!
Leslie & Natalie
Kim Adeney was an exceptional officiant!! We received (and are still receiving!) many compliments from our guests on her role in our wedding, and many people thought we had known her for years!! She made the whole process very easy and stress free for us (especially since we were planning our wedding from afar). We also appreciate that she took the time to meet with us a month before our wedding in person to go over the plans for our ceremony. Overall, we were so thrilled with having Kim as our officiant. She was so kind, warm, and thoughtful; she really helped make our big day very memorable!! Thank you Kim!!
Dana & Gavin
Kim Adeney was FANTASTIC!! She exceeded any expectations that we had. She was professional and well spoken. A perfect fit to our day. We loved her. She was so warm, loving and friendly. All the guests commented on how good she was. She was so friendly and warm. She has an amazing smile that lights up the room and the best part is, she smiles alot. Kim is a beautiful person with a radiant and infectious personality. She oozes happines and love. Kim enjoys what she does. You could see that she was engaged and feeling every word that she was saying. It was beautiful. I have never been to a wedding where the officiant was better at their job than Kim was at our wedding. Our guests raved about how well she did and by the end she felt like family..
Deanna & Cass
Hi Kim, I just wanted to thank you perosnally for helping to ensure our wedding on January 18 was memorable. You guided us through the process with ease and support; something so very important to us as we were not looking for the standard out of the box vows, allowed us to incorporateone of our dear friends into the ceremony, and made us feel very comfortable when I was sure that nerves were going to take over! Our friends and family also enjoyed the moment. Thanks again for officiating our wedding and all the best.
Lauren and Amanda
Kim Adeney was simply amazing, and conducted such a beautiful ceremony - one that Amanda and I would never (could never) have dreamed of. She took her time in meeting with us to go over a ceremony script, made us feel comfortable throughout the process, and made it personal to both Amanda and I. The ceremony was so beautifully delivered by Kim that our guests have told us that it was one of the best they have ever been to. Kim's warm disposition, her caring smile, and friendly personality all shined through at our ceremony, making our guests actually feel the love that Amanda and I have for one another.
Diana & David
We were so happy with Kim Adeney, she is a wonderful person and performed a beautiful ceremony for us. Would recommend Kim and your company to anyone we come to know that is getting married. We picked the perfect officiant for our wedding. The office staff are great people you have working at All Seasons Weddings. Thank you again for making our day a special one, we are very happy and will sing your praises to anyone we know that is getting married.
Kristina & Lindsey
Thank you Kim Adeney. From your kindness, to your touching words, and impeccable delivery, the marriage ceremony you performed for us was an experience we will never forget. It touched us, and our audience so deeply that many still rave about you. We would like to again thank you from the bottom of our hearts for making our day so very special. It would be our pleasure to recommend you. Any couple would be lucky and blessed to have you as their officiant."
Nadia & Dean
We were very particular with what we wanted our ceremony to look like and who we wanted to officiate it. When we met Kim Adeney we immediately knew she was a perfect fit for us. She was so sensitive to our needs in the ceremony and very supportive at every step in the process. On the actual day of our wedding, she made it a point to even come see me (the bride) before the ceremony to check in and give me her best wishes!! The level of personal connection was above our expectations and contributed immensly to our beautiful experience. She also delivered the intimate and personalized ceremony we dreamed of perfectly!!!