Kerry Gervais
A passionate and bubbly soul born and raised in Ottawa, Kerry has been a part of the wedding community for many years making brides and bridal parties feel beautiful on their special day. Being a member of Toastmasters gives her the ability to communicate effectively and with assurance. She is more than capable to ensure your wedding ceremony is all that it can be and that your vision is captured.
Request Kerry Gervais
Areas Served
Barrhaven, Embrun, Kanata, Kenmore, Manotick, Metcalfe, Nepean, Orleans, Ottawa, Ottawa East, Ottawa South, Ottawa West, Richmond, Rockland, Russell, Stittsville
Reviews
Mack & Jaclyn
Kerry Gervais was professional, personable and so easy to work with. She was clear in her communication and gave us a great idea of what we should expect in the first conversation with her, and was a joy to work with on the wedding day. Thanks Kerry! Mack & Jaclyn September 2020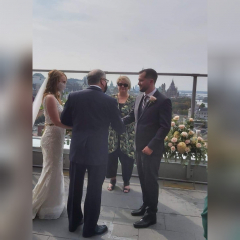 Adrian & Laura
Kerry Gervais was absolutely wonderful! So gracious and friendly and made us feel so special! She really made our wedding day even more perfect. Thank you Kerry! Adrian & Laura August 2020
Jennifer & Barry
Kerry (Gervais) was the perfect personality match for our wedding! She is so bright and bubbly. If you are looking for a professional yet fun officiant, Kerry has to be your choice. When I arrived at the venue, her calm approach and gentle reassurance made me feel relaxed and we had a wonderful ceremony. Thank you Kerry, you were terrific!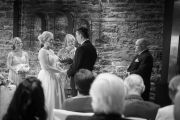 Sandra and Craig
Even before the wedding began we knew we had made a great choice in wedding officiants. We met Kerry and there was an immediate rapport. She asked all the right questions and listened to our answers in order to ensure that the ceremony would suit our personalities. She provided us with suggested vows that were exactly what we wanted and gave us lots of suggestions on how to prepare. On our wedding day everything was perfect. Kerry did an amazing job. She put our small group of 7 guests immediately at ease. Even though the setting was in our backyard and very informal, Kerry helped make it a very special wedding, something that we will always cherish. Sandra and Craig