Rev Kerry Fong-Jean, BA, BEd
Kerry lives in Frankville, Ontario. You won't find a warmer people person who goes out of her way to help others in any way she can. She is accepting of all spiritual paths as she feels that we are all connected and we are all one. Like many she grew up appreciating the peace and quiet, singing, and reflection church services offered, but as an adult she also recognizes the spiritual teaching of people like the Dalai Lama. She loves nature and would be pleased to conduct your wedding ceremony in a garden, forest, or cottage setting if that appeals to you. She looks forward to creating the day of your dreams with you.
Request Kerry Fong-Jean
Areas Served
Merrickville, Athens, Jasper, Smiths Falls, Perth, Charleston Lake, Newbliss, Eastons Corners, Greenbush, Rideau Ferry, Brockville,
Reviews
Jonathon & Shannon
Kerry Fong-Jean was absolutely amazing throughout our whole ceremony! Not only did she do her job perfectly but she also was the most kind, warm soul that really eased our minds and helped us with every step. We are so grateful to have had her! November 2022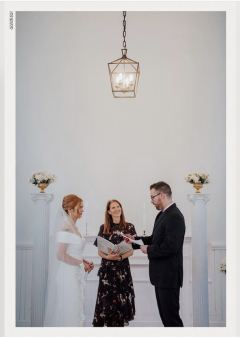 Aaron & Desiree
Kerry Fong-Jean was wonderful ! Absolutely could not have had a better officiant! October 2022
Khristal & Ryan
Kerry Fong Jean was absolutely breathtakingly amazing in every aspect and the witnesses she brought as well for us! We have been raving about the company since! To everyone! October 2022
Jessica & Tyler
Kerry was amazing! She was so warm and welcoming. Although we didn't meet her until the day of our wedding, it felt so natural and easy with her. She made us laugh and feel at ease the entire time. Oct 2022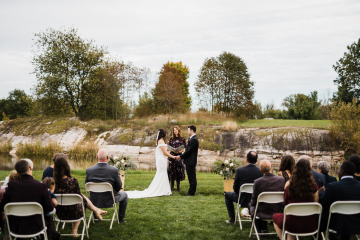 Ryan & Emily
Kerry Fong-Jean was tremendous throughout our ceremony. The service was exactly how we envisioned and could not be more thrilled with her role in our day. She was kind and caring throughout the ceremony and has been in constant communication afterward to go over any questions we have had. Sept 2022
Nicholas & Alex
Kerry was kind, informative, and very professional. She exceeded our expectations in every possible way!I July 2022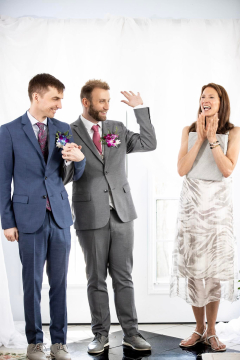 Leslie & Maureen
Kerry Fong Jean was amazing! She exuded happiness In her profession, and spilled into our marriage ceremony! Her joy for us was so apparent ,she even cried. She is such a genuine person. I first met Kerry while serving her lunch on the patio where I work, I had just become engaged 2 days prior, and as we spoke she mentioned she was an officiate, and I was blown away ! I immediately got her info, and am so happy that I was then introduced to all seasons weddings! Thank you Kerry! Aug 2021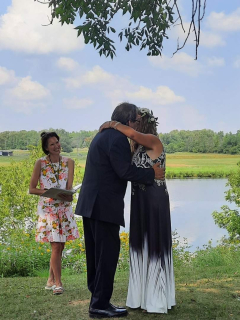 Heather & Derek
Kerry Fong-Jean was wonderful!! Feb 2022
Jennifer & Joseph
Kerry Fong-Jean was an absolute dream to work with. She was so relaxed and easy going that it made the process even more stress free. Nov 2021
Christopher & Andrea
Kerry [Fong Jean] was wonderful to work with both before and on our wedding day. She was kind and helpful through the entire process and we are glad she was able to celebrate our special day with us. Thank you Kerry! September 2021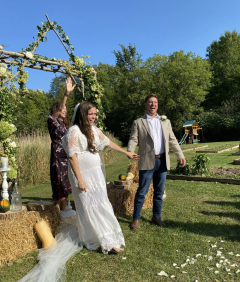 Andrew & Hailey
Kerry Fong-Jean did a wonderful job as our officiant. We couldn't be happier with our decision to book her through All Seasons Weddings. Her warm personality and sense of humour were the perfect addition to our special day. She was so easy to work with and accommodated all of our requests. We would highly recommend her to anyone in need of a wedding officiant! Thanks again Kerry for being a part of our day ? August 2021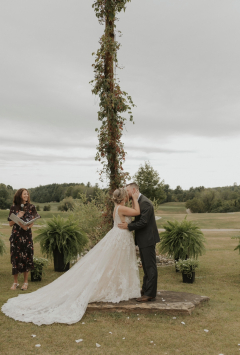 Jessie & Kyrie
Kerry was wonderful. Each time we spoke on the phone she put us at ease. She was very flexible and a great person to work with. E-mails were prompt and clear, which was greatly appreciated throughout the process of changing our wedding dates throughout the pandemic. August 2021
Ben & Samantha
Kerry Fong-Jean was amazing! Right from day one she was organized, open and accommodating to whatever vision we had in mind. She made the ceremony sweet and fun! We held a virtual wedding in an outdoor setting and all of our guests expressed how much they loved her presence. Thank you Kerry for accommodating us and making us feel so much love!! Ben & Samantha June 2021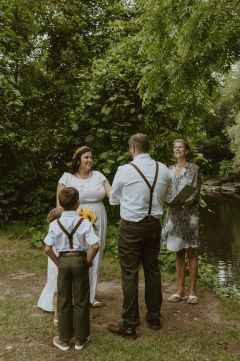 Harry and Joy
We had a beautiful and intimate wedding at our home with Kerry's wonderful presence. Her generosity and sincerity touched us in many ways. We are grateful that Kerry accepted to come to our home a presides our celebration of marriage. Thank you for a beautiful ceremony. Harry and Joy October 2020
Maysha & Kelsey
Kerry Fong-Jean was wonderful to work with. We could tell right away that she loves what she does as it showed in her sincerity and excitement. She was extremely easy to communicate with and was very helpful during the process while being flexible to our suggestions and needs. She is friendly, fun, thoughtful, and really gets into the ceremony. We could tell it's more than a job for Kerry as she really loves what she does and loves being a part of people's happiness. It was a pleasure to have Kerry as our officiant. Maysha & Kelsey January 2020
Steven & Jacqueline
Kerry Fong-Jean was so lovely and friendly! She went above and beyond to make our day perfect. Steven & Jacqueline. July 2019.
Jason & Kelly
Kerry Fong-Jean was amazing! She remembered to add in every special detail plus some of the info on how we met. Everyone was amazing at how well the ceremony went. We were even laughing at some points which made it a lot less nerve racking being the center of attention. Jason & Kelly. July 2016.
Carmelo & Angelique
Kerry Fong-Jean Mel and I couldn't have asked for a more vibrant, sweet and personable officiant. Kerry was so on board with our wedding ceremony idea. Our ceremony was unique in that it was held on our farm. The idea was to ride our horses to the arbour to have our ceremony with a small group of family and friends and have our sweet dog be our ring bearer. It was the most beautiful and special day of our lives and couldn't have imagined anyone else performing the ceremony for us. Thank you Kerry for your patience, infectious enthusiasm, warm smile and incredible sense of humour. You have made our day all the more special ❤️ Carmelo & Angelique June 2019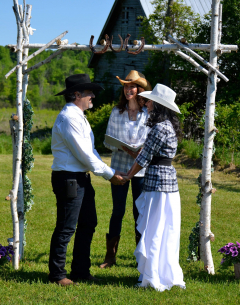 Robert & Emily
Kerry Fong-Jean was lovely. She did a great job with everything , we would highly recommend her for sure! Thank you again Kerry . Robert & Emily May 2019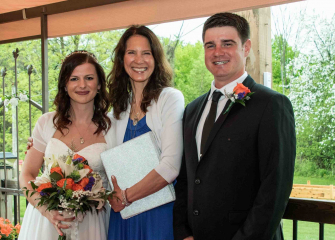 Laura & Brydon
We were recently married by the lovely Kerry Fong-Jean. Our experience was wonderful from beginning to end. We first met Kerry at a convenient location to discuss our ceremony vision. Kerry provided us with a few samples of ceremonies to look through as we were very unsure what we wanted, and was open to us creating our own. We wanted a relaxed feel for us and our guests and Kerry delivered above and beyond. She stood up at the outdoor altar with my husband, even though it was probably one of the hottest days of the year, everyone was drenched in sweat, but she kept her composure and carried on as planned. Kerry injected a bit of appropriate humor to lighten the feel and gave us the most beautiful ceremony we could have imagined. Thank you, Kerry, for such a wonderful wedding ceremony and the thoughtful card you gave us afterward full of kind and loving words. I highly recommend Kerry as an officiant! Laura & Brydon, July 2018
Connie & Julian
Kerry Fong-Jean did a great job. Many of our guests remarked how fantastic or ceremony was. Thanks very much
Sarah & Eric
Kerry Fong-Jean was wonderful and was willing to take a boat trip across a lake to perform our ceremony in the perfect place for us! Thank you Kerry!
Breanne & Ryan
Kerry was the perfect officiant. She was extremely easy going, positive, encouraging, and flexible. She encouraged bringing a positive energy to the day. The week before the wedding when we met, I had come down with a cold. Kerry came back that evening with oil of oregano for me. So sweet and extremely kind. Additionally, on the day of the wedding there was water on our dock where we were getting married. We asked if she would do the ceremony bare foot and she did. :)
Alyse & Alex
Kerry Fong-Jean was very warm and personable. She demonstrated a quiet leadership during the rehearsal and was instrumental making this process go very smoothly. Kerry was a very welcomed addition to the wedding ceremony and we could not have asked for a more efficient and welcoming officiant. We were thrilled to have Kerry as our officiant and would highly recommend her to everyone!
Ashley & David
So many of our guests came up to us in the night saying how much they enjoyed our ceremony. How Kerry was great at engaging everyone and keeping our nerves in check. We brought our own ceremony wording to use and Kerry did an amazing job with it. Very very impressed.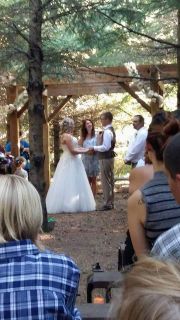 Courtney & Matthew
Kerry Fong-Jean was amazing. She made our day that much more beautiful.
Lindsay and Alana
Our wedding would not have gone so well without the genuine guidance and support that Kerry (Fong-Jean) offered us. We knew right away that she was the perfect officiant for our wedding since she made us feel at ease and this is what we were looking for on our special day. Kerry is one of those people who everyone can relate to and has a natural way of making people feel comfortable in her presence. Throughout the planning phase, Kerry was very organized, professional, and willing to help us in any way she could. So many of our friends and family had wonderful things to say about Kerry. Once you meet Kerry you will know exactly what we mean. Thank you, Kerry! Lindsay and Alana April 30th, 2016