Kathy Pivato
I'm an avid outdoors person, and living in Chalk River after relocating from northern Ontario works for our family. It would be my privilege to be asked to perform your wedding ceremony. I was married in 1979, and my goal is to assist you in making your special day as memorable and intimate as mine. The most important aspect of my life is my family. I am truly blessed as a mother, proud grandmother and nurturer to my assortment of furry friends! My work has given me the opportunity to interact with, learn about the life experiences and stories of so many diverse peoples.
Request Kathy Pivato
Areas Served
Chalk River, Petawawa, Laurentian Valley, Pembroke, Round Lake, Deep River, Laurentian Hills, Cobden
Reviews
Chase & Amy
My husband and I are very fortunate to have had Kathy officiate our wedding this past summer. She was so friendly and personable throughout the planning process, and helped create a relaxed and personal ceremony that was meaningful to us. Despite the summer of 2022 being an incredibly busy season for everyone in the wedding industry, we really appreciate that Kathy was more than happy to make the drive to our family cottage for a rehearsal to make sure everyone felt comfortable before our wedding day. We would definitely recommend Kathy to any couple tying the knot! (Photo is by Courtney Dawn Photography )August 2022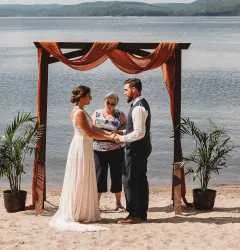 Bob & Neysa
Kathy Pivato was wonderful! Very nice lady! Couldn't of asked for better! She will definitely get some other jobs from our wedding! A1 September 2022
Bailey & Hao
Kathy Pivato was absolutely amazing. She provided us with a beautiful ceremony, and exceeded our expectations in every way. We chose to have a short and simple ceremony, but the words Kathy used were so meaningful and beautiful. We are so grateful to have had Kathy as our officiant. We couldn't have asked for a more perfect day. I would highly recommend Kathy to anyone looking for an officiant in the Ottawa Valley area.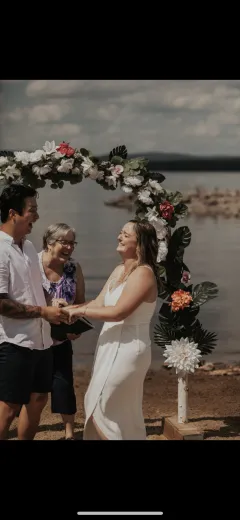 Nathon & Cindy
Kathy Pivato was exceptional! We were both so happy to have Kathy marry us! We could t have asked for a better wedding officiant! She was kind, funny and amazing to work with! Thank you again from the both of us! September 2021
Lee & Kim
We loved Kathy Pivato ! She was professional and friendly and we felt very comfortable with her. We both would definitely recommend her services. ❤️ September 2021
Melissa & Keegan
Kathy Pivato was great with every stage of the process :) Kathy worked with us to choose the appropriate ceremony for our needs, explained next steps often enough that we felt comfortable with the process, and was so competent, we trusted her every step of the way. She was also very kind and understanding, so we were comfortable working with her :) We would recommend Kathy to anyone! August 2021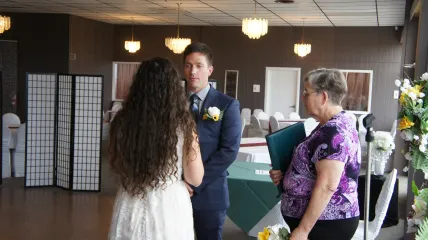 Clarke & Kelly
Kathy Pivato was awesome and helped make our day exactly what we wanted it to be. Highly recommend this company and the officiant. Clarke & Kelly May 2021
Brian & Kimberley
Kathy Pivato was delightful, she waited as we set up our video conference to family in New Brunswick especially for my father who passed away two days after she made our wedding day so special. We have recommended her, and the company to family and friends. Thank you for helping us have our fairy tale wedding. Brian & Kimberley May 2021
Patrick & Jessica
Kathy Pivato was absolutely wonderful! We had a very small wedding - just our parents present - and Kathy was warm and friendly and engaged the parents as well as us. She made sure we understood what her role was and what we were required to do, and gave us the opportunity to give feedback on the service before it was conducted so that our day would be perfect. And it was. I would not hesitate to recommend Kathy to any of my friends or family in future. Patrick & Jessica December 2020
Tyler & Samantha
Kathy Pivato was a wonderfully lady and easy to talk to. Kathy was very responsive and helpful. She did an amazing job. Highly recommend her! Tyler & Samantha October 2020
Tanner & Carley
Kathy Pivato was amazing!! We couldn't be happier that she was our officiant :) Tanner & Carley October 2020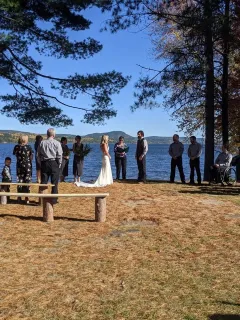 Dustin & Wyntre-Elizabeth
Kathy Pivato was amazing! All of our planning was done over email, and we didn't meet her until the day of our ceremony, but she made the process super simple and smooth. She took the time to answer all my questions, and made the day super fun. Thank you so much!! Dustin & Wyntre-Elizabeth August 2020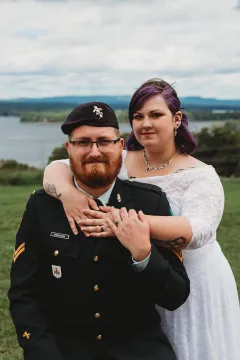 Adam & Celene
Kathy Pivato was amazing, we wanted a super simple ceremony and Kathy delivered. Thank you Kathy! :) Adam & Celene August 2020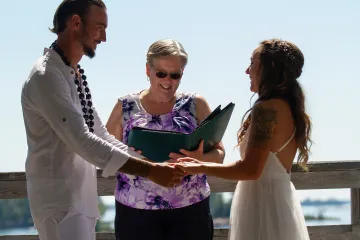 Dan & Cheri
Kathy Pivato was amazing! She made the preparation for this event easy. She was friendly and open to suggestion. She was so easy going and understanding. She made our day wonderful! Dan and Cheri January 2020
Corey & Lyndsay
Kathy Pivato was very pleasant, great to work with and very professional. Thank you for everything Kathy. Corey & Lyndsay November 2019
Tyler & Becky
Kathy Pivato was amazing to work with, she made herself available to me 24/7. If I had any questions I was able to shoot her a quick text and always heard back very quickly. We were even able to customize our ceremony and add in a reading by my aunt. Kathy was super professional and explained everything to us very clearly and was very punctual with all of our meetings and our rehearsal. Tyler & Becky October 2019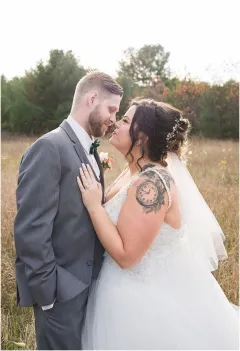 Grant & Gen
We can not proclaim enough how fantastic Kathy Pivato was, and to have as our wedding officiant, and how she made our wedding possible. As our wedding had to be rushed a year in advance due to failing health of family members, my husband and I were scrambling to have everything ready in time. Kathy not only helped us with her knowledgeable of wedding services we could use, she went above and beyond and even opened her home to us when we lost our wedding venue. Our perfect day could not have been possible without Kathy, and you will be so happy you pick her as your wedding officiant. Grant & Gen October 2019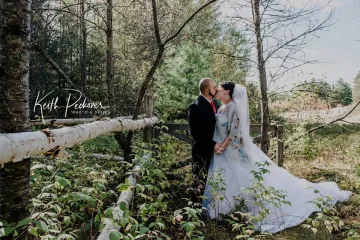 Tyson & Kelsey
Kathy (Pivato) was the absolute best, I highly doubt there is anyone out there like her! She was helpful, friendly, kind and treated my family and friends like they were her own! Tyson & Kelsey. July 2019
Ivan & Jeannie
Kathy Pivato is amazing from start to finish, thank you for everything! Ivan & Jeannie June 2019
Chris & Jessica
Kathy Pivato was absolutely wonderful. She made our day amazing and did a wonderful service. Would highly recommend her to anyone looking for an officiant. August, 2018.
Brittany & Jonathan
Kathy Pivato was fantastic with us! August, 2018.
Kayleigh & Justin
Our officiant, Kathy Pivato, was great. She offered us lots of options for our ceremony and let us change anything we wanted to make it our own. She was professional and friendly. We would recommend her to anyone else getting married in the future.
Felicia & Steven
Definitely beyond expectations! Kathy Pivato was fantastic! Very relaxing to work with, she was reassuring and helped calm any nerves either of us had about the ceremony. Really such a lovely person!
Gewan & Amanda
Kathy Pivato was very professional, and did an outstanding job.
James & Catherine
Kathy Pivato was great, very friendly and accommodating.
Roland & Christie
Kathy Pivato was amazing, she made our ceremony special! Will definitely recommend to our friends!!
Christine & Trevor
Kathy Pivato was wonderful. She was perfect for our ceremony and met all of our expectations
Ryan & Rebecca
Our thanks to Kathy for a fantastic service she provided on our joyous occasion. She was a very pleasant person. We sincerely appreciate All Seasons Weddings for allowing Rebbecca and Myself to have Kathy as our Officiant.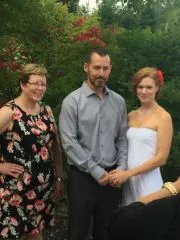 Rich & Amy
Huge thank you to Kathy as she made our day very special! She was so professional and catered to our needs to ensure we had the best ceremony possible. We truly enjoyed her pleasant, caring, and fun nature; she was the perfect fit for our special day!