Judy Howard, BA (Hebrew U); LL.B (Osgoode Hall)
Judy, who lives in Thornhill, is fluent in English and Hebrew. Originally from Montreal, she lived in Jerusalem for more than a decade, where she completed undergraduate and graduate studies at the Hebrew University of Jerusalem. After returning to Canada, she earned her law degree from Osgoode Hall Law School. Judy brings a breadth of experience and knowledge to your wedding day. Judy is ideally suited to officiate at your wedding ceremony: innovative or traditional, formal or intimate, interfaith or intercultural. Judy looks forward to helping you create a wedding ceremony that is joyful, meaningful, and memorable to you.
Request Judy Howard
Areas Served
Concord, Don Mills, Etobicoke, Forest Hill, Markham, North York, Richmond Hill, Scarborough, Thornhill, Toronto, Unionville, Vaughan, Willowdale, Woodbridge
Reviews
Maya & Varun
Judy [Howard] was wonderful! she customized the script so that it is reflective of our union and ceremony. She's very quick and concise which we definitely appreciated. The bonus was that she sang the 7th blessing for us which was beautiful! Thank you for making our ceremony a memorable one! July 2022
Dyese & Corey
We loved Judy within the first five minutes of meeting her. She has a beautiful, positive, and open-minded energy. As an interfaith and interracial couple, we had people from all walks of life at our wedding. Everyone commented on how beautiful and intimate the ceremony was. Judy has a way of bringing families together that is integral to a wedding ceremony. Judy included Jewish customs as well as Japanese customs seamlessly into our wedding to create the perfect union of our cultures, our families, and us. September 2021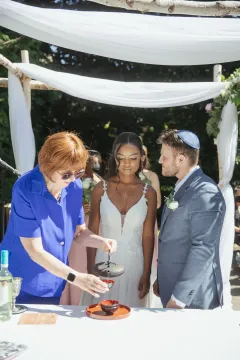 Lauren and Daniel
"We first met Judy when she officiated the wedding of my brother and sister in law. After hearing the praises sung about her, when it was time for my Husband and I to get married, we hoped she would be available. Judy was an absolute pleasure to work with- kind, thorough, and accepting. As an interfaith couple, we wanted a wedding with Jewish traditions, while also keeping my family included. Judy more than delivered on our dream wedding, and was diligent to make sure we were happy. We suffered loss in the family ahead of the wedding, and Judy was incredibly supportive and thoughtful when picking a reading. We had a small, intimate wedding, and Judy fit in perfectly- the whole family was so happy. I highly recommend Judy, and we loved working with her. Thank you for making our day perfect!" Lauren and Daniel September 18 2021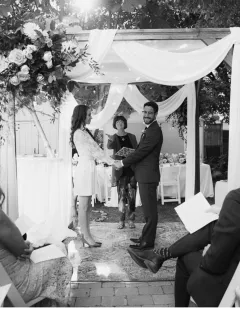 Jess and Shane
Judy was very organized, professional, and extremely easy to work with. She showed great flexibility and allowed us to customize our ceremony based on our vision. Her knowledge and experience with interfaith weddings was valuable and she was a great source of guidance throughout the process of planning the ceremony. The ceremony was beautiful and we received a lot of very positive feedback from our family and friends. We highly recommend Judy for any wedding ceremony." Jess and Shane October 4 2020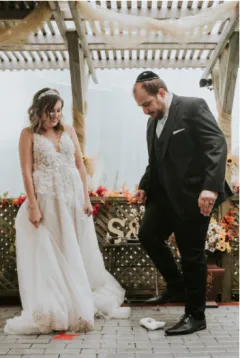 Patrick & Alyssa
Judy Howard was so knowledgeable and calm throughout our wedding planning process. She did a fantastic job at our ceremony which was intimate and meaningful. She helped make our wedding such a memorable day! Patrick & Alyssa September 2020
Morgan and Oriana
We are so thankful to Judy Howard who made our wedding ceremony and the process leading up to it, truly wonderful! As an interfaith lesbian couple, Judy collaborated thoughtfully with us to create a Jewish infused ceremony that represented us both spiritually and culturally. It was comforting to work with someone who was prepared and thorough so that we knew exactly how the ceremony on our special day would run. We highly recommend choosing Judy to officiate your wedding, LGBTQ and beyond. Morgan and Oriana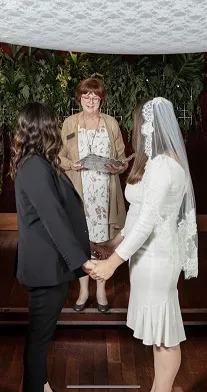 Jonah + Pietro
"We had a wonderful experience working with Judy Howard. She is professional and personable. From our first impression, we were very excited to work with Judy. She was prompt to reply to our initial inquiries. Before we had even decided whether we would book All Seasons, Judy spent close to an hour on the phone getting to know us and reviewing all the ceremony options available to us. Throughout the planning process, Judy offered suggestions and shared her expertise with us, helping us to plan a beautiful and memorable day. When our original wedding plans were interrupted by COVID-19, Judy worked with us to ensure we could still be safely and legally married on our intended date. In the end, she came to our home and performed an intimate and very special marriage for us. Despite our brief, physically-distanced ceremony, Judy connected with us meaningfully. Our friends and family (who joined over video conference) remarked many times how thoughtful and beautiful Judy's words were. She set the perfect mood with her tone and delivery. We are so happy to have worked with Judy Howard and give her our highest recommendation! -Jonah + Pietro, June 6, 2020"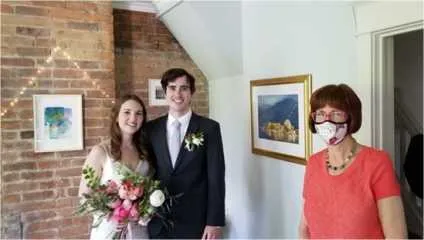 Abiella & Brian
We had a wonderful experience working with Judy [Howard]. When we decided to get married, we did not know how we'd be able to create a ceremony that meaningfully captured both of our families' cultural and religious traditions, and felt true to us as a couple. Judy made this easy, and guided us through every step with care and patience. She has a wealth of knowledge and experience in inter-faith weddings that we were able to lean on, answering all of our questions and easing our nerves. Our ceremony was meaningful, inclusive of our families and communities, and absolutely filled with delight. Despite unexpected rain, neither of us could contain our joy; it was perfect. We cannot imagine our wedding without Judy's wise guidance leading up to the day, and her incredible presence as our officiant. We cannot recommend Judy enough and we are so grateful to have chosen her as our officiant. -- Abiella & Brian, Sept 2019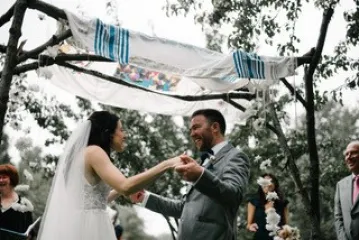 Brianna and Adam
Judy Howard was recommended to us through a family friend who had attended a wedding she officiated. We read some reviews and decided to reach out to her as she seemed like a perfect fit for us. From the first phone call, we knew Judy was the right one for our special day. She is extremely open to tailoring your ceremony to exactly what you want and is amazing at ensuring we feel heard throughout this process. We are so happy with how our ceremony was orchestrated with Judy and felt confident in her abilities. She is a wonderful woman and I would recommend her to any engaged couples still looking for their officiant! Brianna & Adam January 2020
Becca & Alex
Judy Howard was a wonderful officiant. Her guidance throughout the process was invaluable and she helped us to make decisions about our ceremony with ease. We felt immediately comfortable in her presence from day one. We were not sure which traditions we wanted to include in our ceremony and so Judy sent us over a script as a starting point and we were able to make adjustments from there. She was always open to our suggestions and encouraged us to give input to make sure that the ceremony reflected our values. On the day of the ceremony she was relaxed and helped both of us to feel at ease. It was truly an honour to have Judy perform our ceremony, which she led with a perfect balance of humour and sincerity. Becca & Alex August 2019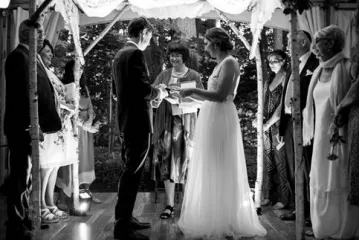 Neal & Judy
Judy Howard was simply a perfect fit for us. She is so adaptable, warm, and took the time to get to know us and our families to make our wedding that much more meaningful. We truly felt that or ceremony was reflective of who we are, and Judy incorporated our traditions and anecdotes so well. We can't thank her enough and would recommend her wholeheartedly! Neal & Judy. July 2019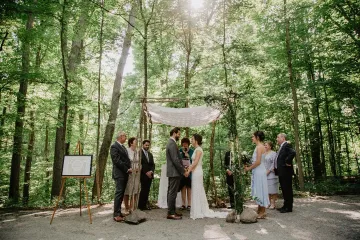 Kevin & Debra
Judy Howard was absolutely amazing. We had no idea what we wanted in a ceremony - we only knew what we didn't want. Judy helped us tailor a cermenony that perfectly reflected us and felt so perfect for our wedding day. Judy even researched readings for us and gave us lots of options for readings and blessings. She really went above and beyond and was warm and compassionate and helpful. Judy really made our ceremony special and unique - exactly what we wanted. All Seasons replied quickly which was very important when planning a wedding in 6 weeks.
Danielle & Gareth
Judy Howard provided us with the most amazing ceremony! She understood exactly what we were looking for and made the entire process so easy. We had so many comments on how perfect and lovely our ceremony was. Wouldn't change a thing! July, 2018
Harley & Shelley
Judy was an absolute pleasure to work with! She was friendly, very efficient and a super nice person. She gave great suggestions and advice and made our day really special. All Seasons run a very organized and efficient operation. It was a pleasure dealing with everyone involved. I would be happy to refer your service to others. Its just great working with a professional service that does what they set out to do and does it really well!
Andrea and Oren
We wanted to thank you so much for doing such a lovely job officiating our wedding. We felt the ceremony reflected our wishes and many of our guests commented to us after how much they enjoyed it and particularly how much they liked how you officiated it. Oren and I felt your presence was calming in a moment that was quite nerve-racking for me, so thank you so much for being aware of how we might feel in the moment. Before choosing an officiant, we had reached out and spoken to a number of other people, but we felt certain we made the right decision by choosing you.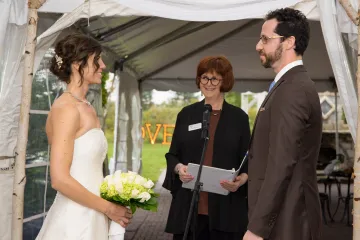 Laura and Marc
Judy Howard officiated our wedding and she was absolutely fantastic. She found the absolute perfect balance of "steering the ship" without "taking over the show". By far the most consistent compliment we received from our guests on and after our wedding day was that our ceremony was the most beautiful one they'd ever seen. This was a testament to Judy's full willingness and encouragement to incorporate the traditions of both of our heritages. Finding an officiant who would perform a very inclusive marriage ceremony had some challenging moments and we are thrilled to have found Judy and wholeheartedly recommend her. Thanks again Judy for helping to make both of our families feel included and for ensuring our ceremony became a memory we will treasure for the rest of our lives!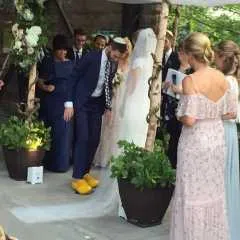 Jenna & Eric
Thank you so much for officiating our wedding. It was an absolute pleasure, and I have to tell you both families received soo many compliments on how lovely the ceremony was, how inclusive it was of both faiths, and how it was conducted.
Rhonda & Stuart
Judy Howard was amazing – helpful before the wedding and fabulous during the wedding. She delivered a marvelous service and she was complimented by many of our guests. She was terrific.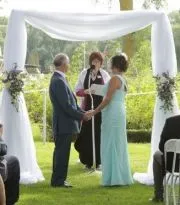 Barb & Mike
Judy Howard was terrific in every respect regarding our Big Day. She was very helpful beforehand in the planning process and made excellent suggestions to ensure a nice flow for the ceremony. When the day came, she arrived right on time and blended in with our guests immediately. Pleasant, Professional and a big calming influence. We couldn't be happier to recommend her to anyone who's looking for a wonderful nuptial experience.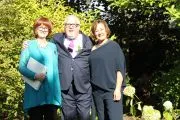 Adi & Alex
Dear Judy, We cannot find the words to express our gratitude. This ceremony is engraved in our hearts forever. You made it so special and we are grateful and honoured.