John Horvath, M.Ed.
John is a resident of Caledon. He will be sensitive and receptive to your ideas and prepared to offer structure and direction as needed. John loves opera, jazz, blues and world music. He has completed many full marathons plus he likes baseball and college football. John's life experiences have enabled him to respond to diverse interests and needs. John is a relaxed caring guy and he has the ability to put people at ease. John will bring a sense of humour to any situation. He looks forward to serving you and celebrating your special day with you.
Request John Horvath
Areas Served
Caledon Village, Brampton, Caledon East, Orangeville, Alton, Dufferin
Reviews
Lawrence & Jennifer
John Horvath officiated our wedding in August 2021, and we couldn't have been happier with the ceremony he created for us. His calm presence from the planning, up until the wedding day really helped us feel at ease. Many of our guests commented on how much they enjoyed his officiating. He made it all a seamless process. Thanks for everything John!! August 2021,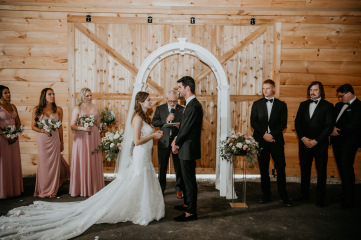 Alyssa & Stephen
John Horvath did an incredible job at our outdoor ceremony. We highly recommend him for your wedding. He gets to know you as a couple and as individuals. With all that goes on in planning a wedding, John made sure this was not something we had to worry about. He is reliable, well-spoken, and keeps great communication. Thank you for everything John! Oct 2021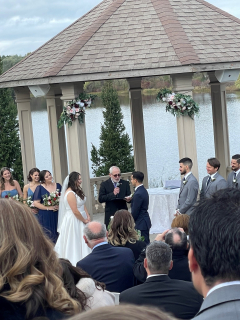 Alicia & Mike
John Horvath exceeded our expectations as officiant. From our first initial meeting to the follow up after the wedding, he was kind and genuine. The ceremony itself was absolutely perfect and we received many compliments on how fantastic John was. Thank you so much for being a part of our day and making one of the most special moments during it, so perfect. Alicia & Mike September 2021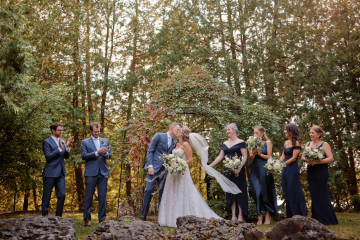 Ashley & Cameron
We had a small ceremony with John Horvath in a beautiful local park, we was timely and professional. He kept the ceremony intimate and personal, that it made for a very special day, we can not thank him enough. Ashley & Cameron September 2021
Manpreet & Jason
John Horvath exceeded exceeded our expectations. He was so friendly and kind before the wedding, during, and after! WE would definitely consider referring him to others. Thanks for everything! Manpreet & Jason August 2021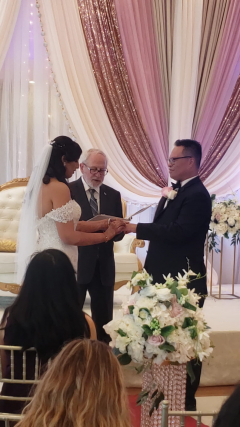 Rohan & Melissa
John Horvath was our Officiant for our wedding in May. Given the circumstances with the pandemic and the restrictions, John was very easy to work with, and with everything going on, he made our day very special. He spoke very kindly, always had a smile on his face and boosted us, even though we couldn't have our entire family present. John thank you very much for your time and trust in us to come that day and make our special day. Rohan & Melissa May 2021
Stephen & Ashley
John Horvath was a pleasure to work with and was very helpful in guiding us through the process of the wedding ceremony and what happens after. We were very happy to have had John officiate our wedding :) Stephen & Ashley August 2020
Edward & Cumberbatch
John Horvath is a very nice person and open to sharing his many years of successful marriage experience with us. He's such a great person and will be willing to recommend him anytime. Edward & Cumberbatch October 2020
Summer & Dave,
John Horvath was great. He made us feel at ease and performed a wonderful ceremony. Awesome experience from beginning to end. Thank you! Summer & Dave, September 2020
Mario & Becky
Thank you, your services were lovely. John (Horvath) did a wonderful job. We would recommend him. Mario & Becky, August 2020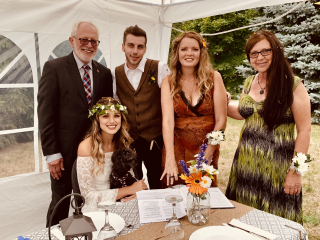 Duane & Christina
John Horvath was so wonderful! He was well spoken, very friendly and extremely helpful answering all of my questions leading up to the day. He was also very funny, my husband had a "guy walks into a bar" reference in his vows and John shared his own favorite during the signing - it was great! Would highly recommend him. Duane & Christina August 2020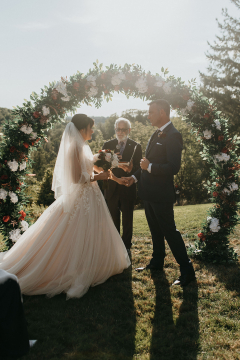 Rob & Becky
John Horvath brought wonderful warmth and support to our ceremony - we really appreciated his role in making our special day perfect! Rob & Becky August 2020
Patrick & Jennifer
This year has certainly been a challenging year for planning a wedding! Pat and I originally made the difficult decision to postpone our wedding due to COVID-19, but as the restrictions lifted we made the last minute decision to host an intimate ceremony with our immediate family on our original wedding date. John was incredibly accommodating of a few last minute changes and made our mini ceremony special. He was friendly, professional, and quick to answer all of our questions. We would certainly refer him to our friends and family! Patrick & Jennifer July 2020
Kenneth & Marianne
We did not realize at the time what a calming and supportive influence John would be for us. Our marriage ceremony very nearly did not happen due to the increasing concerns of the health and safety of our guests as Covid19 made its initial appearance in Canada. John was in regular contact and rolled with the changes in venue and ceremony. Indoors to outdoors, standard ceremony to short and sweet. John was understanding, supportive and efficient. He promised he would be there and all would be okay. And it was okay and very special too. John set the tone and created an atmosphere we will never forget. He made our guests feel welcome, gave us small quiet cues when we forgot something, had a funny line or two that had our guests laughing and through it all supported us! John, thank you so very much for making our marriage official and for making the moment special for us in the midst of the obstacles. From the bottom of our hearts thank you! Kenneth & Marianne March 2020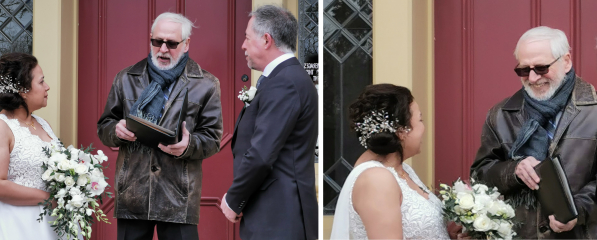 John & Allanah
John Horvath is so patient and kind and the ideal individual for this job. He was great at answering any questions we had, and offering helpful suggestions that you could tell were from years of experience. During the ceremony, everything went according to plan and he truly made the day so special to my husband and myself. We received dozens of compliments from our family that our ceremony was one of the most beautiful ceremonies they were present for. If I had to get married again, I would definitely work with John! John & Allanah October 2019
Korey & Alyssa
John Horvath was amazing ! He did everything we asked and performed an amazing ceremony! Korey & Alyssa September 2019
Andy & Lyncoln
After meeting John Horvath for the first time, it was clear that he was the right choice! What a pleasure it was having him serve as the officiant at our wedding. He was calm, punctual and executed our ceremony exactly as we had envisioned. John's experience helped to take the pressure off the big day. Thank you John! Andy & Lyncoln September 2019
Justin & Amanda
Thank you John for our wonderful wedding ceremony ! From our first emails, right up to our wedding day, John answered any question we had. John really took what we said we wanted and made our ceremony work for us! He embraced our not so traditional song choices and reading choice. John happily gave us exactly what we were looking for! We can't thank him enough for making our ceremony perfect . Justin & Amanda August 2019
Eric & Linda
Working with John Horvath was a pleasure. He explained the options that we had, and walked us through the steps and paper work we'd need to deal with. He offered suggestions for the ceremony and was completely open to our ideas. With a combination of blazing heat, and threatening thunder storms, John took it in his stride when we move the ceremony at the last minute (literally) to the only shady spot we had so we could hold the ceremony outside. He has a quite and pleasant presence that made everyone feel comfortable and contributed to the joy of the occasion. We wouldn't hesitate in recommending John. Eric & Linda July 2019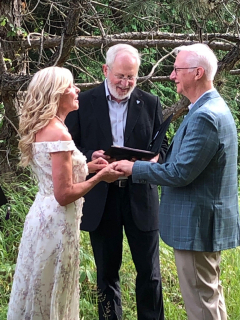 Kyryl & Oleksandra
John Horvath genuinely shared our happiness and helped make the ceremony special. We are happy we had him preform the ceremony. Thank you for everything John. Kyryl & Oleksandra July 2019
Jamie-Beth & John
Thank you to both All Seasons Weddings and our Officiant John Horvath! The process was smooth and simple right from the start! Our officiant John Horvath, was kind, professional and rolled along with the punches when mother nature decided to pour on all of us during our ceremony! He helped provide calmness and laughter for us and our guests in the moment, which we are entirely grateful for! We highly recommend John Horvath as an Officiant, and using All Seasons Weddings! Jamie-Beth & John July 2019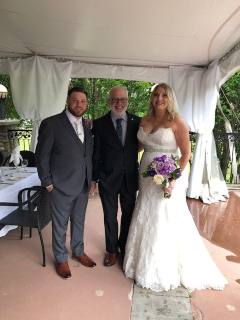 Kurt & Melissa
John Horvath met with us ahead of time to make sure we were okay with the vows and if we had any other questions or concerns. John had a very calming presence and managed to keep Kurt's (the groom) nerves at bay while waiting for me (the bride). John was eloquent and guided us through the proceedings effortlessly. The ceremony was perfect and not stressful at all. Kurt & Melissa June 2019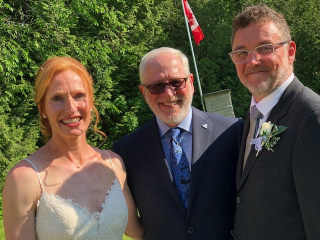 Mark & Sharon
John Horvath was simply great. He explained things clearly and he was flexible as regards our desire to keep things simple. John did a perfect job and we would highly recommend him for others. Thank you John ! Mark & Sharon May 2019
Mandy and Richard
We wanted to thank John Horvath who was an absolute pleasure to work with from beginning to end. When I first reached out to him with a few questions of how everything works, he took the time to reply with thorough details. He explained each step and made the whole thing seem effortless. With a sudden change last minute on the day of the ceremony, he was quick to accommodate us and we are grateful for it. His patience and understanding throughout the whole process gave us one less thing to worry about while planning and celebrating our marriage. Do not hesitate in selecting John to be a part of your big day! Thanks again!
Ksenia & Alex
We really enjoyed having John Horvath as our officiant. We appreciated his calmness, willingness to meet our needs, and help to make the ceremony truly unique and the way we wanted it. We strongly recommend John. John, we wanted to thank you one more time for such a beautiful job you did at our wedding. We really appreciated your professionalism and support throughout the ceremony. Thank you!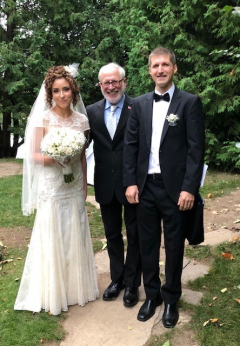 Juan & Lydia
All weddings are an unforgettable moment in someone's life. Ours is definitely so. We are certain that years from now, as we reminisce about that day, we will still feel the warmth and kindness that John Horvath gifted us with. He is a gentle, sage and peaceful man. He is one of those people whom you feel a timeless connection with. A true professional who no doubt, loves what he does... Lydia and I can't recommend John enough... Juan & Lydia July 7th, 2018
Gracia & John
I just wanted you too know that my wedding was this Friday that passed June 1st, 2018 and it was such a remarkable day. We had John Horvath as our officiant and he was just great. We had a lot of compliments given to us by our guests who thought the same. Thank you Gracia & John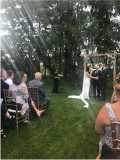 Sarah & Andrew
John (Horvath) was wonderful as our officiant at our wedding - he was very kind, flexible, and really wanted to get to know us in order to perform a meaningful ceremony. He was such a positive part of our wedding, and we're very grateful that we chose him. Sarah & Andrew Sept 22nd, 2017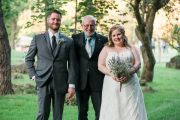 Terry & Tammy Devlin
Hi John, I hope all is well. A couple of months have gone by since you officiated our wedding. Things are going well; I married an exceptional woman! Anyway, we just wanted to thank you again, so much, for officiating our wedding and being the person you are. Your upbeat personality and the way you presented the ceremony made our day. We can't express how much we feel that we were blessed to meet you and have you there for us. We will always remember our day along with how much you made it special for us. Thanks again, and take care.
Paul and Anita
Hi John, From Paul and I, thank you. The day and ceremony was perfect. Your attention to details and giving us the necessary moments to collect ourselves was awesome We would recommend you :). Thank you
Robin & Kyle
John Horvath was a delight to work with. He is kind, caring, open and has a great sense of humour. We were looking for a ceremony that was unique to us and the could be delivered in a non-traditional setting and John made our day exactly what we hoped it would be. Thank you John for providing with a high level of dedication and care. We highly recommend his service!
Nigel & Tenyka
My wife and I were married by Mr John Horvath in June of 2016. He was very friendly, and patient with us over the phone, and at our meeting prior to the ceremony. He made it a point to get to know us better, and that really put us at ease. On the wedding day, the ceremony went beautifully. His humour and kind words made our day even more special. We would recommend Mr Horvath to any couple without hesitation. Nigel & Tenyka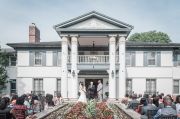 Jessica and Jay
John was professional, kind, and knowledgable. He explained the process to us in detail and ensured that things were organized and efficient. He was extremely supportive when we wanted to customize the ceremony. He made us feel at ease and our wedding guests complimented our ceremony all night. Thank you so much John, Jay and I couldn't be happier
Kristin & Peter
John Horvath was an absolute delight to work with. He took his time to get to know us and really understand what we wanted in our ceremony. During the ceremony he spoke with kindness and made us feel comfortable. We would like to thank him for making our day a success.
Caryn & Tony
From the moment we met John Horvath, he made us feel very comfortable and at ease with the plan for our ceremony. We are very glad we chose to include him in our wedding day - the ceremony was exactly as we had envisioned.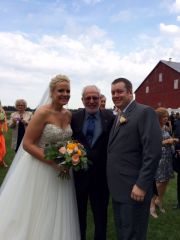 Lindsay & Jay
John Horvath exceeded all of our expectations. From the moment I emailed him I knew he was the right choice. He is so sincere, honest and friendly I only wish we could keep in contact. John took the added stress of the details regarding the legal 'stuff' off our shoulders and made us both feel at ease on the big day. Thank you from the bottom of our hearts John.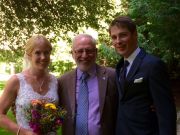 Kirsten & Brandon
John Horvath was amazing. He made the ceremony so light, and fun, and we felt so comfortable. I would refer John to anyone. He was just perfect for the casual wedding we wanted. Thank you so much to John, he was outstanding. I was not nervous at all, because he made us laugh, and everyone said what a wonderful time they had. I can't thank him enough.
Lauren & Kirk
John Horvath was absolutely outstanding! He is warm, funny and a very engaging speaker. John added some lovely personal touches that made the afternoon so honest, comfortable and special for us. We received so many compliments on the ceremony and could not be happier!
Lucas & Alicia
John (Horvath) was so easy to work with. He was kind and funny and made every request we made possible. He is quick to reply to any questions or concerns you may have which is very important to a stressed out couple. The ceremony was beautiful and we received many, many compliments about it. Not just about us as a couple, but guests specifically told us what a great officiant we had, what a nice man he is and how he communicated with the crowd. Thank you All Seasons and John Horvath. We will forever be grateful.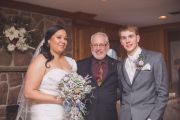 Jeanine & Kyle
I would recommend John Horvath to anyone getting married are ceremony was very personal with some laughs everyone is still talking about how great the ceremony was ! It wouldn't of been the same without him.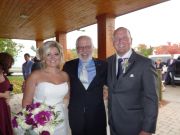 Matthew and Hilary
Thanks so much for all your time John. The ceremony was beautiful. Everyone loved it (even the guest who thought you forgot something hahah).
Kelsie & Drew
Throughout the entire process John Horvath was wonderful. He exceeded our expectations on every level and was very warm, comforting and inviting. John welcomed us into his home for the initial and pre-wedding consultation and played a key role in keeping the groom calm and at ease! We were able to get to know John well in such a brief period of time. We would certainly go out of our way to recommend John to others. He is the best!! Thanks John for making our wedding memorable! Glad you were a part of our special day!!
Jessica and Rick
A couple says: Thanks again for making our day PERFECT! Sincerely, Jessica & Rick
Amy & Nick
John Horvath is such a sweet man. He did a fabulous job. I very much appreciate you answering my questions via email so quickly! It definately saved a lot of stress and time for me. Your customer service is wonderful. My family, friends and relatives are still bragging about the ceremony... so yes I would recommend.