Jennifer Brown
Jennifer enjoys living in Picton and being a Prince Edward County resident. As a Designated Minister she has over 20 years of experience working with families and children in need. Jennifer is dedicated to helping you make your wedding day as special as you have dreamed! As one of the most memorable and important days of your life, Jennifer brings to your service, commitment, passion and a client directed approach that values and honours your personal ceremony. As this can also be one of the most stressful days, Jennifer also brings with her a great sense of humour and calm so that you can enjoy the moment!
Request Jennifer Brown
Areas Served
Prince Edward County, Brighton and Belleville Waupoos, Cherry Valley, Shannonville, Adolphustown, Milford, Cove Beach, Sandhurst Shores, Milhaven, Picton, Wellington, Deseronto, Port Milford, Demorestville, Milford, Gilbert Mills, Hillier, Consecon, Amelliasburgh, Fenwood Gardens, Rednersville, Belleville, Bloomfield
Reviews
Lauren & Stephanie
I've photographed hundreds of weddings and have seen first-hand how a great officiant can really elevate a ceremony. Jennifer Brown was absolutely the perfect choice for us and we would urge anyone getting married in Prince Edward County & surrounding areas to hire her. Lauren & Stephanie September 2019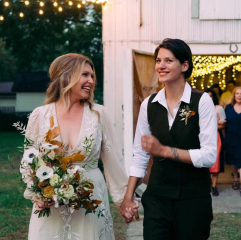 Tim & Christina
Jennifer Brown absolutely exceeded our expectations by a mile! She was incredibly kind, professional, and helpful. Thank you Jennifer for making our day perfect ! Tim & Christina July 2019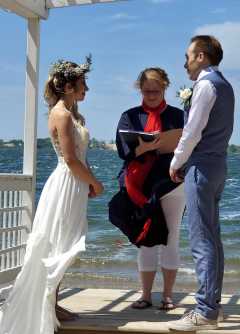 Yanick & Christine
Jennifer Brown was great! She was always there for us if we had any questions before and after the wedding day. She kept the ceremony short and sweet and that was what we wanted. We would recommend Jennifer to others. Thank you for making the day awesome! Yanick & Christine June 2019
Zach and Kaysi
Hi Jennifer! Things with our wedding have finally come to a close and I just wanted to thank you for the beautiful service you did for us! I attached a picture we just received from our photographer, we thought you might like to see it. You did such an amazing job! Thanks again for everything xoxoxo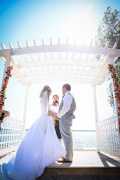 Ali & Matt
Jennifer Brown definitely exceeded our expectations! Everyone present was beyond impressed with Jen and spoke over the whole weekend about what a great job she did with the ceremony. Absolutely no complaints. She was organized, relaxed, personable and really matched the tone of what we were hoping for with our ceremony. She definitely added to the day!
Zoe & Ryan
Jennifer was an absolute delight! We didn't know what to expect as we didn't get a chance to meet Jennifer until the day of our wedding. She was calm, patient and very friendly. She explained what to expect and what we needed to do. Her story as to why she became an officiant was heartwarming and made us appreciate her as our officiant even more. Thank you so much Jennifer, Ryan and I couldn't be happier.
Freda & Vince
Jennifer Brown was a fantastic lady, and she fit right into our group of family members. I have already referred Jennifer and All Seasons and I will continue to do so in the future. Thank you for officiating our day!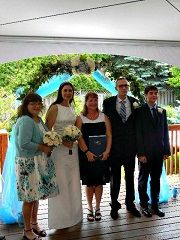 Amanda and Diego
Jennifer was kind, reassuring, and thorough. She explained to us the process of the ceremony, and made sure that we had all of our documents prepared before the wedding. There wasn't a dry eye in the house thanks to the personal and meaningful ceremony. Diego and I are thrilled that Jennifer was able to perform our ceremony! We'll never EVER forget the way she made us feel. If you want someone who will put all your needs, wishes, and feelings first, then look no further than Jennifer Brown! Amanda and Diego Sept 19th, 2015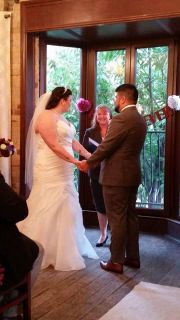 Karen & Brian
Jennifer Brown was personable and listened to everyone who was involved in the ceremony. :) She worked along side my grandfather and facilitated a personal ceremony for us on our family property. It was beautiful. I especially enjoyed the written ceremony, which I personalized with readings and stories. Thanks for your help All Seasons!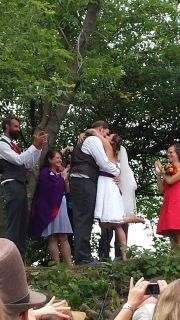 Matthew & Rebecca
Jennifer Brown took care of everything that we could have wanted or hoped! She was very friendly and definitely knew her stuff! With so many other things going on, it was absolutely wonderful not to have to worry about the ceremony. She did a beautiful job. Thank you Jen! Jennifer was incredibly friendly, helpful and professional. She asked really important questions that we hadn't even considered. She also provided some possible templates, but was more than happy to customize the ceremony in any way that we wanted.
Kristin & Steve
Jennifer Brown was awesome. She made us feel comfortable and at ease on our wedding day. We also received numerous compliments from our guests about Jenn.
Carolynn & Christopher
Jennifer was friendly, nice, and easy to work with. She performed the custom ceremony admirably and made sure that everyone knew what they were doing. The All Seasons Weddings office staff helped us find an officiant quickly and efficiently. I was glad that we were able to custom fit our ceremony for our wishes. Thank you Jennifer for your contribution to our day.