Jenn Kang, BA (Bishop's)
Rev Jenn is an Appointed Minister who has served Clergy Support Memorial Church since September 26th, 2015. They love celebrating the sacraments of Marriage, Baptisms and Bereavement Care. In addition, they have a very active ministry of Pastoral Care and Counselling. Jenn is comfortable performing your ceremony in English, French and Spanish. A calm and confident public speaker, a creative writer and professional caregiver, Jenn loves to sing, believes strongly in social justice, and enjoys walking in the woods with dogs. Passionately interested in people and their stories, they are excited to help you express your love in a way that truly represents who you are, what you value, and what you mean to one another.
Request Jenn Kang
Areas Served
Avonport, Aylesford, Baddeck, Baxters Harbour, Berwick, Black River, Brooklyn, Cambridge, Canning, Coldbrook, Ellershouse, Falmouth, Gaspereau, Grand Pré, Greenwich, Halls Harbour, Hantsport, Inverness, Judique, Kentville, Kingsport, Lockhartville, Lumsden Dam, Mabou, Mantua, Medford Beach, Mt. Denson, Mt. Uniacke, New Minas, Newport Station, North Mountain, Orangedale, Port Hood, Port Williams, St. Croix, Scotch Village, Scots Bay, Sheffield Mills, West Brooklyn, White Rock, Windsor, Wolfville, Waterville, Waycobah, Whycocomagh
Reviews
Kim & Julien
Jenn Kang exceeded our expectations as our officiant. She was extremely warm and open with our many changes. She was very professional and we loved having her as our officiant! Thanks so much! We really loved being able to have a bilingual officiant. It was very important for us and Jenn did a great job. It was awesome to have that option.
Debbie & Rhonda
Jenn Kang was absolutely wonderful and more than we expected. Very personable. We are glad we used your service.
Katie and Colin
We had multiple compliments on your officiating and the ceremony, and thank you for working so well with the musicians and our photographer. I'm also so glad that you met with us prior to the wedding to really work out all the details and personalize the ceremony. It made the day worry-free. Really, the ceremony was perfect! Thanks again for doing such a wonderful job-- I can't think of anything we would have changed!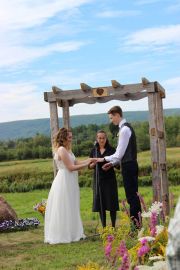 Diane & Joshua
Rev Jenn (Kang), Thank you so much for being such an important part of our special day. The ceremony was perfect and thanks to you it all flowed smoothly. We truly appreciated your easy-going nature and ability to adapt to our requests. You made us feel comfortable and relaxed on our special day. Sincerely,