Heather McPherson, MSW (Wilfred Laurier), RSW, MFC (Sorbonne)
Heather would love to help you with your custom wedding ceremony whether it's English, French, or bilingual. Heather lives in North Toronto but serves the entire GTA. The day you have dreamed about is just around the corner, and you are bubbling over with love and anticipation. You want to find the right officiant who will listen to your ideas, your likes and dislikes and help you put together a wedding that is perfect and uniquely yours. If you are not quite certain what you would like, Heather will provide the suggestions that you need. She has a warm and vibrant personality, yet also radiates a sense of calm. She has spent considerable time in Italy, lived in Paris, and was thrilled to take a second visit to India. She has a small counseling practice and is also part of a team that welcomes and settles newcomers to our country.
Request Heather McPherson
Areas Served
Concord, Don Mills, Etobicoke, Forest Hill, Maple, Markham, North York, Pickering, Unionville, Richmond Hill, Scarborough, Thornhill, Toronto (Downtown), Weston, Willowdale, Woodbridge
Reviews
Akilan & Anujah
We had a spectacular experience with Heather McPherson. From the first phone conversation, to the initial meeting to discuss our ceremony details Heather was very thorough. At the ceremony Heather appeared on time and was poised. Everything that we had wished for. She explained the registration for the marriage process really well to us, and was very organized, professional, and confident which really helped relax our anxieties. It was a pleasure to work with her and your company. Thank you for helping us on our wedding day. November 2022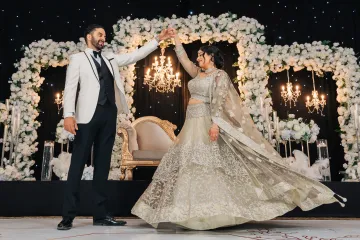 Polina & Alan
We had a wonderful experience with Heather. Everything was smooth, safe and pleasant :) February 2022
Alessio & Urszula
Heather McPherson was the best officiant ever! We would recommend her for sure! December 2020
Evan & Alexandra
Heather was our perfect officiant! She swooped in when we found ourselves planning a last-minute backyard elopement during the pandemic and made us feel completely comfortable and taken care of. She not only listened to all of our preferences, but also really noticed who we were as a couple, was open-minded, and helped us to create the perfect ceremony based on that. Heather's attention to detail during the entire planning process was incredible and put us at complete ease that there would be no hiccups on her end on the wedding day. When the day came, Heather was extremely professional and personable. Her ceremony was amazing and exactly what we had planned and hoped for. Heather also made sure she had everyone's names and the timeline of everything perfectly understood to allow for a ceremony without any delays. We received so many compliments on our beautiful ceremony and we are so grateful to have found Heather for our wedding! June 2020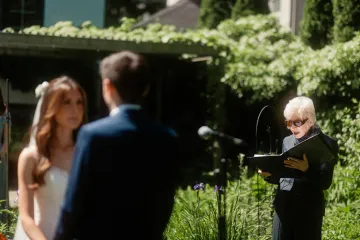 Erica & Matt
Heather McPherson was amazing!! We loved having Heather officiant our wedding. She was organized, on the ball (more than us!), dedicated, reliable and also experienced with married couples counselling - she is the whole package. She is detail oriented, and was even generous enough to ask us ahead of time if we would be okay with her wearing a certain outfit! You will not be disappointed if you go with Heather because she has thought through it all! (photo credit to Fiona Chiu ) Erica & Matt October 2019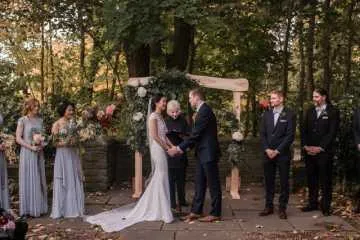 Anton and Julia
Hi Heather (McPherson)! Thanks again for the beautiful ceremony and for your sweet wishes, everything was wonderful. Cheers, Anton and Iuliia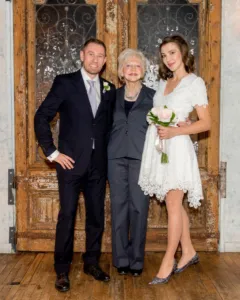 Esther & Jafari
Besides myself and my husband, the most important person to the ceremony is the officiant. Heather Macpherson was wonderful, professional, warm and committed to honouring the tradition of marriage. I immediately felt comforted by her presence and couldn't have been happier with her work. She took special care to emphasize the significance of the vows, words and bond that my husband and I made. All Seasons Wedding Ceremonies was prompt and courteous. I couldn't recommend Heather or All Seasons weddings more. Esther & Jafari
Judy and Grant
We were fortunate to have Heather McPherson officiate our wedding. We wanted something simple and quick, but still meaningful and warm. Heather made it all those things. It was perfect. Thank you, Heather! Judy and Grant Oct 2018
Peng & Elise
It's was such a pleasure to have Heather McPherson as our wedding officiant. She is elegant, warm-hearted and professional. She took the initiative to learn about our culture and even remembered our Chinese names. We had a great ceremony that we will cherish all our lives. Sept 2018
Leanne & Domas
Heather McPherson is a beautiful lady who was so considerate of our needs. She was professional and most of all kind. Thank you!
Oz & Juliana
Heather McPherson is a wonderful person. Thank you so much! She made our day very special! Thank you :)