Eric Morgan
I would love to have the honour and opportunity to collaborate with you to deliver a personalized wedding ceremony that reflects your style on your special day. I reside in Carleton Place, and I am married with six children, giving me the understanding of family. I have been actively involved over the years in a number of charitable community initiatives, such as the Lions Club and the Cancer Society. Your custom ceremony should focus on and express your love for each other and your future together. I am calm, supportive and have a warm presence allows me to perform your ceremony with confidence and ease, ensuring it reflects who you are as a couple, as well as having the right balance of professionalism, creativity and fun for you and your guests.
Request Eric Morgan
Areas Served
Richmond, Rathwell's Shore, Scotch Corners, Mc Greary Shore, Drummond Centre, Perth, Black's Corners, Franktown, Numogate, Smiths Falls, Kinburn, Pakenham, Almonte, Arnprior, Kars, Glen Tay, Wemyss, Fallbrook, Port Elmsley, Kilmarnock
Reviews
Chris & Adele
We were very appreciative to have Eric Morgan as our officiant. We really liked him and it was great to talk and meet with him prior to the ceremony to secure our perfect fit choice. He is an absolute gem - I highly recommend Eric for anyone's special day! August 2023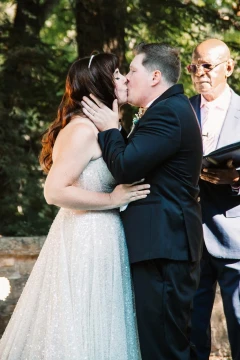 Credit: Kristi Perley-Robertson
Stephane & Kelly
We felt the whole process of booking an Officiant was very efficient. Everything came together as we had hoped. Our Officiant Eric Morgan was great. July 2023
Joanne & Kenneth
Eric Morgan met and exceeded all expectations. I would 'highly' recommend him. He felt like we had known him forever, my friends and family all said the same thing. The ceremony was delivered clearly and with emotion. I cannot say enough good stuff about Eric. The experience with All Seasons, leading up to the securing of Eric's services were absolutely spot on. It was easy and straight forward I would highly recommend using your services to any friends and family. Thank you! August 2022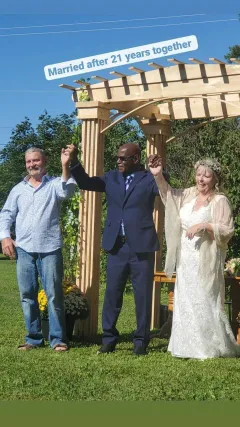 Randy & Beki
Eric Morgan was absolutely amazing. It started to rain the time of our ceremony and he had no problem waiting until the rain stopped for us to have a great ceremony! He made our day fantastic and we would recommend him to everyone! Randy & Beki June 2020
Holly & Daniel
Eric Morgan was our officiant and he did well to put us at ease.
Crystal & Peter
Eric Morgan conducted a beautiful ceremony. He was great! So kind hearted, humorous and very well spoken. Thanks so much