Elizabeth Mueller
As an Ordained Minister with Clergy Support, I will be honoured to be your officiant on your amazing day the one you and your guests will remember and cherish forever and ever "Uniting two spirits, bring together one love". I feel blessed to live in beautiful Harrison Hot Springs where I also offer yoga and healing, workshops and events in my studio. Wherever you decide to hold your Life Celebration ceremony, be it in a beautiful garden, in the forest, on the beach with the sound of waves or your own special choice of venue, it will be a moment you will carry in your heart forever. Let me help you bring your spirit of love into the ceremony you choose, we can create a ceremony which reflects you both and the love you share. Being with my husband over 40 years, I fully understand the blessing the unity of marriage can bring. I have been with the Church since May 2015.
Request Elizabeth Mueller
Areas Served
Agassiz, Bridal Falls, Chilliwack, Cultus Lake, Harrison Hot Springs, Laidlaw, Lake Errock, Deroche, Dewdney
Reviews
Catherine & Jackson
Elizabeth was so amazingly helpful from start to finish. I found her by reaching out on a local community facebook page as she has a strong and positive community presence. Even for the simple and basic ceremony we had. She really kept things organized as my wife and I were so caught up with everything else going on. July 27 2022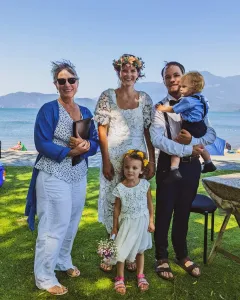 Mike and Tina
Elizabeth Mueller was just fabulous and we were so happy with her! Thank you so much for helping our day be special! Mike and Tina❤️ August 2020
Kurt and Kristen
Elizabeth Mueller exceeded all of our expectations!!! I would refer Elizabeth to anyone I know. She was so attentive, considerate, and went above and beyond what we expected for our special day! Kurt and Kristen January 2020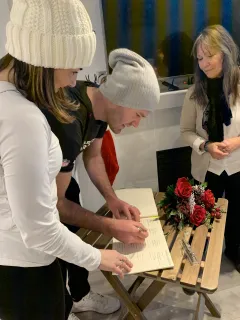 Ryan & Kim
Elizabeth Mueller was very welcoming and made us feel very comfortable. She more than exceeded our expectations.
Peter & Lainie
Elizabeth Mueller was warm, funny, genuine and kind. She was the perfect person to perform our ceremony! [July 2018]
Trudy & Bruce
Elizabeth Mueller brought a grace and calm to the ceremony that was exactly what we wanted. She was ideal.
Jacquie & Lee
Elizabeth Mueller was very friendly, efficient and very nice. She showed up on time for the rehearsal and the wedding. I would definitely recommend her to anyone getting married.
Denise & Bryce
Elizabeth Mueller was wonderful and far exceeded our expectations.
Michael & Troylena
Our officiant, Elizabeth Mueller, made our day. Our ceremony was performed exactly how we requested and was made that much more special for us. Thank You Elizabeth and Thank You to All Seasons for helping us start this wonderful life together. Sincerely, the Oliver Family
Sandra & Kevin
We thought Elizabeth Mueller was helpful and did a great job with our ceremony even though we had a few quirks. She made us feel comfortable and we knew we could be ourselves. She was a great officiant.