Elaine Page
Elaine who lives in Thornhill is one of those officiants who is very much in demand. Elaine is much in demand as a speaker on certain historical aspects of the Holocaust. Her background is in law and recently she was the recipient of the Wm J Simpson distinguished Paralegal award presented to her by the Law Society of Upper Canada. She's a member of the Toronto Jewish Chorus and a consummate seeker of joy in all that she does. She believes that your wedding ceremony should be a reflection of what you as a couple are passionate about. She creates a safe environment for you to craft a sacred ceremony that is uniquely yours. Whether your wedding ceremony is under the stars, under a chuppah, in a kayak or something more traditional, Elaine is open-minded and flexible. Her easy going nature, sense of humour and appreciation of ritual will help ensure that your special day honours what is important to you. Your family and friends will know you made the right decision by choosing Elaine.
Request Elaine Page
Areas Served
Aurora, Brampton, Concord, Don Mills, Etobicoke, Forest Hill, Holland Landing, King City, Kleinburg, Maple, Markham, Newmarket, Richmond Hill, Scarborough, Thornhill, Toronto – Downtown, Unionville, Vaughan, Weston, Woodbridge, Willowdale
Reviews
Reza & Jordana
Elaine Page was great! My husband and I are of different faiths (He is Muslim, I am Jewish). We were legally married in a Nikkah last year, and wanted to follow it with a Jewish ceremony. Therefore, we wanted an officiant who would conduct all the traditional parts of a Jewish wedding without getting too religious. We read about Elaine Page on WeddingWire, and reached out to All Seasons to set-up a meeting. In the meeting, she walked us through the ceremony and we were able to adjust to our liking. On our big day, she showed up early to make sure everything was ready. We had a sweet and short ceremony, which is just what we wanted. We loved that she got the crowd engaged in the breaking of the glass portion. It is something we'll remember forever. Thank you to Elaine for a beautiful ceremony. Highly recommend for anyone looking for an officiant. March 2022
Harry and Elanna Aug 2021
My partner and I are of mixed faiths, and when we got engaged, it was very important to us that our ceremony reflect both of our customs - many officiants who promise to do interfaith ceremonies sometimes lean more heavily one way or the other, and we did not want either of our families to feel like uncomfortable guests at our wedding. Elaine Page was referred to us as someone who could deliver a unique and meaningful interfaith ceremony, and she absolutely delivered in spades. From our first phone meeting, she made us feel totally comfortable and offered plenty of suggestions on what customs we could integrate or omit in order to have the best possible ceremony to reflect our unique sensibilities. I have witnessed ceremonies before that are utterly bland and devoid of personality, with only the barest mention of the couple in question - it could be literally anyone getting married. Not so with Elaine; her ceremony not only felt tailor-made for us, but it also felt personalized - she really paid attention to who we were as individuals as well as who we were as a couple. She is warm, funny, and personable, and she really made the day beautiful for us - I can't recommend her highly enough!
Chris & Jesse
Jesse and I wanted to send a quick note to thank you for officiating our wedding ceremony on Friday! Thank you for keeping it fun and lighthearted - it was exactly what we wanted and was a perfect reflection of our relationship. Our parents and other guests repeatedly commented on how lovely you were, and how beautiful the delivery of the ceremony was.
Christopher & Miriam
Elaine Page was warm and welcoming. She was so helpful in creating our ceremony and was such a fun person to work with!! Our families both commented afterwards how wonderful she was. Elaine was able to mix Jewish traditions into our interfaith ceremony and explain them in a way that included everyone. We had a small incident during our ceremony (one of our guests fainted!) and Elaine was there helping to keep us (bride and groom) calm. Once we saw all was well Elaine continued the ceremony without missing a beat. Her kind and positive presence was so welcome as part of our day! Thank you, Elaine!! Christopher & Miriam August 2020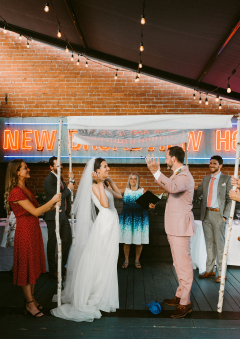 Brian & Kaly
Elaine Page exceeded our expectations. She is a wonderful woman with a big heart and great sense of humour. It was really easy, comfortable and fun working with Elaine to create a beautiful interfaith ceremony. She was flexible in terms of in-person meetings, phone calls and emails. We gave Elaine information about who we are as a couple, as individuals, how we met and what we love about each other and felt very confident in Elaine to put together a one-of-a-kind ceremony that was right for us. We knew within the first 10 minutes of speaking with Elaine on the phone that she was the right officiant for us. She has lots of experience and makes the process feel effortless. We would highly recommend her to others, especially those of Jewish faith or inter-Jewish faith. Brian & Kaly June 2019
Laura & Carolyn
From the first time speaking with Elaine Page, she made us feel at ease. She said she would do her very best to listen to us and provide a ceremony that truly represented who we were individually and to each other. She lived up to her words and took us through our ceremony with grace, confidence and a little sprinkling of humour. I couldn't recommend someone more highly to officiate your wedding. Elaine provides a beautiful narrative to a love story, she is both compassionate and supportive and has a masterful presence for public speaking. Thank you Elaine Page! Laura & Carolyn
Dan & Kerry
Elaine Page gave us exactly the ceremony we wanted. She sat down with us before the wedding and in that short time was able to get exactly what it was that made our relationships special. Our ceremony had the right amount of religious and personal touches that we wanted - it felt like we had a unique ceremony that was created just for us. She was calm throughout the day and really was our rock. We couldn't have asked for a better human being to be our officiant. We're so glad we found her. Dan & Kerry May 2019
Joshua & Claire
Elaine Page was a fantastic officiant and we thank her for a wonderful ceremony. Elaine brought warmth, support and a sense of humour to our special day. We are very happy that Elaine could be our officiant and exceeded our expectations.
Matthew & Tatjana
Elaine Page was fantastic. Warm comfortable ceremony mixed with humor and tradition. Numerous positive comments from attendees. January, 2019.
Shoshana and Aaron
Elaine (Page) was absolutely wonderful! She made it easy for us to open up to her and feel comfortable with her marrying us. She was very well organized too! My vows were cut off when I printed them, and she had printed them off herself just in case anything were to happen. I definitely recommend Elaine if you're looking for someone fun and quirky, and who is super prepared and supportive! Thanks so much Elaine for making our special day so great! Shoshana and Aaron
Jamie & Erik
Elaine (Page) was amazing through the wedding ceremony process. She sat down with my husband and I and we spoke about our relationship, what religious aspects we did and didn't want, she gave great suggestions. She was very open to adding quirky little jokes into the ceremony and I really feel like she got a good sense of who we are as a couple. When the time for the actual ceremony Elaine was incredibly professional and she preformed our ceremony in a manner that had everyone smiling and we can look back on our special day and not want to change a single thing. Thank you once again Elaine for making our wedding the most magical day of our lives. Jamie & Erik 09/10/16
Shayna and Josh
Elaine (Page) was fantastic - not only did my husband and I love how she spoke, what she said and her energy. Many of our guests were asking for her contact information after the wedding. We loved her and so did everyone else !!
Aleah and Kyle
Elaine Page was friendly and helpful throughout the whole process - She was sensitive to and aware of some difficult family dynamics tried to assist with this as she could
Eric and Lisa
Hello Elaine, Thank you so much for the fantastic job you did on Sunday! Lisa and I (and all our guests) thought that the ceremony was very beautiful. We got so many positive comments and wanted to pass along the heartfelt thanks from everyone involved. David did a superb job as well; please pass along our deepest thanks to him for making our wedding special. The wedding went splendidly, thanks in no small part to your service. We hope that you got some great kayaking in over the rest of the weekend! Kindest Regards, Eric and Lisa
Sasha and Andrea
Hi Elaine, We wanted to write to thank you but you beat us to it. Thank you for helping us have the most perfect wedding. You were so thoughtful about every detail. We couldn't have done it without you. All our best, Sasha and Andrea
Kara & Justin
Our officiant Elaine Page made our ceremony a dream come true. People were talking about our wonderful ceremony all night long. Her help planning before our ceremony helped us feel at ease and excited for the upcoming day. During the ceremony, she made our ceremony feel intimate, warm, and created a romantic feel to it. I would highly recommend Elaine to anyone who was looking for a fantastic officiant. I have already referred both All Seasons Weddings and Elaine to multiple different people.
Eric & Lisa
Elaine Page exceeded expectations! A wonderful ceremony! Elaine made our wedding day so special. She met with us several times to develop and improve upon the ceremony to make it exactly what we were looking for. Thank you!
Sari & Jay
Elaine was fantastic and we really appreciated her flexibility in working with the ceremony which she had created based on both our backgrounds(French & Jewish). Elaine was professional, quick to get back to us when we had questions or needed advice, arrived early for our special day, and helped lead our beautiful ceremony! Many guests commented on how beautiful our ceremony was and we really need to thank Elaine for this! Thanks again for helping connect us! We were very pleased with the service we received from Elaine.
Samantha & Douglas
Elaine Page was helpful through the whole planning process. She worked with us to ensure that our ceremony reflected our views, preferences and relationship. She had excellent suggestions on how to make the ceremony more personal. She performed the ceremony professionally and with a lightness that made everyone in the wedding party and audience feel included. I would definitely recommend Elaine to friends and family!
Sarah & Roberto
Elaine Page far exceeded our expectations. She was extraordinary in meeting our needs as an interfaith couple. Her attention to detail and willingness to be flexible went above and beyond the service level we anticipated. She is lovely, thoughtful, and generous. I'm very grateful to have found her to perform our ceremony.
Alex & Karin
Elaine Page was really great and went above and beyond our expectations to help us create a meaningful ceremony. All of our guests loved it!
Robert & John
Elaine Page did a great job. We are very happy that we used her.