Elaine Kicknosway
Elaine is an Appointed Designated Minister, a resident of Ottawa, and proud of her First Nations heritage. Elaine is a mother of one, a step-mother, a singer, and believes in love, life and ceremony. She has been conducting personalized wedding ceremonies since 2015. She is a person of great warmth. Elaine would be honored to assist you on your very special day by preforming your personalized wedding ceremony just the way you want it performed.
Request Elaine Kicknosway
Areas Served
Barrhaven, Kanata, Orleans, Ottawa, Ottawa Central, Ottawa East, Ottawa South, Ottawa West, Nepean
Reviews
Brady & Jaimie
Elaine Kicknosway was very accommodating and friendly, she is great to work with. We would definitely refer Elaine to others. Brady & Jaimie October 2020
Rory & Chrystal
It was scary to have a wedding with COVID 19 as a factor but Elaine Kicknosway went above and beyond to make us feel safe and comfortable with all aspects of her role. She did an amazing job and we continue to receive compliments on her delivery of the ceremony. Rory & Chrystal September 2020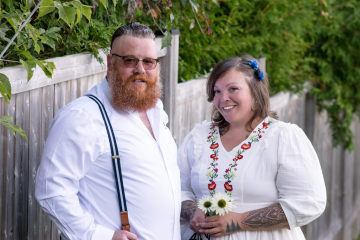 Norman and Cynthia
Elaine Kicknosway was professional and assisted me to make this the perfect wedding day. Thanks Elaine! Norman and Cynthia January 2020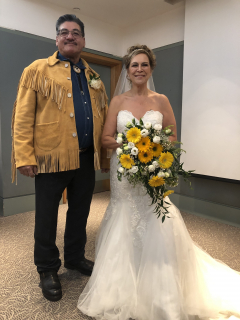 Jean-François & Alessandra
Elaine Kicknosway était accessible, douce, très sympatique et elle a su nous guider avec ses connaissances. Je salue son ouverture car j'ai pu réciter mes voeux en français. Merci Elaine! Jean-François & Alessandra July 2019
Andre & Daniela
We were very happy with Elaine Kicknosway as our officiant. She spoke softly which made us feel calm. We asked her to do smudging and we were very happy that she did. Our guests were very impressed with her. Our guest mentioned that ceremonies are usually boring, this ceremony with Elaine Kicknosway was very engaging. We highly recommend Elaine. Thank you Elaine. Andre & Daniela May 2019
Kayt & Yancy
Elaine Kicknosway was the perfect choice for our wedding ceremony. We are so happy we chose her to perform our marriage! She is calm, thoughtful and has a great sense of humour. We couldn't have asked for a better fit.
Chelsey & Sunchild
Elaine Kicknosway was amazing! She was very professional, warmhearted and kind. All our questions were answers promptly. It was simple and stress free planning. It is wonderful to see that Indigenous Traditional wedding ceremonies are available through your company. We were very pleased to be able to showcase our culture.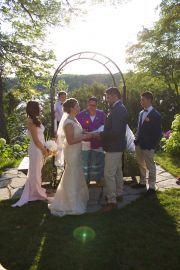 Jennifer & Steven
Elaine Kicknosway was fantastic. She was kind, caring, respectful and humourous. She walked us through the ceremony in the most gentle fashion. She incorporated Indigenous traditions which was unique and very meaningful to the both of us. Thank you Elaine.
Kevin & Mary
We could not imagine being married by anyone else! Elaine (Kicknosway) was so kind and reassuring -- from our first meeting to the good wishes she expressed to us after the ceremony. She filled our wedding with sacredness and respect, joy and laughter, and we felt loved and taken care of! Being able to have a First Nations ceremony was so wonderful, and she was so thoughtful when supporting us during the preparation. She helped us talk through our worries and offered very helpful suggestions about how we could personalize our ceremony to suit us and our families. She has such a good heart. With thanks!! Kevin & Mary
Steph & Greg
Hi Elaine We just wanted to say Thank-You very much for marrying is today! The ceremony was perfect. We appreciate everything you did and how you somehow managed to keep us both so calm! Thank you so much for making our day so special!
Amanda & Nicole
Thank you so much Elaine for making the ceremony a peaceful, enjoyable experience. I knew there was a reason you were on the website. It was just meant to be.