Dot Beaucage-Kennedy
Most people call me Dot and I am an Ojibway Elder residing on Nipissing First Nation near North Bay, I live my life as an Anishnabe Kwe using the Grandfather teachings. I am very knowledgeable in the Ojibway traditions and I can offer smudging or a hand drum song with ceremony for those who choose this way. However, I am not restricted to the Ojibway path as I am comfortable performing; same-sex, non-denominational or spiritual wedding ceremonies. I believe it is the couple's special day and my job is to perform the wedding ceremony they want. I offer my help, professionalism and flexibility to all couples, no matter their spiritual path or culture.
Request Dot Beaucage-Kennedy
Areas Served
Bear Island, Bonfield, Cache Bay, Callander, Dokis, Garden River, North Bay, Powassan, Serpent River, Sturgeon Falls, West Nipissing
Reviews
Peter & Mary
Dot Beaucage-Kennedy was wonderful! Easy to work with and was very supportive and helpful in planning our ceremony. Peter & Mary June 2020
Jim & Lisa
Dot Beaucage-Kennedy was perfect, she made our day better than we could of ever hoped for. Thank you Dot ! Jim & Lisa August 2019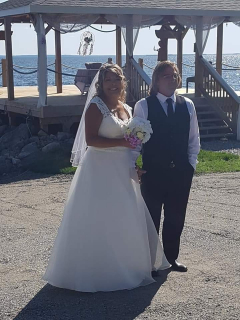 Laura & Michael
Dot Beaucage-Kennedy was the officiant for our ceremony and made our day very special and very personal. It truly reflected who we are as a couple. Our guests were quickly very comfortable with Dot's warmth, friendly and informative approach to conducting a mix of traditional wedding and First Nation ceremonies. Booking through and communicating with All Seasons was done with ease and effiency. We were truly blessed with a beautiful day.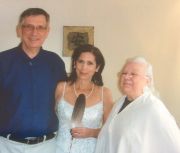 Michael & Treena
Dot Beaucage-Kennedy went above and beyond our expectations. We had an amazing ceremony and made a new friend. It was just what we were hoping for. I would highly recommend her to others. I would insist that my friends use this service, so professional and courteous. In fact we have already recommended All Seasons and officiant to another couple. Thank you so much for the perfect wedding ceremony for us.
George & Jackie
Dot Beaucage-Kennedy is awesome. She went over and beyond.