Diane Greenhalgh-Vosding
Diane who lives in Waterloo is an award winning wedding officiant. Diane is a mature and caring person who has a dream: to help you experience a unique wedding ceremony that truly captures your love story. Before becoming a Minister , Diane spent a successful career in education working with families and individuals aiming to bring out the best in each person. She would like to apply her knowledge, skills and creativity helping you to achieve the most memorable day of your life!
Request Diane Greenhalgh-Vosding
Areas Served
Ayr, Bloomingdale, Brantford, Breslau, Brussels, Conestogo, Elmira, Elora, Floradale, Heidelberg, Maryville, New Dundee, New Hamburg, Paris, Puslinch, St, Agatha, St. Clements, St. Jacobs, Stratford, Wellesley, Wilmot, Kitchener, Cambridge, Waterloo
Reviews
Jessica and Nick
Diane (Greenhalgh-Vosding) You were amazing and always very patient and friendly. You made the experience a great one and we never once felt scared or nervous because we knew you would be there to support us, we can't thank you enough!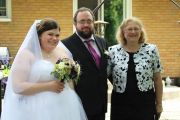 Bonnie and Ryan
Thank you so much for everything you did for us on our wedding day. It was absolutely perfect in every way and you were a big part of that.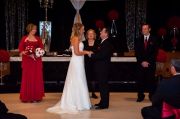 Brittany and Cory
"Thank you so much for officiating our special day, we really appreciate everything you did for us. You gave it a real personal touch! We were touched when we woke up the following morning and saw your beautiful e-mail. You will forever be in our hearts. Brittany and Cory"
Tara & Matt
Diane Greenhalgh-Vosding was friendly, gave wonderful advice and gave a beautiful service! She incorparated who me and my husband were in personlity. Thank you Diane