Danielle Pellerin
Danielle was voted by her peers as the most popular wedding officiant in North Bay in the coveted annual Wedding Expert Awards. She can conduct wedding ceremonies in both official languages. "When we are gathered in the name of Love, a powerful and memorable unfolding takes place." This is Danielle's belief about your special day and she will help set the tone for it to unfold in the way that you have envisioned it. As a former teacher/principal, she has much experience and leadership skills in many fields. Her friendly easygoing ways, her great listening skills and her warm smile will surely facilitate the planning and delivery of the services she can provide as you begin a new life together. Call her and you will know you have made the right choice.
Request Danielle Pellerin
Areas Served
North Bay, Callander, Corbeil, Bonfield, Astorville, Powassan, Trout Creek, Sturgeon Falls , Temiscamingue.
Reviews
Jesse & Elisha
Danielle Pellerin was accessible and we felt relaxed and prepared when we met with her. She was organized and timely. September 2022
Ray and Helen
Danielle Pellerin met all our expectation. She's such a lovely, wonderful person and very professional. Danielle was very friendly and the All Seasons Weddings staff was also friendly and helpful. I would refer anyone who is looking to get married as you've made it so simple and very professional. Thank you so much for making our day so special!! Aug 2022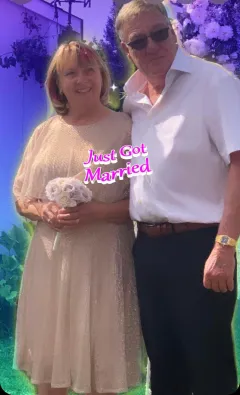 Lisa & David
Danielle Pellerin did a fantastic job. More than we expected. Professional as well as fun and down to earth. Thank you so much. June 2022
Jocelynn & Brandon
Danielle met all of our expectations. July 2022.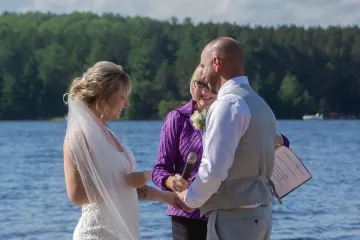 Julie & Sebastien
Danielle Pellerin helped us to write the most amazing ceremony that brought me to tears. Extremely personable but also professional. She really connected with me and my husbands family and celebrated our relationship like it was the first time she has ever officiated a wedding. If you're looking for someone for your special day, Danielle is the best choice! Aug 2022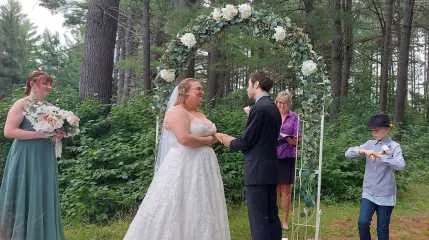 Jonathan & Danielle
Danielle [Pellerin] was incredible! She did a fantastic job officiating our wedding outdoors on a cold rainy day. We could not have asked for a better experience. She performed our ceremony in both French and English as this was important to us. She was very accommodating and responded to all questions or concerns very promptly. We could not be happier! Thank you so much! October 2021
Katie & James
Danielle Pellerin was amazing! Arrived ahead of schedule-she was a bright face and easy going. Danielle made our ceremony very special! August 2021
Jennafer & Jeff
Thank you so much for your wonderful job at our wedding on Friday at The White Owl! Of course we couldn't predict the outburst by our son, but the patience and grace you showed only re-confirmed we made the absolute best choice with our officiant! Thank you again so much and enjoy the rest of your summer! August 2021
Justin & Cristina
Danielle Pellerin was very professional and amazing . We would recommend her to anyone. August 2020
Terra & Maxime
Danielle Filiatrault was friendly, professional and very adept! She transitioned from French to English very naturally and was always very courteous and helpful to us in the lead-up time to our wedding, answering all communication promptly. We received many compliments after the wedding at how good Danielle was! Thank you to All Seasons for connecting us with our officiant. This service made the process very easy and gave us peace of mind knowing that we were choosing an officiant who had been highly reviewed before as well as offering a back-up officiant should there be an emergency.
Daniel & Sylvie
Notre célébrante Danielle Filiatrault a été d'un professionalisme et d'une gentillesse hors pair. Nous l'avons déjà recommandé à un couple d'amis.
Taryn & Brad
Danielle Filiatrault was a fantastic officiant! She took the time to meet with my husband and I a few times prior to our wedding day, including scheduling a phone conversation, to understand how we envisioned our ceremony and to provide us with some information. Danielle is very personable and friendly and was always available to answer any questions we had. She spoke very eloquently during our ceremony and made our vision of our ceremony come to life. Thank you so much, Danielle!
Christian & Angeline
Danielle Filiatrault était très disponible et toujours prompte à nous aider. Nous avons eu une toute petite cérémonie et Danielle la rendue très chaleureuse. Merci encore Danielle pour ce bon moment.
Josh and Amanda
We wanted you to know that we are so thankful and honored to have you as our officiant. You did an awesome job and we are so very grateful. I hope you had as great of a time as we did. We can't thank you enough and we wish you all the best going forward. Take care. Cheers, Josh and Amanda
Sonia et Raphael
Bonjour Danielle, Raphael et moi aimerions vous remercier pour l'excellent travail que vous avez fait lors de notre cérémonie. Nous étions nerveux du déroulement puisque qu'elle était non traditionnelle et vos directions, votre calme et voix posée nous a beaucoup aidé. Vous avez contribué à faire de cette journée une qui est mémorable, un gros merci! Bien à vous, Sonia et Raphael
Mireille & Daniel
Danielle Filiatrault a été super! Nous sommes tellement content d'avoir choisi Danielle pour notre belle cérémonie. Elle a l'expérience, la patience et une très belle présence. Merci milles fois!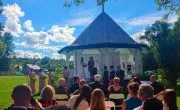 Renee & Craig
Danielle Filiatrault was extremely patient with me and my emails and requests for meetings. She kept me at ease, made me feel super comfortable during the ceremony itself, made me realize beforehand that the ceremony is about us and reminded me of that during the emotional parts of our ceremony - she helped me try and keep it together! Danielle was amazing, definitely made the process easier, respected our wishes, allowed us to add our own personal touch to the ceremony - couldn't have asked for anything better. Thank you so much :)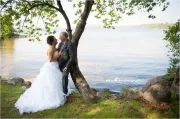 Colline & Evan
We Had An Amazing Day, the Ceremony was Beautiful Our Officiant Danielle Filiatrault was Great she met all Our Expectations & more very easy going & understanding couldn`t ask for anyone better to Share Our Beautiful Day of Love & Laughter with ...Thank You So Very Much :)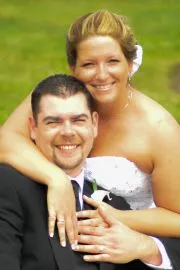 Tanya & Pietro
Danielle Filiatrault was great! She was well prepared and very professional at our first meeting and the ceremony was beautiful! I especially appreciated the bilingualism. The entire officiant booking process was easy and friendly.
Celine & Joey
Danielle Filiatrault was super friendly from the moment that I met with her. I knew instantly that she was perfect for the job. She was well prepared and dressed nice. I am so happy that I booked her!!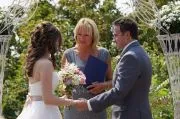 Jill & Stephen
Danielle Filiatrault's friendly, professional approach met and exceeded our expectations. Our ceremony was just perfect!