Rev Danielle King
Rev Danielle King has been an Ordained Minister with Clergy Support Memorial Church since 2005. She did her post-ordination, continuing training with the Canadian Ministers Institute. Before moving back east, she served the Monarch Park Congregation in downtown Toronto. Previous to that, she did her academic work at Memorial University in Newfoundland. Danielle's goal is to help make your wedding day magical, romantic, and a perfect reflection of two individuals uniting as one. She respects and honours all religious and spiritual backgrounds, seamlessly adding any elements you need as part of your legal wedding ceremony. Her loving and outgoing personality puts people naturally at ease. Her creativity and flexibility bring something unique to both the most intimate wedding and the grandest extravaganza!
Request Danielle King
Areas Served
Mahone Bay, Lunenburg, Bridgewater, New Germany, Chester, Hubbards
Reviews
Zishan & Alisha
Danielle King was so amazing, wow very professional; so loud and clear. We were very happy with the ceremony thanks again so much. August 25th, 2018
Denise & David
Danielle King was great to work with, collaborating before the wedding. At the ceremony, her voice was clear and strong so even those in the back row could hear her. She clearly loves what she does!
Codie & Adam
Danielle King went above and beyond and we will be forever grateful for her kindness on the day of our wedding. Not only was the ceremony lovely and perfect for us as a couple, but Danielle also welcomed our family into her home to shelter us from the rain and wind. She was an absolute pleasure to work with and we would highly recommend her.
Carolyn & Michael
Danielle King was absolutely wonderful!! She was incredibly prepared, kind, accommodating, and professional. We are so happy we found her!!!!
Tracie and Kasey
From the moment of meeting Danielle (King), we felt completely comfortable and confident that we picked the right person to marry us. She gave us some great ideas and went over the entire flow for our ceremony. She arrived early so we were able to spend a bit of time going over last minute details with her. After we and our witnesses signed the register, she had my wife's girls sign her register. It was a very nice thing to do and made them feel more a part of our day beside standing with us, and made me tear up. I would definitely recommend her to anyone looking for an awesome, laid back and professional officiant. When guests commented on how smoothly everything went, it was definitely due to her!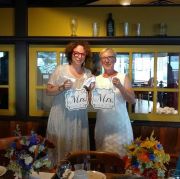 Allison & Melanie
Danielle King exceeded our expectations. She put us at ease and made the entire process seamless.Danielle was friendly, warm, and approachable. Having her as our officiant felt like having a good friend marry us. We will definitely recommend All Seasons Weddings to others and, specifically, Danielle King.
Kristen & Dave
Danielle King was amazing throughout every step of the way and many of our guests commented how great of an officiant she was!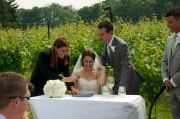 Cheryl & Iain
Danielle King was the perfect fit in guiding us in our ceremony. Her laid back and hilarious sense of humour mirrored our personalities and she fully understood the type of ceremony we were looking for. Danielle's knowledge and importance of this day gave us a calming comfort. We trusted her right away and knew our big day was going to be in the best hands. She 110% exceeded our expectations - Thank You Danielle!
Laura & Murad
Danielle King absolutely exceeded our expectations. She was very outgoing and was extremely helpful in helping us plan our ceremony. My partner and I had no idea what we wanted to do and with her help we were able to put together a personalized day. Danielle is open to doing anything to make it your special day as she was even willing and open to dance down the aisle.
Stacey & Emily
Danielle King was amazing. She arrived early and relieved us of our stress. She was a loud speaker and everyone in the audience could hear her so clearly. I loved that Danielle matched her suit to our bridemaids' colours!!! She was so sweet. I recommend her to anyone!
Ben & Kerri
Danielle, we could not have imagined a more perfect and romantic day, and we are so happy to have shared this experience with you. Everyone told us how wonderful you were!!! Thank you for helping to make our day so special.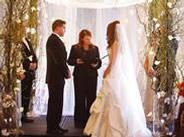 Melissa & Dwane
Danielle King. We are so happy to have had you do our ceremony! You did a fantastic job, and honestly, Dwayne and I couldn't have asked for a more laid back, easy going ceremony... Everyone raved about it after the wedding!!!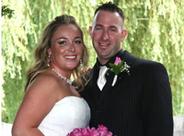 Geoff & Mark
"Danielle King, the pleasure was all ours, because of you and your beautiful words our wedding day has proved to be the best day of our lives! Words cannot express the gratitude we have for you being there and performing the ceremony for us... Again, thank you so much!"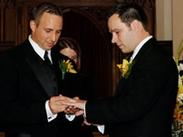 Shawna & Scott
I just wanted to express our extreme happiness for the wonderful job Danielle King did at our wedding. She was amazing and from the first moment we met her we felt comfortable and instant assurance that we were getting the best person possible to perform our wedding. It was a pleasure working with her and the ceremony was beautiful. All of our guests were asking how we knew Danielle and complementing on the fantastic job she did.