Crystal Pogson
Crystal Pogson is a long- time resident of Dunnville. A people person and an experienced pubic speaker who considers her role as a wedding officiant to be an extension of her life of helping others. She loves to be part of creating those unique special moments. Her educational background includes attending Niagara College for Health Sciences and Advance Care Paramedic, Ontario Teachers College for Teaching and Brock University for special interest courses. When she isn't meeting with couples to go over their wedding ceremony plans, Crystal enjoys spending time in her garden, or with her family and friends, including her adorable grand-puppy.
Request Crystal Pogson
Areas Served
Beamsville, Binbrook, Caledonia, Cayuga, Dunnville, Grimsby, Hagersville, Jordon Station, Niagara Falls, Port Colborne, Port Dover, Selkirk, St. Catharines, Stoney Creek, Wainfleet, Welland
Reviews
Frank & Rhonda
Crystal Pogson personalized wedding service was all that we had hoped it would be and then some! We couldn't have asked for anything better. Thank you! Frank & Rhonda July 2020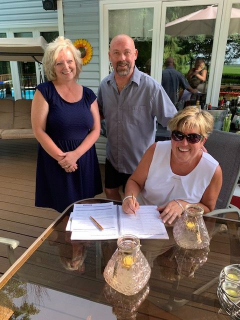 Shaun & Yasmina
Crystal Pogson blew through our expectations. She was very generous with her time and met us a couple of times before the wedding. Many guests came to tell us how heartfelt the ceremony was and how much she seemed genuine. We could not agree more. Thank you very much for helping make our day very special!!! Shaun & Yasmina September 2019
Greg & Carlee
Crystal Pogson exceeded our expectations! She made our ceremony very personable and great! Greg & Carlee August 2019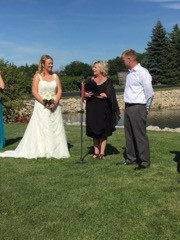 Josh & Taylor
From start to finish, Crystal was amazing to work with. She took the time to get to know us, to tailor our ceremony to our relationship and personalities, and was so responsive to any questions we had along the way. We are so grateful to have such an amazing ceremony to look back on for years to come. We cannot thank Crystal enough! Thank you for making our day so special! Josh & Taylor July 2019
Darren & Holly
Crystal Pogson was absolutely fantastic and I'd highly recommend her to anyone ! Darren & Holly. July 2019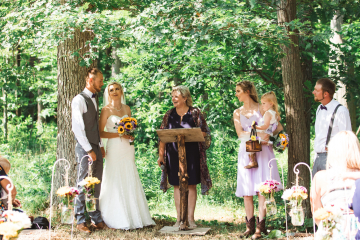 Patrick
Crystal (Pogson) had a very warming presence and with her clear calming voice and playful delivery it was clear very quickly why the bride and groom selected her to perform the ceremony. She had such grace and a great professional presence. My wife and I were joking that we wish we could get remarried to have her perform the ceremony since she performed so much better than ours. Would highly recommend her for any couples big day.
Hailey & Matt
I could not have picked a more perfect person to officiate our big day! My husband and I wanted a quick and simple ceremony but she still added some sentimental flair to make it even better then we envisioned! I highly recommend Crystal (Pogson) for your special day, she made mine even more memorable! Hailey & Matt Dec 31st, 2017