Corinne Durston, B.A. (Manitoba), M.L.S. (UBC)
I respect all paths and I'm happy to serve the LGBTQ+ community. I live in Penticton and I'm involved in my local community as an active member of the Stephen Lewis Foundation Grandmothers to Grandmothers campaign for Aids relief in Africa. I'm an accomplished public speaker, relaxed yet professional. I believe that a wedding, no matter the size, is a very special occasion. Your wedding ceremony will no doubt include family and friends, perhaps your children, even the four-legged ones. My sincere desire is to work with you to create a heartfelt wedding ceremony and lasting memories for all. I am a designated minister with Clergy Support Memorial Church.
Request Corinne Durston
Areas Served
Kaleden, Naramata, Okanagan Falls, Oliver, Osoyoos, Penticton, Summerland, Peachland
Reviews
Terry & Deborah
Corinne Durston was very professional and very knowledgeable, she had some very good suggestions for how to streamline our wedding ceremony. It would not have been as customized and meaningful to us without her help. She also went above and beyond in terms of the time she spent with us. We were grateful for her help throughout the time we prepared for our wedding. Thank you Corinne! Terry & Deborah July 2019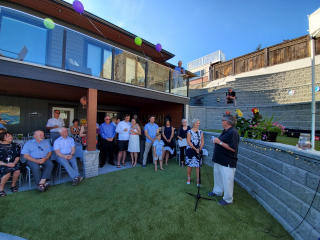 Max & Hannah
Corinne Durston exceeded our expectations. Not only was she extremely professional she was approachable and kind. Corinne played a large role in helping my husband and I have the best wedding day! Thank you Corinne. Max & Hannah June 2019
Hugh & Tanya
We couldn't have been happier with Corinne Durston - she conducted our ceremony exactly how we hoped it would be conducted - it was beautiful. August 25th, 2018
Leah & Masen
Corinne Durston was lovely. A great officiant! Her script was beautiful and she made customizations to suit our preferences.