Cecilia Leung
Note: Cecilia has limited availability for 2024 bookings & is only available for bilingual [English/Cantonese] weddings.
Cecilia, who lives in Newmarket, has been performing weddings since 2004. She's experienced, popular and fluent in English and Cantonese. It would be her honour to conduct your unique spiritual, cultural or traditional wedding ceremony. Cecilia graduated from the University of Waterloo with a BMath degree in Mathematics and Computer Science. We know you will find Cecilia easy to work with, attentive and sincere.
Request Cecilia Leung
Areas Served
Aurora, Bradford, East Gwillimbury, Caledon, Innisfil, Kettleby, Keswick, King City, Kleinberg, Leaside, Markham, Mount Albert, Newmarket, North York, Richmond Hill, Scarborough, Stouffville, Sutton, Thornhill, Toronto (Chinese), Uxbridge, Vaughan, West Gwillimbury, Whitchurch-Stouffville
Reviews
Samantha & Lars
Cecilia Leung was very nice and personable. She provided useful scripts for the foundation of our bilingual ceremony. She was punctual and organized in helping us plan, and we were happy to be married by her. June 2022
Ying & Michael
Cecilia Leung answered our emails promptly. She arrived on time. She also performed in the ceremony with passion, support and love for us. Cecilia is compassionate, considerate and professional. We will recommend any couples to choose Cecilia as their officiant. We are grateful to have Cecilia as our wedding ceremony officiant. Nov 2021
Gregory & Esohe
Cecilia Leung was all we needed. My husband and I are grateful that she officiated in our wedding and we want to say a special thank you to her again for her warmth and friendliness and also for the prayers she offered. We love you Cecilia and we are very grateful for you honoring our request for you to officiate in our simple wedding. October 2021
Oliver & Janel
Cecilia exceeded our expectations, and we are very happy with the service she provided. She was very friendly and helpful. She took the effort to walk us through the entire process, and she was always available whenever we had questions. She accommodated all of our needs. Oliver & Janel July 2021
Angelica & Kelly
Cecilia Leung was warm and kind, we immediately felt comfortable and at ease upon arriving at the venue. She was early and well prepared, which made the ceremony go very smoothly. She was very helpful to us through every stage of our planning and even after the ceremony. She helped make our day beautiful. Angelica & Kelly May 2021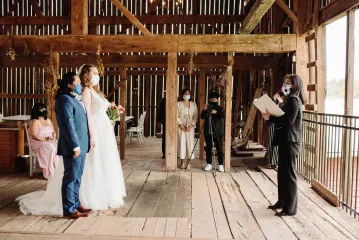 Yinfei & Jie
Cecilia Leung exceeded our expectations. She is a warm and kind person. She made us feel so comfortable, explained everything, and decreased our anxiety. She was very accommodating to all our requests and helped us along the way when preparing for the ceremony. She was just wonderful. I wish we had another reason to see her again. She was a perfect choice, we are so pleased we chose her as our officiant. Yinfei & Jie May 2021
Katherine and Timothy
Dear Cecilia; Thank you for being our officiant on our special day. We really appreciate all your help and support. Stay safe and healthy. Katherine and Timothy
Angus & Shirley
Cecilia Leung was fantastic and really accommodated our needs especially given the COVID situation. Thank you Cecilia! Angus & Shirley October 2020
Aaron & Ashley
Cecilia Leung was wonderful to work with, she was so warm and friendly. We found her to be very helpful in explaining the process to us and we felt like she cared about us. Cecilia was also flexible when we had some last-minute changes. My family really appreciated having a bilingual ceremony, and it was something our guests also found special. Thank you so much, Cecilia! Aaron & Ashley August 2020
Thuan & May
Cecilia Leung was super friendly and answered all our questions. We would recommend her 100%! Thank you! A++++ Thuan & May September 2020
Eric & Sassha
Cecilia Leung was an incredible officiant. She was wonderful to work with and her ceremony was lovely. Eric & Sassha May 2020
Elisa & Ed
Thank you so much Cecilia. Oct. 2019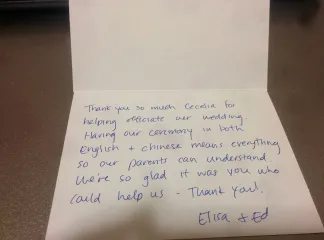 Bonnie & Kevin
Hi Cecelia, We were so caught up in the moment that we forgot to thank you and see you off. You were amazing and we are both grateful that you were able to officiate our wedding tonight! Thank you! This will be in our memories forever! :) Sincerely, Bonnie & Kevin Oct. 2019
Ivan & Christina
Cecilia Leung was on time and delivered a wonderful bilingual ceremony. Our families were extremely appreciative of having her! Thank you for everything ! Ivan & Christina September 2019
Jason & Allison
I would highly recommend All Seasons. Cecilia Leung delivered a great ceremony and kept everything flowing so well we were ahead of schedule in a good way. We had a partial dual language wedding in English and Cantonese. She provided very good choices for us to work with and make our own for the ceremony. She looked very professional and was very organized officiant. All Seasons was very easy to work with and facilitated the communication between us and our officiant very well. We would highly recommend both All Seasons and Cecelia.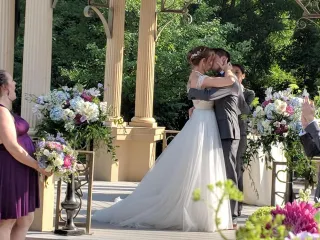 Samantha and Lee
I would like to thank you for a wonderful ceremony at the wedding. Also, thank you so much for helping us at the rehersal. Everyone loved the ceremony.