Carolyn Hamilton-Kuby
Carolyn who lives in Kingston, was recently voted by her peers as the 'Most Popular New Wedding Officiant/Celebrant in Kingston'. She is known for being open and non-judgmental and has a warm caring personality. She holds a Diploma in Ministry from St. Francis Xavier University as well as a Graduate Certificate in Executive Coaching from Royal Roads University. A naturally talented inspirational speaker, Carolyn's vibrant spirit, authenticity, and professionalism can truly enrich your wedding experience!
Request Carolyn Hamilton-Kuby
Areas Served
Kingston, Joyceville, Gananoque and Napanee.
Reviews
Brittany & Brad
We had the absolute pleasure of having Carolyn officiate our wedding on September 21st, 2019. She made the whole process so easy and explained everything that we needed to know. We felt a lot less nervous having her up front with us. Our family and friends loved her as well and kept remarking how great she was even days after our wedding. Carolyn is someone you feel like you've known your whole life from the moment she introduces herself. We honestly couldn't have imagined anyone else officiating our wedding on the most beautiful day! Brittany & Brad September 2019
Matthew & Anastasia
It was an absolute honour to have Carolyn Hamilton-Kuby in our wedding. She was ahead of everything, let us know about deadlines and followed up on things to be done right up until the day of the wedding. She was fun, inviting and her speech and ceremony was moving. I cried when I first read her proposed speech for our wedding. It was thoughtful and honest and mirrored exactly how I felt about my now husband. We really couldn't be more grateful to her for making our day such a wonderful success. My friends and family all commented how truly special it was. From the very bottom of our hearts, thank you! Matthew & Anastasia August 2019
Joshua & Heather
Carolyn Hamilton-Kuby exceeded our expectations as an officiant. From the first time we met with her, we immediately knew that we were in good hands. She took the time to help us figure out exactly what we wanted and she had many great tips to help us plan a wedding unique to our personalities, while ensuring that all the details were taken care of and that everything would go smoothly on the wedding day. Her calm demeanor and positive energy took all the stress out of the day. She is such a caring person and brings so much joy and excitement to the planning process and to the wedding day itself. Carolyn cares deeply about her clients and making sure that everything is perfect for them. Thank you so much to Carolyn for helping us have a perfect day! Joshua & Heather July 2019
Mandip & Heather
Carolyn Hamilton-Kuby went above and beyond to make sure that we had a beautiful, heart-felt ceremony that reflected our personalities. So many people came up to us afterwards to say how moving they found her ceremony. When it came to planning, she guided us every step of the way, and made the entire process near-effortless on our part. I can't thank her enough and would wholeheartedly recommend her services. Mandip & Heather July 2019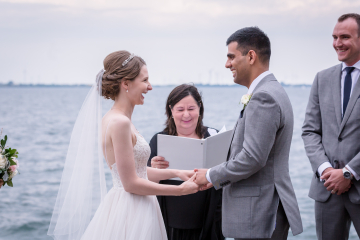 Courtney & Mladen
Carolyn Hamilton-Kuby went above and beyond our expectations. She was always there to answer any questions we had along the way. She helped my husband and I deal with our anxiety on the day of the wedding. As I was walking up to the isle everything started to hit me, Carolyn waited till my bridesmaids were at the end of the isle and as i approached the isle anxious and gasping for air she ran up to be and took the time to calm me now. She was understanding and knew everything had hit me at that moment. Some people might of let me walk down the isle freaking out the way I was, but I will always be eternally grateful that Carolyn came up to calm me down before I walked down the isle. Carolyn is a great officiant and the best decision we made for our wedding. She was there for us from beginning to end and again afterwards. Thank you Carolyn we are so grateful and had a great day, thanks to you.
Stephanie & Michael
Carolyn is absolutely delightful. She has a great personality and a positive attitude on life. She is bubbly and outgoing and very personable. We are so happy to have had the opportunity to meet Carolyn and have her perform our ceremony. Thank you again Carolyn for everything.
Emmalee & Tyler
Carolyn Hamilton Kuby exceeded all expectations. She helped us create a beautiful ceremony, she made an impression on our families in a very short time, and she made our ceremony run perfectly and smoothly.
Isabelle & Derrick
Carolyn Hamilton Kuby was a DREAM - the most responsive, professional, encouraging and warm woman possible. A fantastic addition to our special day.
Laura & Jacob
Carolyn Hamilton Kuby was absolutely fantastic! She was very professional yet personal. We warmed to her immediately with her caring and friendly attitude. She was very prompt in responding to phone calls/ emails and did everything she could to help out with questions or concerns. At our planning meeting she asked questions that we hadn't even thought of, which helped the ceremony flow so smoothly. She calmed our nerves through the ceremony and offered a tissue for some tears. Overall we couldn't have been happier with her!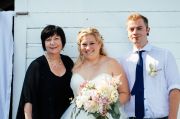 Emily & Lee
There are few days in life more memorable (and stressful) than one's wedding day. When it comes to the ceremony, Carolyn Hamilton-Kuby delivers a beautiful, eloquent service that is customized perfectly to suit you. When my fiancé (now husband) and I first met with Carolyn, we felt an instant connection. Her professionalism combined with a warm and genuine character made us feel instantly at ease. It was obvious that she truly cared about making our special day reflect us as a couple. With all of the stress involved in planning a wedding, we were very confident that our ceremony was in good hands. She was our rock. Sure enough, when the big day came, Carolyn delivered our ceremony with grace. The ceremony's message was suited just for us, making it even more memorable and special. It was a beautiful start to our beautiful day, and we are forever grateful.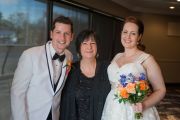 Tracey & Erro
Carolyn Hamilton-Kuby was very friendly and encouraging, helping us navigate the world of weddings to find what worked for us. She made great suggestions, including a hand-blessing that really suited us and that we wouldn't have found otherwise. It made our wedding that much more special and right for us. She also gave us great advice on how to manage anxiety so that the days leading up to our wedding and the day of went smoothly. Carolyn was punctual, dressed nicely, and socialized well with the guests. She made us feel comfortable and helped ease our nerves. We knew we could count on her to make the ceremony go smoothly and naturally. She has great interpersonal skills and a natural friendliness that made her a great officiant and we are so happy she was assigned to us! Carolyn made our day special and greatly lowered our stress levels. When we had issues with Erro signing the documents, Carolyn quickly kept things under control and eased our worries, reassuring Erro that the document wasn't void. We both are so happy everything went smoothly and we were able to enjoy the experience together. Carolyn's tips and willingness to improvise as the ceremony went on were super helpful. We didn't have a strict plan in place and she just went with the flow with ease. Also, all the emails back and forth with her reassurance that things would just happen naturally were hugely helpful. Time management was Great! We met right away, and emailed frequently before the day of the wedding. We were very impressed with the promptness in responding to emails. We would recommend Carolyn as a wedding officiant without hesitation! Thank you so much for everything, Carolyn! We can't thank you enough for making our day so wonderful!
Jo & Vinnie
Carolyn Hamilton-Kuby is caring and generous. She puts herself in your shoes and knows exactly what to say or do to make you happy and your day special. Hugs included :) I'm very picky when it comes to people and things but no complaints here. No one needs to worry if she's around :)
Shannon & Ryan
From our first emails and phone conversations with Carolyn Hamilton-Kuby we were beyond impressed. Carolyn's professional manner and attention to detail is second to none. Our first meeting and sit down with her left Ryan and I feeling very comfortable, relaxed and confident that we had been paired with an Officiant that was more than capable of fulfilling our wants/needs/desires. We put our wedding together within 8 weeks, and Carolyn was with us every step of the way. She suggested ways for me to incorporate my Dad's memory without making anyone sad that he was no longer with us. Her reading of the Irish Blessing to cap off our ceremony was just perfect. We cannot say enough about Carolyn, she was always quick to return an email or phone call and always available to make suggestions and offer more than one possibility. Her knowledge of the ceremony made our lives so much easier. Here ability to move things around to suit our desires was impeccable. It was OUR honour to have Carolyn marry us, and guide us into the next chapter of our lives together. We have recommended your company and Carolyn by name to many friends and family. Having Carolyn Hamilton-Kuby as part of your team is definitely and asset to your company. Ryan and I would like to thank all of you for your timely attention to our short schedule and words cannot express how we feel about Carolyn. We feel as though we have developed a life long friendship with Carolyn and we are better for it. On a personal note, Carolyn, you were a God send. Our stories are so similar, all the way around. You were so accommodating in everything from the shortness of our timeline to Teagan's illness ~ we were so fortunate to have you in our lives. You made everything SO easy. Thank you from the bottom of our hearts xo
Danielle & Brennan
Carolyn Hamilton-Kuby was informative and enthusiastic every step of the way. She was always there to answer questions and calm our nerves. Carolyn did everything in her power to make the process smooth for us. She was awesome!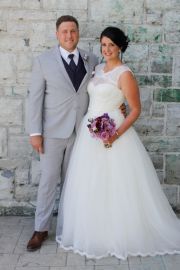 Tania & Roberto
Rob and I blended immediately with Carolyn Hamilton-Kuby, coffee at Starbucks, lots of smiles and me holding back a few tears. She is beyond amazing. She related immediately with us as a couple and our blended/extended family. She was not our officiant, she was the bonding method of our journey, so much warmer and better than I would have ever had expected. Looking forward to her renewing our vows in 2026.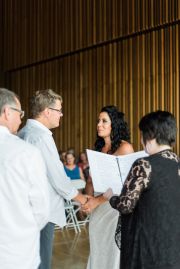 Kaitlyn & Marcel
Carolyn Hamilton-Kuby always gave off a confident, professional and reliable vibe. We knew after speaking with her that her officiant services would be one less thing to need to worry about in an otherwise crazy planning time crunch. The example ceremonies Carolyn gave us were good and having the flexibility to modify them to suit our needs ensured our ceremony perfectly tailored to suit us! Carolyn's timing was great, up to and including the day of the ceremony. For our meetings she was was very flexible for where and when we could meet. She was always easy to get a hold of and left us feeling reassured that there would be no timing issues on the big day. On the wedding day, Carolyn arrived thirty minutes beforehand, she was polite and introduced herself warmly to friends and family. She read and spoke in a warm, natural, friendly manner that set helped the tone wonderfully for our ceremony. Carolyn was professional, outgoing and extremely friendly! The most valuable part was knowing we had someone reliable and professional that we could rely on to make sure our ceremony went off without any issues. She made the stresses of wedding planning that much easier. We would recommend Carolyn as an officiant to any of our friends or family.
Leona & Dave
Carolyn was our officiant at our wedding this past August. Simply put she was wonderful! She helped guide us through the somewhat daunting task of writing our vows and putting together our ceremony. As well she also has some amazing stress handling techniques to manage everything coming up to and during our special day. She met with us several times in person, and on the phone and really got to know us and what we wanted for our wedding down to the last detail of having our son as part of our signing of the register. She then set the tone at the ceremony perfectly to match our desires and reacted with us, our speakers and our guests so that everyone felt included and a part of our ceremony. We had so many wonderful comments from our guests about her. We would highly recommend Carolyn, not only was she professional but she was so friendly caring and like a friend through the entire experience. Thank you for making our day so very special and everything we could have ever wanted!