Carolyn Grondin
Carolyn has just moved to Belleville from Cherry Hill and was recently voted by her peers as the 'Most Popular Wedding Officiant in Prince Edward County' at the prestigious international Wedding Industry Experts 2016 Awards. Carolyn has a wide variety of pastoral experiences. She also lived in Northern Ontario for a few years before returning to Belleville. She is the mother of one and grandmother to three young boys. Helping couples celebrate their weddings is most important to Carolyn. She will be thrilled to conduct your wedding ceremony and looks forward to helping couples bring a joyful and meaningful experience to their special day.
Request Carolyn Grondin
Areas Served
Picton, Bloomfield, Wellington, Prince Edward County, Belleville
Reviews
Kevin & Nicole
Carolyn Grondin was wonderful. She was super smart, open-minded, and supportive of making our ceremony that we wanted. Thank you Carolyn! Kevin & Nicole August 2019
Bryan & Samantha
Carolyn Grondin did an amazing job in helping make our wedding perfect. Communication was fast and easy and Carolyn met with us a few times to go over things before our wedding. Highly recommended! Bryan & Samantha September 2019
Jesse & Jerra
Carolyn Grondin was amazing to work with leading up to the wedding .She did an excellent job preforming the ceremony. So many of the guests commented on how warm and welcoming she was and she made our day very special! Thank you for everything Carolyn. Jesse & Jerra August 2019
Patrick & Sierra
Carolyn Grondin was our officiant and she was amazing! We asked Carolyn to read a scrip that we had prepared and she had no problem doing so! Carolyn also met with us beforehand and was able to attend the rehearsal. We want to thank you for making our day the best it could be. Patrick & Sierra July 2019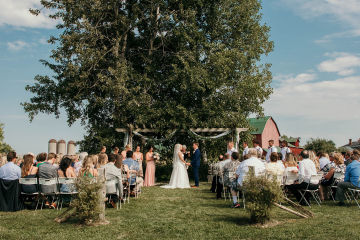 Renae & Chris
Carolyn was fantastic. Very warm and interested in getting to know us in advance. We were extremely pleased with her. Renae & Chris August 2018
James & Fung
Carolyn Grondin provided a wonderful service. She spent the time to understand what we wanted and then exceeded every expectation. We couldn't be more happy.
Jennifer & Andrew
Carolyn Grondin was great. Always on time, prepared and did a wonderful job officiating. Carolyn met us a few weeks in advance to go through the ceremony and had some interesting ideas about how to include our children in the ceremony. She was open to changes within the ceremony and taking our feedback. She rehearsed with us the day before which was helpful in understanding where to stand, etc. All in all, the service was seamless and we enjoyed having Carolyn officiate our wedding.
Alan & Brenda
Carolyn Grondin did an amazing job and couldn't have been more pleased to have her officiate our wedding!!!
Lindsey & Robert
Carolyn Grondin was amazing, she was great to communicate with and she felt a part of our family. She cared about us which is something that meant a lot to us.
Kennetha & Scott
Carolyn Grondin was awesome! We loved her and she was fantastic at the ceremony.
Faye & Lorne
Carolyn Grondin more than met our expectations, she gave us some options for the service and worked with us to have exactly what we wanted. We are so glad we found Carolyn through you, she helped us so much and made our day so very special!!
Tyler & Melissa
Carolyn Grondin did an amazing job with our wedding! She did exactly everything we asked her to do, she added a bit of humour to our day which made things less stressful for us! We asked for the service to be short and sweet and it was but very beautiful at the same time! I wouldn't hesitate to recommend All Seasons to someone else and I would definitely recommend Carolyn again! Thank you for making our day perfect!!! :)
Lise & Fredrick
Carolyn Grondin was friendly and personable. Loved her! We had a wonderful ceremony! Thanks All Seasons and Carolyn!
Erin & Joachim
Carolyn Grondin was excellent every step of the way. She met with us about 6 weeks before the wedding to discuss our ceremony. The day of she was there early and completely prepared. She spoke with our guests before and after. Our ceremony was exactly what we wanted it to be, thanks to her! She really made it feel special and one-of-a-kind. She even teared up when we read our own vows. I appreciated the prompt and detailed information sent by All Seasons via e-mail. I think this is a great service to help couples plan the perfect ceremony for them.
Amy & Tim
Carolyn Grondin was excellent! She went above and beyond our expectations! She took time to sit down with us and add our personal touches to the ceremony. She was absolutely excellent and such a lovely woman!
Ashley & Jeff
Carolyn Grondin was great. She was exactly what we were looking for!! It was great with the intimate feeling of our wedding.