Carly Popenko, BA Comm (McMaster)
Your wedding ceremony is more than just a legal union, and it deserves to be treated with the same warmth, honesty, and trust that brought you together in the first place. I live in the heart of Toronto and have a passion for the written word and performing arts. I am unbiased, respect all forms of faith, and firmly believe that love is love. As your minister, I will get to the heart of your love story and ensure that whether it be intimate or upscale, your wedding ceremony is a reflection of you. In my spare time, you will find me exploring the city or snuggling up to binge-watch the latest Netflix series with my corgi. I can't wait to join your celebration!
Request Carly Popenko
Areas Served
Toronto neighbourhoods of: Swansea, High Park, Sunnyside, Roncesvalles, Parkdale, Bloor West Village, Runnymede, High Park North, West Bend, Junction Triangle, The Junction
Reviews
Maria & Richard
Carly [Popenko], thank you so much for today! We are really happy to have had you as our officiant to make this special moment legal in our lives. September, 2022
Steph & Chanel
Carly, thank you for braving the pandemic with us and marrying us! You made our day incredibly special, and it was the best day ever! Thank you for telling our love story and putting all your beautiful work into our ceremony.
Amy & Ryan
Carly! Thanks again so much for such an incredible ceremony! You made it so genuine towards us as individuals and as a couple. You made it so personal that it was everything and more of what we could have wanted. As for feedback, the only thing I can say is just reiterating how well you did on getting to know us in that original meeting and completely making the ceremony accurate to our style and who we are as a couple. Lastly, thank you again for being with us on our big day and for all your assistance / accommodating all the changes due to COVID. November, 2020
Jessie & Jess
Carly Popenko was absolutely amazing. She exceeded our expectations. Carly was professional, friendly, & genuine. She made our guests feel welcomed and included in our ceremony. Carly was always quick to respond to any questions and strived to build a positive relationship with us. We will definitely be referring Carly's services to our friends/family. October 2020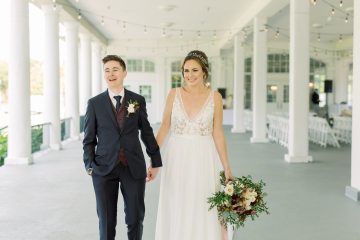 Brennan & Spencer
Carly, our ceremony was everything we could have imagined and more! That is all thanks to you!! We are so grateful that you were able to write us a script that felt so personal and tailored to us and our story. We are also super glad that we decided to have a rehearsal because when emotions were high on the actual day everyone knew exactly what they were supposed to be doing. We thought you did an awesome job coordinating the rehearsal, especially with such a large wedding party. We absolutely loved the whole ceremony, but I think our favourite part was the hand reading. We took your advice and tried to soak up the moment and everything that had just happened. It was also awesome that you had samples of great readings to select from on your website, that was very handy! Thank you so much for being part of our day! You truly are SO amazing at what you do. [August, 2020]
Adam and Terrin
Carly (Popenko), we cannot thank you enough! Friday was perfect and exactly as we had envisioned. You were amazing. So amazing, in fact, that two of our guests have asked for your contact information as they are also in the process of planning their weddings! You made this pain-free and helped us both relax with your happy and down-to-earth personality. Again, we cannot thank you enough! Adam & Terrin February 2020
Bryan & Misty
We couldn't have been happier on the day of - Carly truly made it one of the most special days of our lives. Everyone was smiling and there was the perfect amount of laughter - which is exactly what we hoped to have at our ceremony. I'm a firm believer that nothing is truly perfect, but our wedding ceremony with Carly as our officiant might be the one exception to that and we'll always remember it as one of the happiest days of our lives. Carly - Thank you for helping us make our day so special. You touched our lives and the lives of our families and friends. Thank you so incredibly much you "poetic, noble land-mermaid." Bryan & Misty October 2019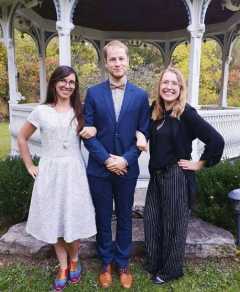 Ryan & Jenn
Carly Popenko was great! She made us feel comfortable and walked us through the whole process so we knew exactly what to expect. Our ceremony was perfect; it was short and sweet, just how we wanted it. We loved the personal touches that Carly put into it and received many compliments on how lovely it was. Ryan & Jenn November 2019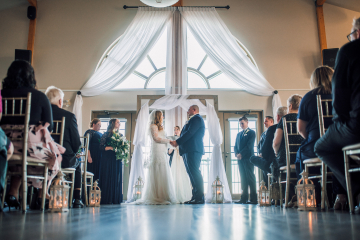 Justin & Caitlin
We could not have been happier with our ceremony thanks to Carly! She made the whole process so simple and easy. She took a few ideas we had and turned our ceremony into something unique, personal and memorable. All of our guests commented on how personal and beautiful her words were. She was definitely a calming presence in a time filled with anxiety and so many decisions to make. So happy we chose her to help us officiate our wedding. Highly recommend! Justin & Caitlin November 2019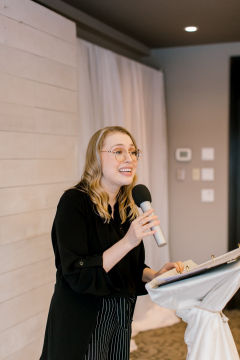 Graeme & Tina
Carly, we absolutely loved every part of the wedding, it went as smooth as it possibly could have. We knew that choosing funny for our ceremony would get a lot of reactions, but so many people told us it was the best ceremony they have ever been to. We both think you nailed every part of it. We loved it and were so happy with how everything turned out. Thank you for doing such a great job for us! Graeme & Tina November 2019
Cassandra & David
Thank you so much Carly Popenko for officiating our wedding. We could not have found someone better for the job who matched our personality and made our unique ceremony all about us. It really made us feel special. - Cassandra & David (November 2019)
Adam and Claire
Oh Carly - the ceremony was wonderful! Your instruction and pacing were supportive and clear, and you have been so kind, genuine and professional from the get go - so thank you! You were encouraging and receptive to feedback, and we really appreciated that you wanted your words to be exactly fit to our style; that meant a lot. We knew we made the right choice from the beginning, but that was absolutely confirmed after the ceremony was complete! Thanks so so much for everything; it was a pleasure and honor to have you officiate our wedding! - Adam and Claire (November 2019)
Nathan & Leanna
Carly Popenko ! Thank you so much. We LOVED the ceremony - you wrote something so special and so "US." It had the perfect amount of sentiment! You should know that our guests were also raving about your ceremony - they loved how you opened it with the inclusivity statement. They loved your enthusiasm and your warmth. We knew you were our officiant but we're so glad everyone got it too! Nathan & Leanna November 2019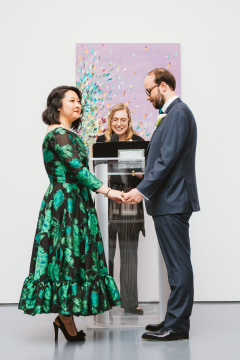 Stephen & Jenna
Carly Popenko was a dream to work with. She answered my (many) emails and questions so quickly and made the whole planning process as stress free and easy as possible. She was there for everything from last minute changes, making sure the entire bridal party was prepared before the ceremony, and even was on top of details I had forgotten. Our ceremony was beautiful and Carly really helped capture us as a couple-- we cried, we laughed and we really felt the love all around us. We could not have asked for a better officiant to marry us. Thank you again for everything. Stephen & Jenna September 2019
Elizabeth and Nathan
Carly, thank you with every ounce of our hearts, you made our wedding ceremony perfection! Every detail you added and how you were able to personalize it for us was incredible. I can truly tell you that every person at the wedding commented to us at the reception how incredible the ceremony was and that it was the BEST ceremony they had ever been to and we felt the exact same way! I still break out into tears just thinking about the ceremony, it will be a memory that lasts me my entire life. We can't thank you enough. Elizabeth and Nathan October 2019
Isaiah & Dana
Carly, thank you, thank you, thank you! From the bottom of our hearts. You were amazing from our first meeting to the big day. We hope our hearts cross paths again!" Isaiah & Dana August 2019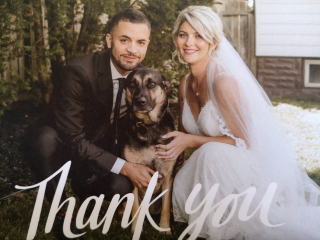 Celine and Lukas
Carly, we just wanted to thank you (x100000)! I might be biased, but I think our ceremony was the best one I've seen yet! We had so many compliments about our ceremony - most people figured we were all friends because you captured our vibe so well! I'm going to recommend you to everyone I hear is engaged from now on. Thank you so much (again)! - Celine and Lukas September 2019
Deanne & Jordan
Carly Popenko was simply amazing! Thank you again for EVERYTHING! Every single person we talked to after the ceremony just raved about how amazing Carly was and how incredible the ceremony was. Thank you for taking the time to get to know us and for providing a ceremony that felt like a true reflection of our relationship. It would not have been the same without you! Thank you, thank you, thank you! - Deanne & Jordan September 2019
Carolina & Julian
Carly, thank you for answering our countless emails but most importantly, making our ceremony about us and our continuing journey. You were a pleasure to work with and we appreciate all the time, effort, and work you put into our ceremony! With gratitude, Carolina & Julian September 2019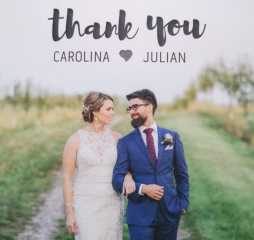 Tomy & Kelsey
Carly Popenko was absolutely incredible! She guided us through all the pieces we were unsure about and made the most amazing personalized ceremony. we could not have asked for anyone better!! Tomy & Kelsey August 2019
Kyle & Darcy
Carly Popenko was our officiant ! Thank you so much for the amazing day. We had so, so, so many people comment on our ceremony and how it was the most personalized ceremony they'd ever been to. We also had quite a few people come up to us and ask if we knew you beforehand, which I thought was the best compliment we (you and us) could have gotten! It was such a fun day, and your ceremony set the tone perfectly. Kyle & Darcy August 2019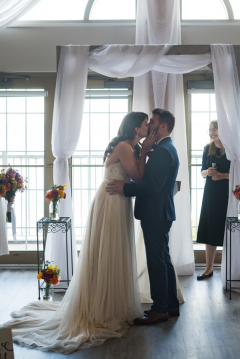 Naomi and Greg
Carly Popenko , thank you so much for the lovely ceremony that you wrote for our family. It was great! We loved how everything went on so smoothly the day of the wedding. Thank you so much for everything! I will definitely pass your name on to anyone I know who needs and officiant for their wedding. Thank you!! Naomi and Greg (July 2019)
Marissa & Stephen
Carly Popenko , thank you so much for officiating our big day! You were so lovely to work with and our guests thoroughly enjoyed the ceremony. Marissa & Stephen July 2019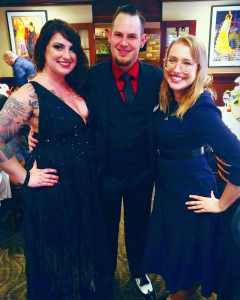 Craig & Christina
Carly Popenko, thank you so much for sticking it out in the heat with us. Our ceremony was everything we could have ever dreamed of and more. Thanks for being so laid back, you were such a breeze to work with. Our photographer asked us if we knew you and we said we honestly just found you off the website, met you, and really enjoyed you. She said we picked one the best officiants. Many other guests complimented you too and were asking about you. You did an amazing job! Thanks again so so so much, we greatly appreciate all of your hard work. Craig & Christina July 2019
Andrew & Erin
Carly Popenko was a delight to work with and we are so happy we chose to have her officiate our ceremony! What stood out most was how well she listened during our face to face meetings and how closely she paid attention to the little details to make our ceremony such an accurate reflection of who Andrew and I are - silly, sweet and filled with love each other and for baseball. Thank you so much Carly! Andrew & Erin May 2019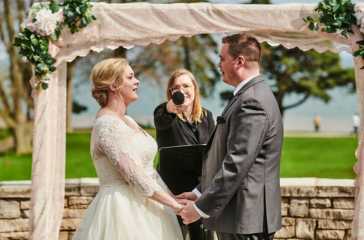 Arlina and Josh
Carly, you were such an absolute joy to work with and made the ceremony so much more special then we ever could have imagined. THANK YOU, THANK YOU, THANK YOU from the bottom of our hearts!!! - Arlina and Josh (May 2019)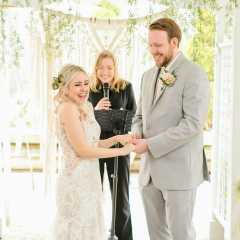 Erica and Luke
Carly, thank you so so much for making our wedding ceremony so personal and so special. We had so many wonderful compliments given to us about you, how bright and cheerful you were and that the ceremony was lovely and completely captured Luke and I in a nutshell! We couldn't be happier about how the ceremony went and are so happy to be husband and wife! Erica and Luke (February 2019)
Jeffery and Jessica
Carly, thank you so much for your services on January 11th. Everyone loved the ceremony (including ourselves). Thanks for making our day so special! Jeffery & Jessica January 2019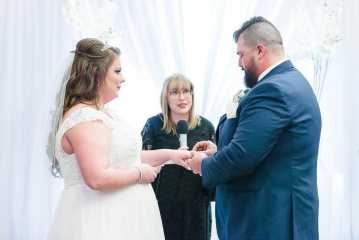 Birkley and Trevor
Carly, you were awesome! Our guests had nothing but lovely things to say about you as do Trevor and I. Thank-you so much. We are so thankful you agreed to do our wedding. Birkley and Trevor (December 2018)
Cynthia & Gerry
Carly, thank you so much! The wedding was truly magical for Gerry and I. I can't thank you enough for helping make Saturday the happiest day of our lives. The mixture of genuine feeling and humour was exactly what we wanted. I will definitely recommend your officiant services to everyone I can! [December 2018]
Kathryn & Joseph
Carly, thank you so much for everything! The ceremony was absolutely beautiful. We are so happy that you were able to officiate our wedding. Thank you for making our special day so perfect! [October 2018]
Charlene and Aaron
Carly, we LOVED your Halloween ceremony. We are thrilled that you dressed up in costume, and the ceremony referenced zombies, witches, warlocks, etc....everything spooky! Aaron and I received numerous comments from our guests letting us know that you, and the ceremony was amazing. It definitely appealed to Aaron and I that the ceremony was short, and not too serious. A perfect fit to our annual Halloween Spooktacular!! Thank you once again for everything you did for us. Your fun, and laid back personality kept us at ease, and definitely helped to make our day special! (October 2018)
Courtney & Bryce
Carly, thank you SO much for making our day absolutely perfect! We had so many people make comments on how amazing your ceremony was. We have been recommending you to everyone we know who is getting married! Thanks for everything! [October 2018]
Kelly & Scott
Carly, you were amazing on Saturday! Scott and I cannot thank you enough for the beautiful words you chose to describe us and our love for one another. Thank you so so much for everything! October 2018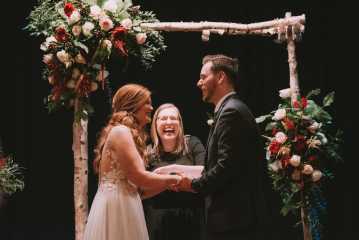 Heather & Kevin
"Thank so so much for everything you did for us at the wedding! The ceremony was perfect and we have been getting tons of great reviews on it. People (and we) loved the amount of the personalization. They said it definitely reflected who we are as a couple. Thanks again!" [September 2018]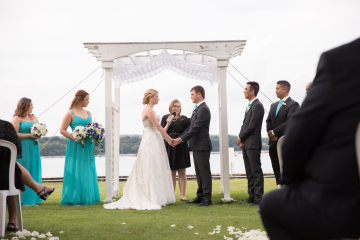 Brandy & Patrick
Thank you so much for being part of our special day! The incredible ceremony you created truly captured exactly what we wanted. We thought it was absolutely perfect! We had many, many guests come up to me afterwards and talk about how interesting and special the ceremony was, and that they had never seen anything like it nor had they ever felt so much love come from the audience to the couple. That was all thanks to you!This is a moment that we will never forget, and truly could never have created without you. Brandy & Patrick September 23rd, 2018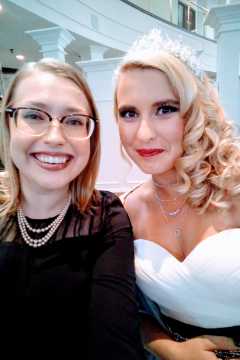 Kait & Rob
Carly Popenko recently officiated our wedding and we could not be happier with the personalized ceremony she created for us. Carly is incredibly receptive, organized, fun, detailed-oriented and creative. Our ceremony perfectly reflected us as a couple, and we received many compliments from guests on how meaningful and sweet the ceremony was. We are very grateful to have found such an amazing officiant. Thank you again Carly! [August 2018]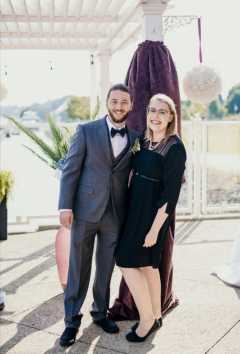 Melise and Chris
Thank you so much Carly! We couldn't imagine having any one else marry us. You were absolutely fantastic and made it so personal (even with the very little amount of help we gave you). Thank you again! Melise and Chris [August 2018]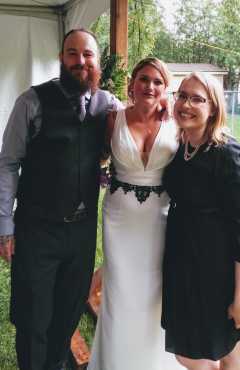 Kieran & Ben
I am so thrilled with the quality and care that Carly took in ensuring our ceremony went perfectly. Starting from our very first communication together, we could tell that she was organized and detailed. During the process of creating the ceremony together she got to know us as a couple in order to match the ceremony to who we are, and always gave us creative freedom if there was anything that we didn't like (but we liked it all!). Since my husband is immigrating to Canada soon, it was important to know that our officiant was able to help us with all of the documentation, and Carly did a fabulous job making sure everything was sent promptly and guided us through the whole process. We highly recommend Carly and know that she will put as much heart and effort into your wedding as she did with ours. [July 2018]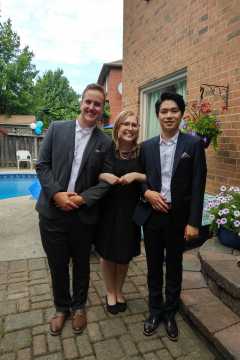 Cheryl & Evan
Thank you so much for facilitating our ceremony. We had multiple guests come up to us and ask us how long we've known you and comment on how amazing you were. We definitely agree. We clicked with you right from the get go and we were so lucky to find you. Our ceremony was warm, intimate and most importantly very "us" and that's all because of you. Thank you again. [June 2018]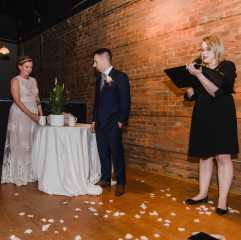 Kate & Andrew
We couldn't have been happier with the way the ceremony went. It was everything we could have hoped for. Many of our guests commented on what a beautiful job you did. We are so happy we chose you to officiate our wedding. Thank you for everything! [May 2018]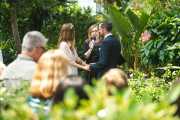 Chris & Maria
Thank you so much, Carly! Everyone we talked to commented on how unique and meaningful the ceremony was, and how perfectly it reflected us as a couple. Thank you for making our day so special. [May 2018]