Brian Ballinger, M.Div (Tyndale)
Brian will only be accepting wedding until September 12/2020. Brian is an Ordained Minister and a great family guy who lives in Barrhaven. He has been married to his college sweetheart since 1995 and together they have three amazing children. With a background as a pastor, Brian is privileged to volunteer with CHEO and the United Way, is an adoption advocate and is involved in many other volunteer activities and causes in the community. And when it comes to your wedding, his commitment is to ensure that your ceremony, will reflect who you are as a couple in a genuine, personal way. He's happy to conduct your ceremony in English, French or Spanish - or bilingual - or even all three! His creativity, sense of humour and attention to detail will make everything go smoothly on your special day and give you confidence every step of the way. "It's your day – let's make sure YOU enjoy it!" Brian is one of our most well-known officiants in the Ottawa area.
Request Brian Ballinger
Areas Served
Barrhaven, Nepean, Kanata, Stittsville, Ottawa West , Orleans, Gloucester, Metcalfe, Richmond, Kars, Blackburn Hamlet, Munster, Greely, Manotick, North Gower
Reviews
Mitchell & Michelle
Brian Ballinger was the perfect officiant for us. From our first planning meeting, he was so easy to get to know, answered all our questions, and embraced any ideas we had for the ceremony. He came to our rehearsal a few days before the wedding and was so helpful in organizing all of us. When it came to the actual ceremony, he was truly the perfect choice - he was kind, funny, welcoming, and he made the day really feel like it was ours. Cannot recommend Brian highly enough! He gave us our dream day. Mitchell & Michelle December 2019
Shayne & Shelley
Brian Ballinger went way above and beyond for our special day! He allowed us to change the ceremony to the wording that best suited us. He was also great with last minute changes and honestly made our day so amazing! Shayne & Shelley September 2019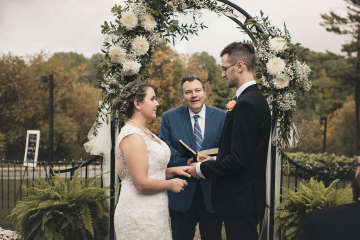 Michael & Veronique
Brian Ballinger was absolutely amazing!!!! My husband and I felt very comfortable as soon as we met Brian the first time. He clearly has a passion for weddings and the love stories that make them possible. I was nervous with all the typical questions (rehearsal? what do I do when I get to the altar? do I keep my flowers? do I turn to my groom?....) and Brian just calmed me down and telling me I was in good hands - and was I ever!!!! Brian, thank you for making our special day even more special. It felt like we had someone that knew us for a long time providing our ceremony and we will forever be grateful! Michael & Veronique September 2019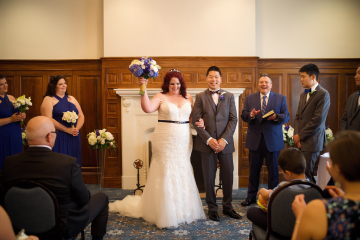 Matthew & Melanie
We would recommend Brian Ballinger to be your officiant at your wedding! He was so helpful in the process ! He was so kind and well spoken. Everyone at the ceremony was blown away by him. He speaks very clearly and loud so everyone could hear him! His guidance throughout the whole process has made the planning stress free! Thank you so much Brian for absolutely making my wedding a dream come true!! Matthew & Melanie October 2019
Mac & Yolanda
Brian Ballinger was awesome, he took time to meet with us and ask as many questions as possible to make our ceremony ideal. Thank you! Mac & Yolanda September 2019
Foster & Bryanne
Brian Ballinger went above and beyond to make the whole process easy, fun and stress-free. Thank you!! Foster & Bryanne September 2019
Reynier & Natasha
Brian Ballinger was wonderful. He understood who we were as a couple and integrated both our cultures in the ceremony. Reynier & Natasha August 2019
Lorenzo & Kelly
Brian Ballinger was extremely helpful in explaining his role during our ceremony. He was organized, easy to work with, flexible and was helpful doing a rehearsal with us too. His attention to detail was perfect and very personable. We are very happy with what Brian created for us! Thank you again! Lorenzo & Kelly August 2019
Mike & Stephanie
Brian Ballinger was amazing, he far surpassed our expectations and made the entire experience seamless, stress-free, and enjoyable. He is so kind and experienced and had a very friendly and gregarious way about him. We will always remember our ceremony as special, Brian was a huge part of that. He was the perfect officiant for our wedding and everyone commented on how wonderful he was. We would highly recommend Brian to anyone getting married. Mike & Stephanie August 2019
Michael & Bailey
Brian Ballinger is just a lovely person all around - his warmth, smile, and positiveness are a breath of fresh air (especially during the stress of planning a wedding). As an officiant, Brian exceeds all expectations. He is extremely professional, detail oriented and is willing to go above and beyond to ensure your big day goes as planned. Brian will walk you through all aspects of the ceremony to ensure that you feel well prepared and at ease. We were so blessed to have Brian as our officiant and we can't recommend him enough to all couples looking for an officiant. Thank you Brian! Michael & Bailey June 2019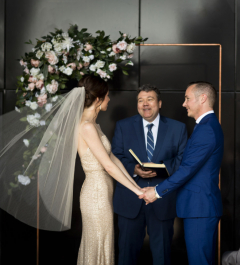 Almeera & Justin
Brian Ballinger was amazing - not only on the day of the wedding but throughout the whole process as well. He gave ample recommendations and advice when we were working together putting our ceremony together. The day of the wedding, he was calm, professional, genuine and had a sense of humour. We received nothing but compliments on our ceremony and we have to credit that to Brian. Thank you so much for making our ceremony flawless! We have already recommended him to a few friends and family who are planning weddings in the near future. Perhaps we will see him again soon! Almeera & Justin Aug 2018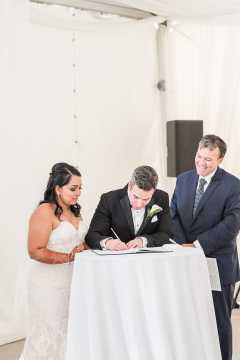 Chantal & Joshua
Brian Ballinger did a truly fantastic job of making our wedding ceremony extremely personal and intimate. We were so happy with his services and would recommend him to both family and friends. Chantal & Joshua August 2018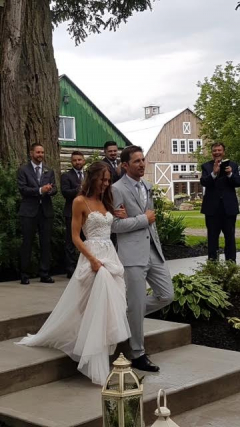 Anthony & Patricia
Brian (Ballinger) was fantastic to work with, and all of our guests commented on how well done the ceremony was. You could really tell that he was happy to be there and that it was not just a job. We have already recommended him to friends of ours who are engaged and would recommend him to anyone getting married in Ottawa. Anthony & Patricia Nov 5th, 2016
Selin and Erik
Hi Brian (Ballinger)! We just wanted to thank you so much for the amazing and memorable moment you gave us during our ceremony! We were so happy with everything and everyone keeps telling us how great you were and how you were always smiling! We chose the best officiant! Your kindness and professionalism was wonderful and it was a pleasure to have worked with you. Thank you! Selin and Erik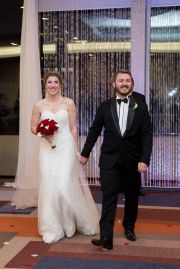 Brian (Ballinger) took the time to meet with Wenderley and I before the ceremony to get a feeling of what we wanted to personalize the day. Wenderley and I are a bilingual couple, and it was important to have our vows in both English and Spanish. Brian did a fabulous job fulfilling our wishes. I highly recommend him. Madisen & Wenderley
Caroline & Eric
We hired Brian Ballinger as our officiant through All Seasons Weddings for our June 24th 2017 wedding. We looked through the officiants, and his profile stood out. We were lucky enough that he was still available, and our phone conversation with him quickly convinced us that he was a good match for us. He was quick in answering our questions, and provided much needed wedding information. He got in touch with us a couple months before the wedding and set up a meeting with us, which lowered preparation stress by a lot, as he made everything seem so simple! He provided a text with several options and let us select which type of wording we preferred, and gave us the opportunity to add or modify the text. Brian is a very friendly, approachable and considerate person. He made sure we were comfortable with the whole ceremony, and offered a bilingual service (French and English). He also added a little Kinyarwanda in there, and made sure he had the correct pronunciation by recording my (now-)husband's pronunciation. On the day of the wedding, our guests responded to his efforts with pride and joy! The whole process went smoothly and stress-free thanks to his meticulous planning.
Sandra and Jean
Sandra and I both want to thank you for contributing very positively to our wedding day and more importantly to our marriage ceremony. Your enthusiasm and passion are infectious and made us both feel over the top. We also received many positive comments from our guests.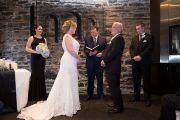 Andrew & Amy
Brian (Ballinger) is FANTASTIC!! Thank you so much for making our day even more amazing :) From the very first meeting we felt like we could have been old friends, and this comfort showed at our ceremony. We would highly recommend you to any of our friends who are planning to tie the knot in the future. Thanks again for making both of us feel so calm and comfortable on the day of the wedding, it was much appreciated. Andrew & Amy 09/25/2016
Alison & Thomas
My wife and I got married in a ceremony at Eighteen Restaurant last May 2015 and Brian (Ballinger) was our officiant. I have to say I'm very glad we chose Brian as he was a huge factor of our day feeling so great. It was a very private and informal ceremony with very few traditional details as we were having a symbolic wedding in the Dominican Republic a month later. Brian was great at keeping the mood light with humour but also loving. We were amazed by how personal he was able to make our ceremony feel after meeting with us only twice prior to the wedding. Our day wouldn't have been the same without Brian, so we recommend him highly!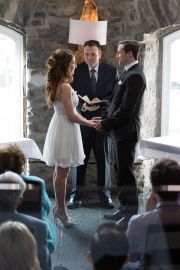 Leslie & Konrad
Hi Brian (Ballinger), I wanted to thank you again for officiating our beautiful wedding ceremony on Saturday. We felt so pleased and happy with the ceremony and our family absolutely loved it. You did a fantastic job of setting the perfect tone and pace and the words you chose were so meaningful and practical. We are really happy that Konrad videotaped everything because we will be able to watch the ceremony again to fully absorb all of your words and message. Somehow out of nowhere my ankles started knocking together just before we started! I didn't expect those little nerves or anxiety but I imagine it is quite common. :) But it was comforting and calming to make eye contact with you and Konrad and I knew everything was going to be great. Your small mention in the ceremony in honor of my Dad deeply touched my Mom. It was perfect. Thank you. Leslie & Konrad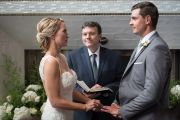 Sebastian and Emily
Hi Brian (Ballinger) I just wanted to thank you on behalf of Emily and myself for the wonderful ceremony you held for us on Sunday. It was everything we hoped for. You helped make the whole experience stress-free and truly memorable. It would be my pleasure to recommend you to the next of my clansmen who'll take the plunge. All the best to you!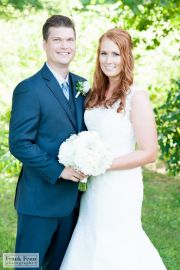 Elizabeth & Denis
Brian Balinger's warm and kind manner truly conveys a deep respect for love, marriage and family. His way of speaking and smiling response to Denis, me and our children gathered us, as well as everyone in attendance, into an experience of delight and joy.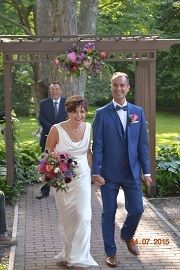 Alison & Matthew
Brian Ballinger absolutely met our expectations. He was exceptionally friendly and was fantastic at our event. He really helped us in the process of making the ceremony personal to us. He was available every step of the way, including giving us advice and helping us to create our own vows.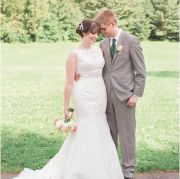 Annick & Richard
Brian Ballinger made our day run so smoothly! His calm demeanor was a valuable asset, especially on a wedding day! His ability to "run with the punches" and insert a bit of humour into the proceedings was immensely appreciated. He is a great speaker; his tone, his pace and his pauses added a meaning to the words being spoken. We got many compliments and positive feedback from our guests. Even before the ceremony, he made sure we were comfortable with everything and answered all of our questions promptly.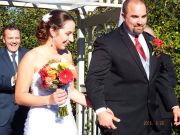 Kyle and Jaymee
Brian (Ballinger) was awesome. He made our day go by smoothly and exactly how we wanted it. He was fun, calming and professional. I would recommend Brian to anyone and everyone!! Thanks Brian, Kyle and Jaymee
Jennifer and David
I got married on the 25th of October. I wanted to extend a huge thank you to Brian Ballinger. He has amazing true talent!! He put together a beautiful ceremony, he was upbeat with a warm smile. He was one of the big highlights of our wedding. He should be at the top the officiants list. We are so pleased we chose him!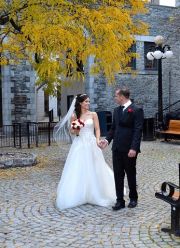 Corey & Chanelle
Brian Ballinger was beyond amazing throughout the entire process. He walked us through every step and was a calming voice the day of our ceremony when we needed it most. Brian was fantastic. Prior to the ceremony he was patient, kind and most importantly, helpful! Throughout the ceremony he spoke at a perfect pace and volume. His words were genuine and I would recommend him to everyone.
Eva & Kurt
Hi Brian - We just wanted to thank you again for officiating our wedding and assisting at the rehearsal. From the first steps to the day itself, you put us at ease because of your positive and confident demeanour and your organization skills. I always felt like you were on the ball, and your suggestions and input were much appreciated throughout the process. It was nice to have that balanced with an openness to adding in different pieces and traditions. You really are a natural at this, and we were so glad that we came across your profile on the website because it was such an easy choice to pick you. I hope that many couples in the future benefit from having you as an officiant. No doubt you have many satisfied customers, but if you ever needed a referral/recommendation, we would be happy to do so. It was a real pleasure working with you! All the best,
Kyle & Carley
We loved Brian Ballinger. He was a pleasure to work with, he married us with professionalism and some humour, very comfortable. Everyone was very impressed with him and his service, will definitely recommend him!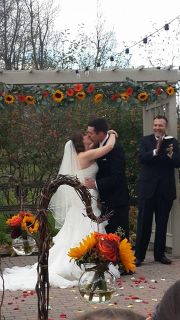 Theresa & Geoff
Brian Ballinger went above and beyond our expectations! He made everything so smooth, and our ceremony was beautiful. Everything was great, Brian made us feel extremely comfortable and would definately recommend him to anyone.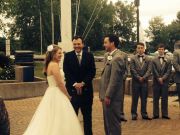 Jill & Ben
Brian Ballinger was fantastic! Given that we were from out of town he took it upon himself to schedule skype meetings with us. He was warm and welcoming on the day of and made everything filled with love and laughter. We received many compliments on his behalf. We couldn't be happier. Thank you Brian!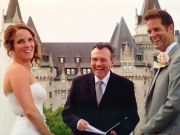 Ewa & Nick
Dearest Brian (Ballinger), We cannot thank you enough for everything you did for us leading up to the big day, as well as the day of! You were all smiles throughout the whole ceremony and some of our guests even thought you were part of our family because of the smile on your face and your enthusiasm. Our first appointment with you was less business, and more pleasure. You made us feel SO comfortable with the process and made us feel so at ease. We had such an incredible day, and we both feel so honored that you could spend it with us!! I have attached probably one of my favorite photos of the ceremony for you to see what I mean - when we saw your smile in the background, we felt like we caught a VERY special moment :) Thank you SO SO much for everything. You are an absolute pleasure to deal with, and we wish you all the best! Thank you again times a million :)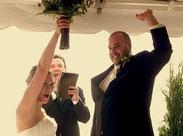 Madeline & Pedro
Brian Ballinger was very friendly, professional, and great to work with. He did an absolutely wonderful job providing a ceremony in both English and Spanish. We had many compliments on the ceremony and how warm Brian made it feel. We would certainly recommend him to our family and friends for their special event. Thank you very much Brian!
Krystle & Maroun
Brian Ballinger is amazing. He was so on point and natural! He is a great man with a good heart. I am very pleased to have met him and have someone like him marry us!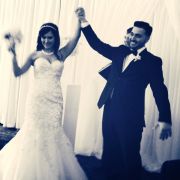 Christa & Jason
Brian Ballinger was an amazing officiant. He was calm, friendly and really made the ceremony into everything we wanted it to be. Brian was extremely helpful and patient with the both of us. On the wedding day, Brian made sure that everything was in order so that we did not need to worry. He also made us feel like if everything was going to be ok and walked us through the ceremony as if it was a piece of cake (because we were both really nervous!) Brian was great!!
Scott & Adina
Brian Ballinger was fabulous and made us and all present feel very welcome and confortable! He has a great sense of humour as well. Everything from start to finish was great! EXCELLENT SERVICE WELL WORTH THE FEES INVOLVED!
Kris and Alissa
Brian Ballinger was outstanding on our wedding day and certainly put myself, my wife, and all of our friends and family at ease. You set the tone for the rest of the wedding day and to be honest with you, the day could not have gone any better. Alissa and I now have a day, in part thanks to you, that we will be able to cherish for the rest of our lives!