Bonny Thorne, B.A. (U of Kentucky)
Note: Bonny is now fully booked for 2020 and accepting 2021 bookings only. Bonny resides in beautiful Kelowna, a place beloved by many as one of the world's most stunning panoramic backdrops for your special celebration. Her motto is 'do no harm to any living thing' and she has been practicing meditation for over 30 years. Her goal is to make your special day truly memorable, whether you envision your celebration at a local winery, your backyard, a yacht, a mountain top or out in the lush Okanagan orchards. She welcomes all your ideas for your wonderful special wedding ceremony or how she could contribute to your ceremony in a way that resonates for what you have in mind. On top of all this, she is one of our most in-demand officiants. Bonny is a minister with Clergy Support Memorial Church.
Request Bonny Thorne
Areas Served
Kelowna, Westbank, Upper Mission, Lower Mission, Joe Rich, Lake Country, Winfield, Peachland, Summerland, Vernon
Reviews
Jordy & Sandy
Bonny Thorne, thank you so much for officiating at our wedding this summer. The warmth, humor, and authentic presence you shared with us helped make the day even more special. It warmed our hearts to see your smiling face and you helped us stay calm and centered throughout the ceremony. We had such fun and you were an important part of that….keep summer 2024 in mind for a five year anniversary party! " Jordy & Sandy July 20, 2019
Jason & Bree
Bonny Thorne was absolutely amazing! She will instantly put you at ease, and you will know that you have the right person to officiate your wedding. Thank you Bonny! Jason & Bree August 2019
Gurpal & Karen
Bonny Thorne exceeded our expectations! We are both South Asian and decided to not have a traditional ceremony and went with an officiant instead. Bonny was so understanding of our culture, customs and our desire to have a fun and engaging ceremony. Bonny had tons of great energy she walked our parents through what to expect as this was new to them and made everyone feel comfortable. We are so pleased with how the service went. She also checked in with us prior to the ceremony which really helped answer some questions we had . The ceremony was filled with laughter and it truly was perfect! Gurpal & Karen August 2019
Paige & David
Thank you so much Bonny we loved having you as part of our special day! Paige & David July 2019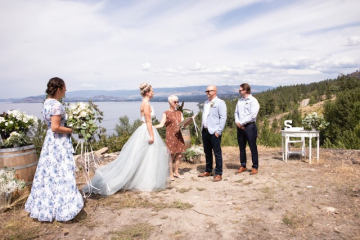 Karen & Gurpal
" Bonny was absolutely amazing! She was our officiant a few weeks ago and she was so helpful, patient, and full of positive energy! We decided to not have a traditional Indian wedding and Bonny helped create a ceremony that truly reflected our personalities and still respected our family values and culture. I highly recommend Bonny" Karen & Gurpal August 2019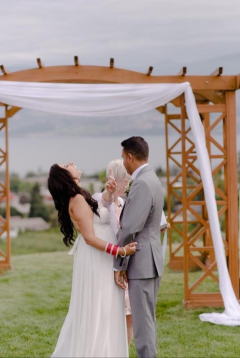 Laura & Brett
Would recommend without hesitation! Our experience with Bonny Thorne was nothing but wonderful. She was easy going but very professional. She made it clear what we needed to do to prepare and was very helpful along the way. She gave great suggestions to the ceremony and allowed and encouraged us to be ourselves and structure the ceremony in a way that reflects us. Was very happy With Bonny and would definitely recommend her to anyone! " Laura & Brett June 2019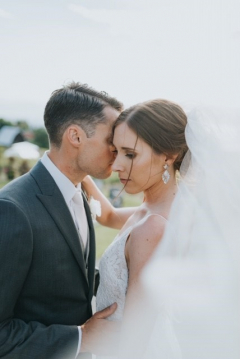 Hanna & Dalton
"Bonny Thorne was kind, passionate, and had great communication. The guests couldn't stop commenting on how great Bonny and the ceremony was. Short and sweet but very heartfelt and romantic. 100% recommend and completely worth every penny!" Hanna & Dalton July 2019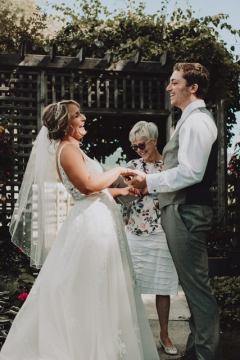 Kirsten & Rio
Bonny Thorne is amazing! We chose her as our officiant after meeting her at a friend's wedding and we loved her easy-going style. She is very thoughtful and kind and funny and made our ceremony short, sweet and perfectly suited to us. She has a great smile and was great at herding cats (our families) in a professional yet very nice way. We highly recommend her - the passion she has for what she does really shines through and will be a great addition to your special day!" Kirsten & Rio June 2019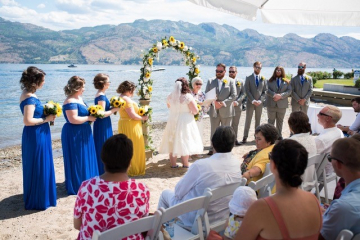 Byron and Lisa
Bonny (Thorne) was so on the ball with everything but also relaxed and supportive at the same time. Couldn't imagine someone doing a more amazing job! Bonny was so friendly, welcoming, and easy going. Just a gem of a person, so happy she shared our day with us. I would absolutely reccomend Bonny to anyone and everyone. She meets you were you want in terms of style, length, and classiness. She also suggested small adds in that make everything perfect! Byron & Lisa. July 2019
Colin & Brandy
"Where do we even start??! From the moment we had our first call with Bonny Thorne , we knew we found our match!! She was there for us through all the planning! Bonny brought so much joy and love to our special day! We felt truly connected to her (so did our guests and family) and our ceremony was beautiful. She truly cared about what we envisioned for our day :) She kept it sweet, intimate and you could tell she truly loves what she does! You can see it through her smile! So many of our guests came to us later and said Wow! She was absolutely amazing! They thought we have personally known her for a long time(we had only met over phone/skype) We personally feel like we have. Thank you Bonny for helping our day be so perfect!! forever grateful! " Love Colin & Brandy June 2019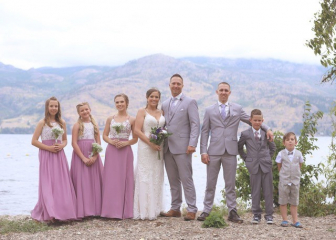 Blair & Kristen
Bonny (Thorne) was wonderful! She was pleasant from the beginning to the end. She made sure we didn't have to deal with a thing and directed everyone. We are so happy we chose Bonny to officiate our wedding. Blair & Kristen. June 2019.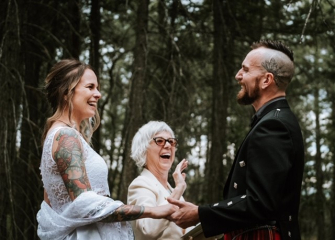 Kevin & Brittany
We were absolutely blessed to have such a wonderful woman officiate on our special day. When we met Bonny Thorne it was like she instantly knew us, and after a few conversations over coffee and email, she had drafted the most perfect ceremony for us. Bonny has such a vibrant energy about her, and she is able to make you feel at ease and comfortable. It's as if we were never strangers. I would recommend Bonny in a heartbeat to anyone looking to have a ceremony that is personalized to you as a couple, and is every bit as beautiful as you can dream it ❤️ Thank you Bonny!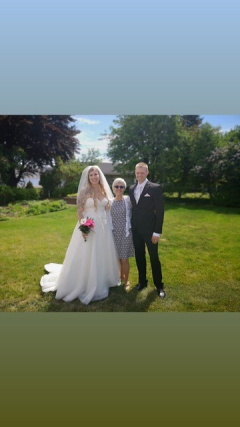 Mr. & Mrs Creelman
The easiest choice we ever made! The moment we met Bonny Thorne we knew we had found the perfect fit for our big day. Her energy, optimism and enthusiastic personality left us feeling confident that our ceremony was in the right hands! It was an incredible experience and she was above and beyond what we expected, 100/10% would recommend her to everyone! " Mr. + Mrs. Creelman May 25, 2019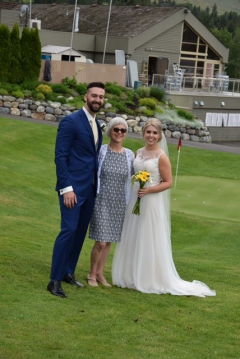 Dan & Ray
Thank you so much for your hard work and great ideas for our wedding and anniversary celebration. The whole night was amazing and everyone had a wonderful time. August 2018.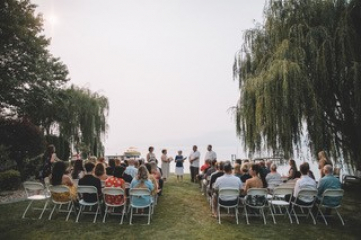 Stephanie and Peter
Hi Bonny, it was a job well done, the ceremony flowed so smoothly. We really appreciate how you went over what to do beforehand, and were able to keep everyone calm, and reminded us to enjoy the moment. You are true professional at your job! - September 17th, 2018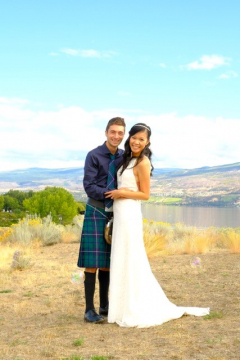 Morgan & Tanner
Bonny was amazing right from the start! She was always there to answer any questions whether it be email, text, or phone call. She was so fun, easy going, kind, just perfect and we made our day the best day ever. I couldn't have asked for a better person to marry my husband and I! The connection I felt with her made that day that much more meaningful and I feel we have a new friendship! I highly recommend Bonny! Morgan & Tanner
Nicole and Logan
Bonny was professional but warm and welcoming right from the start. The first day we met her we went for coffee and it honestly felt like we'd known her for years. Bonny made the process seamless as well and recommended ideas we would have not thought of. Bonny was very adamant about the wedding being the way we wanted it and personalized to the two of us.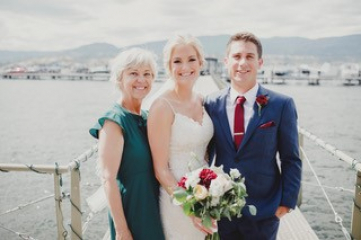 Tori and Justin
Thank you so much for your eloquent and beautiful ceremony. I wish we would of have snapped a photo with you before we were whisked away for group shots, but I will never forget your beautiful words and calming demeanor!! Thank you!
Becky and John
Bonny was our officiant and we couldn't have asked for a better person. She was so fun and easy going, a calming influence when we were very nervous. Bonny would call and check up just to see how we were doing and if we had any questions or concerns. It was such a pleasure having you be part of our special day. Thank you so so much Bonny!
Christine & Ryan
Bonny did such a wonderful job officiating our wedding. She really took away all the stress from us and made sure our ceremony was everything we wanted it to be. She helped keep us calm and relaxed, so we could really just enjoy ourselves. We couldn't of been happier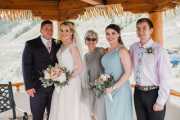 Mr & Mrs Richardson
Hi Bonny thank you for everything!! The day was absolutely beautiful and you were amazing! So many compliments on how the ceremony was and exactly how we wanted it! Bryan and I thank you so much ☺️☺️💕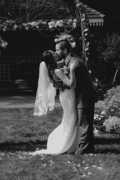 Kody & Desiree
Bonny, from the very beginning of showing interest in her as our officiant, was very enthusiastic and open about what she offered. She shared ideas and made it her priority to make our day go exactly how we envisioned. She provided constant support via email, phone calls and texts not only to discuss details, but also to ensure we generally were making it through all the planning! Bonny genuinely cared about our special day and us as people, and it showed in every aspect of our transactions. Our family and friends also had such warm and lovely things to say about the ceremony Bonny put together and about her herself - I believe they may have wanted to adopt her! Bottom line, Bonny is amazing, and we feel so blessed to have had her enter our lives and make our most memorable day that much more special!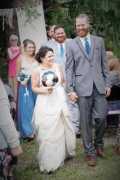 Dylan & Chelsea
Dear Bonny (Thorne), thank you so much for all your help and expertise in making our wedding ceremony unforgettable. When we contacted you through allseasonsweddings.com we were happy to find someone local to Kelowna and close to our venue. Being out of town, from Kamloops, we were happy with how open the communication was over phone and e-mail. We never worried about our ceremony leading up to the big day because we knew it was in very capable hands. Thank you for all the support and love. We could never thank you enough for the amazing experience you provided us. Lots of love from Dylan and Chelsea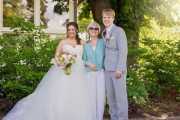 Erin & Riley
Bonny (Thorne) was an amazing officiant, and she made our special day all the more perfect. She was available to us whether it be via phone, text, or email and was happy to answer all questions we may have had. She conducted a beautiful ceremony and it suited my husband and I so well. She is a down-to-earth, caring, thoughtful person and I would recommend her as a wedding officiant to anyone! Thank-you so much again Bonny for making our day amazing.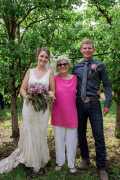 Roxane & Martin
Bonny (Thorne) was such a pleasure to work with! She did a fantastic job on putting young couples like us at ease. She was flexible and made accommodations when we needed it. Her presentation was excellent for our conservative families. It must be ✨stardust ✨that we found her! Thankfully, she was available over the long weekend!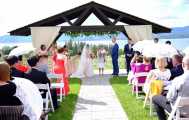 Beata & Jared
Bonny (Thorne) was great- she made us feel so special and kept my crazy guests under control too:) Thank- you so much Bonny for the beautiful poetry and words during the ceremony.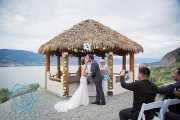 Sam & Fi
We are so glad we asked Bonny to be our wedding officiant. She came highly recommended to us and we could see why after our very first meeting! Her personality naturally put us at ease and made us feel so comfortable during the ceremony. The ceremony words she put together were beautiful and many of our guests commented on how moving it was. She let us have some creative freedom also which let us have a very personalized and authentic ceremony. Thank you so much for being with us for our special day. Love,

Dan & Dani
Bonny Thorne understood our vision of a short, meaningful ceremony and made it come true! Bonny worked with my (bride) anxiety and kept planning the ceremony easy and stress free. The warmth, love and calmness Bonny exudes made our moment magical. Our day was perfect, thank you Bonny! Thank you so much from both of us!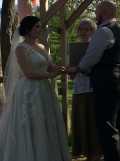 Connie & Kenji
Bonny's (Thorne) bubbly personality put all our guest at ease for our small, casual and intimate wedding. Held in a private home, Bonny directed our wedding ceremony. We appreciated all the guidance she provided and would certainly recommend her for a small wedding party
Jojo & Kevin
We couldn't have found a better or more amazing lady to officiate our wedding! Bonny (Thorne) helped make our wedding unique to us and spent the time to guide us through all the details that can so easily be missed in the midst of all the wedding planning craziness. It simply wouldn't make sense not to have Bonny as part of your wedding, she truly made our special day just that little bit more magical. Thank you for marrying us Bonny!!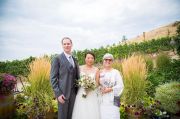 Jacqueline & Ryan
I want to sincerely thank you for being a part of our day. Your enthusiasm and support of our decision to marry like we did was most appreciated. You were so sincere and excited for us, I was very grateful. I was drawn to you immediately and while we were only together for a very short time I feel connected to you somehow. I think that's pretty special. I couldn't have asked for anyone better.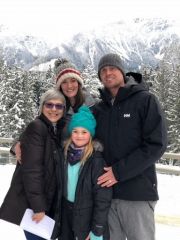 Caroline & Dennis
It means the world to us to have had you Bonny (Thorne) as the officiant for our wedding! Gratitude for making our wedding so absolutely divine! You were awesome and we loved the special intimacy you created, just because of who you are. We knew we were in good hands!