Beverly King
She is an award winning Officiant (Wedding Industry Experts) living in Ancaster. She's a down to earth, likable, outgoing person who looks at all aspects of life with a mixture of compassion, love, humour and definitely optimism. These attributes have served her well all her life as a wife, mother and grandmother, and Chaplain. She is dedicated to making your wedding ceremony meaningful, loving and unique. Bev enjoys a good round of golf, as well as knitting and reading when she has time. She looks forward to working with you to make your special day a memorable one. She is a very requested wedding officiant that books up far in advance.
Request Beverly King
Areas Served
Ancaster, Burford, Paris, Dundas, Hamilton, Burlington, Brantford, Waterdown, Oakville, Stoney Creek, Grimsby, Hagersville, Cayuga, Binbrook, Mount Hope, Caledonia, Lynden, Ohsweken, Carlisle, Freelton, Puslinch, Flamboro, Sheffield
Reviews
Nasser & Jennifer
Bev was really great to work with and added a lot to the wedding itself. Bev was a treat - everyone loved her, including us! We would hire her again though we don't intend to remarry haha. September 2023
Norman & Joyce
Beverly [King] NEVER disappoints! You can tell from the start that she loves what she does and her enthusiasm to ensure you have the best ceremony tailored exactly what you want. For her, it is all about the YOU! She provides options, tools and guidance for you to make the ceremony uniquely yours. Beverly [King] had great delivery of the ceremony injecting humour, love and attentiveness and it has left an everlasting impression on our minds and our guests. We loved the passing of the rings, bringing all our guests into the ceremony, so heartwarming. Jul 2023
Daron & Nicole
Our officiant Beverly [King] was absolutely wonderful to work with and we would pick her all over again! Our personalities clicked right away at the first meeting, she was reliable, sweet, kind and she truly enjoys what she does. We appreciate everything Beverly [King] did to make our ceremony so personal! Thank you Bev!!!!! Aug 2023
Nicholas & Emmeline
The process of finding an officiant and booking through All Seasons was super easy and convenient. It was great being able to search for officiants by location to find someone local to our wedding location. It was the fun and lighthearted ceremony. Bev King is an absolutely wonderful officiant! She was so kind and lovely and easy to work with and she made our ceremony exactly what we wanted it to be! Jun 2023
Cody & Emma
Beverly King was absolutely wonderful, reassuring, and accommodating, she was quick to ease any anxieties on the day and before the big day, she was a total ray of sunshine and I can't recommend All Seasons Weddings and Beverly King enough. 5 Stars. Thank you so much!! ~ Oct. 2022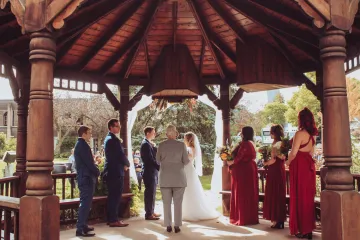 Rebecca & Richard
Beverly King was wonderful, such an amazing day, so grateful to her and everybody. August 2022
Holly & Geoff
Beverly King did such an amazing job at our wedding. The service she wrote was so beautiful and touching, there was not a dry eye in the house. The printed vows on the beautiful booklet was such a lovely touch. I'm so thrilled with everything! She was also very aware of our photos and stepped away during our vows and our kiss. I thought that was so thoughtful and kind. June 2022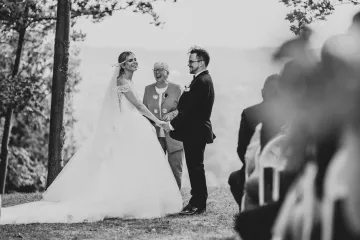 Rachael & Dylan
Beverly King went above and beyond for us. She was an absolute pleasure and made our ceremony one for remember. We wish her all the very best life has to offer. June 2022
Andrew & Lorraine
I am so glad that you included Beverly King's name amongst the others in your list. And so glad we chose her. The wedding would not have been as memorable without her. Everything was perfect. All guests commented how "divine" it was with parts being humorous, others more serious, showing that she really took the time to get to know Andrew and Lorraine very well. It was very personal and memorable. April 2022
Alan & Kaitlyn
Bev [King] exceeded expectations and made me feel so comfortable when I was anxious walking down the isle! She was absolutely lovely and I would recommend her in a heartbeat. October 2021
Timothy & Emma
Beverly King honestly made our wedding week so much less stressful. She's just got such an amazing aura about her. Thank you Beverly! September 2021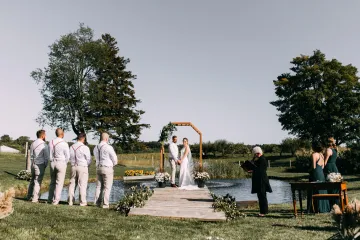 Kristine & Alexander
Beverly was absolutely wonderful to work with. From the initial touch point, Beverly was warm, welcoming, and made every effort to have us feel comfortable and provide us with a personalized meaningful service. Beverly was instrumental at the rehearsal and day-of, ensuring everything ran smoothly, in order, and that everyone knew where they needed to be and when. Beverly lead us through a beautiful service, helping us get through the nerves and tears, and overall the moment was incredibly special, Beverly was very professional, personal, and again, provided us with such a beautiful service. Beverly also looked beautiful and dressed appropriately for the venue and occasion, even knew to pop out of the photo for our "kiss the bride" moment, and took care of all of the required paperwork. You can tell that Beverly truly enjoys this, and it came out in her service delivery. Thank you Beverly for this moment, and everything you did to coordinate it to be so effortlessly! A memory we will treasure. August 2021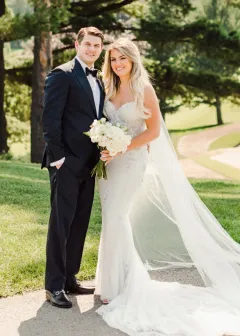 Hannah & Scott
Beverly King was a pleasure to work with! She made the wedding ceremony planning process very easy, and provided us with assistance in designing a ceremony that suits us best. She is super easy-going, playful and light-hearted - just like us. Many of our guests shared with us, following the ceremony, how personable Beverly was. August 2021
Belinda & Roy
Beverly King was great. She was friendly, kind, and helped us create a beautiful ceremony! I would highly recommend Bev and All Seasons. We are very happy with our wedding day and wouldn't change a thing!! Thank you, thank you, thank you ❤️❤️ July 2021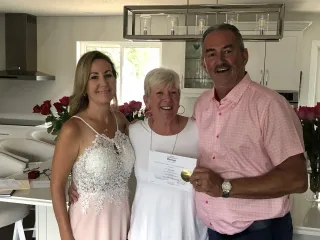 Labinot & Christine
Beverly King was extremely personable and friendly! She made our wedding happen during a provincial lockdown and we are so grateful. It was lovely to meet you Bev and thank you so much. January 2021
Ramsin & Rossana
Beverly King exceeded our expectations! She is so lovely and did not give up on us even during a pandemic. We are so blessed to have had her has an officiant. Ramsin & Rossana December 2020
Scott & Jessica
Beverly King was so funny and sweet! She had such a comfortable vibe to her from the beginning, we are so grateful we were matched with her! Scott & Jessica October 2020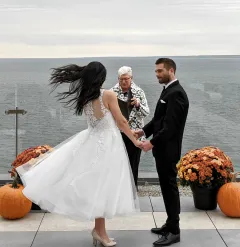 Warren & Nicky
Beverly King was the perfect officiant for our wedding! She is friendly, kind, and caring, She was very relatable, and did a great job focusing on how to make our ceremony personalized and special to us. We could not have asked for a better person to officiate our wedding! Thank you Bev! Warren & Nicky August 2020
Christopher & Leanne
Beverly King exceeded our expectations. Our day was absolutely amazing. With covid and all the changes to our wedding Beverly was great! I can't say enough good things about her. We are so grateful we had her officiate our wedding! Christopher & Leanne August 2020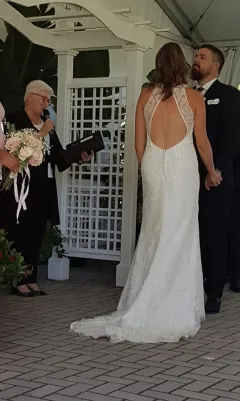 Keith & Stephanie
Beverly King went above our expectations and tried to get to know us on a personal level.Thank you so much to Bev, she truly knew what we want even though we didn't know what we wanted!! Keith & Stephanie July 2020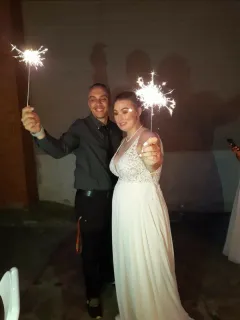 Alan & Amy
Beverly King was lovely and very accommodating in such a difficult time with Covid-19. Thanks to her we were able to fulfill our dream wedding at our home. The whole process was seamless. Bev encouraged us to include and involve our family and friends in our service which we had not expected. It became a focus and highlight. It was truly memorable. Thank you Bev. Alan & Amy May 2020
Dave & Deb
Beverly King exceeded our expectation! We are so glad that we chose her to be apart of our special day. Thank you Beverly fro making the day perfect! Dave & Deb October 2019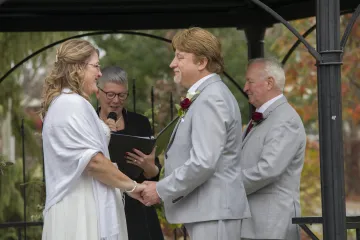 Dylan & Samantha
Beverly King was amazing!!!!! She was very friendly and preformed the ceremony of our dreams! Dylan & Samantha October 2019
Nathaniel & Shannon
Beverly King was exceptional. She made our ceremony our own, and custom tailored it to our needs. She helped us craft the perfect ceremony for our wedding, and made sure every minute was about us. She was comforting and helpful on the day of, and executed our wedding to perfection. Nathaniel & Shannon October 2019
Jonathan & Natasha
Beverly King was AMAZING! She made the whole process enjoyable and stress free. We could not have asked for a better officiant. She is so professional and helpful. Jonathan & Natasha June 2019
Patrick & Teresa
Beverly King was amazing and always very helpful. Thank you Beverly you made our day perfect ! Patrick & Teresa August 2019
Karen & Susan
Beverly King was all we could have hoped for in an officiant and more. She has a great mix of professionalism, humour and sincerity. We highly recommend her. Thank you! Karen & Susan June 2019
Mike & Meaghan
Beverly King was an absolute pleasure to work with, before and on our wedding day! She was extremely helpful and efficient during the planning process and has an amazing personality! I would recommend her 100% .Thank you ! Mike & Meaghan August 2019
Amanda & Jesse
Beverly King was absolutely awesome! She is a lovely lady who met our expectations. We couldn't be happier, Thank you Bev! Amanda & Jesse July 2019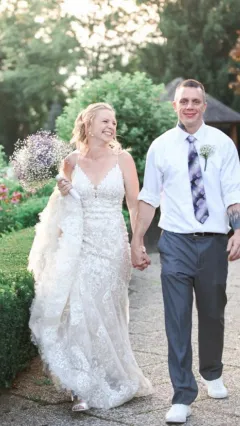 Jake & Melissa
Beverly King exceeded any and all expectations we could have had about our officiant. She is incredibly sweet, and has the best personality. We are in love with the ceremony from our big day ,this is all thanks to Bev and her wish to create the most personalized ceremony. Thank you for everything Beverly. Jake & Melissa July 2019
Angela & Ryan
Beverly was amazing.....she made it a beautiful stress free day to remember! Angela & Ryan. July 2019
Kyle & Ashleigh
Beverly King was fantastic from the first time we spoke right through the actual ceremony. She made our ceremony so intimate and personalized. She included everything we wanted and had beautiful suggestions. The ceremony was delivered with such love and a few laughs which we loved! Kyle & Ashleigh June 209
Kevin & Deanna
Beverly King helped us put together the most beautiful wedding ceremony. She went above and beyond our expectations. She was so helpful from the start and gave us some wonderful ideas of how we could make the ceremony more tailored to us. We appreciated that she was available to do the rehearsal with our wedding party a couple days before the wedding so everyone was aware of what would be happening on the day of. Everyone commented on how beautiful the ceremony was and that is a huge thanks to Bev!!! Deanna & Kevin May 2019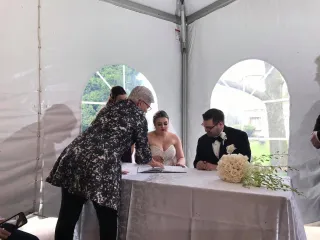 Ambrose & Rebecca
Beverly King was AMAZING. She made everything feel so natural and relaxed. She immediately felt like a part of the family. April, 2019.
Lyndsay & Eric
Bev King was such a key role in making this a wonderful day for us. Her warmth, humour and confidence carried the ceremony beautifully. Over the course of our meeting and some emails, she was able to get a feel for who we were as individuals and a couple. Everyone commented on how the ceremony was very "us", and overall very lovely. September, 2018
Meaghan & Matthew
Bev King made our day that much more special! She is perfectly suited to our personalities. She walked us through everything, made us so comfortable and able to focus on just each other in those moments. We couldn't be more thankful! September, 2018
Debbie & Jim
Beverly King was everything we were looking for and that much more, after our first meeting with Beverly we knew she was the one for our wedding.She wanted to know all the details of our time together, how we meant, about both our families. When the day came she showed up looking awesome, very friendly to everybody like she knew them. The ceremony was full of details on how we meant with lots of humour and the all important vows which we wrote ourselves with Beverly's help. In all she was the best, I would recommend Beverly to anybody that would need her services. June, 2018
Nadia and Geoff
To be blunt, Beverly King is an amazing officiant! After chatting with a couple of other independent officiants who we felt we did not immediately connect with, we met with Bev and we felt an instant connection and comfort with how things would go. She was very helpful in assisting us in preparing, but also took direction and guidance from us in stride and was very flexible in her approach. We cannot say enough good things about our experience having Bev as our officiant, she exceeded expectations, she is extremely professional and made our day extremely memorable. Additionally, since we had an outdoor ceremony it as great that she provided her own sound system for the service (as was one less thing to worry about at that site). Thanks Nadia and Geoff Aug 19th, 2018
Stacy & Justin
Beverly was fantastic! She met with us to go over any questions or information we needed and made us feel super comfortable. Weddings are unique to each couple and she worked with us to ensure ours was tailored to who we are. She was so friendly and personable, very easy to get along with. Beverly was also quick to respond to emails I had, which put me at ease through the process. She is efficient and was great with working with our wedding party and parents. On top of all of that, she knows her stuff. Even just the little details, she nailed it - she stepped out of the space when we said our vows, so it really was me and my husband talking to each other. So amazing. Thank you Bev so much for everything - you helped make the day so special for us and I am so happy we picked you!!!!
Lisa and Ian
Bev was amazing. She knew what we wanted by us simply telling her our vision and was able to create an entire ceremony around it! She was patient and kind and treated my husband and I and our entire wedding party with the utmost respect. She helped my stage fright daughter through her poem on rehearsal night and prepared a binder for her. Just amazing! We are so pleased with our choice to use Beverly King!!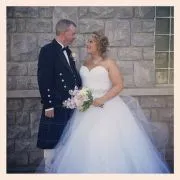 Kara and Matt
Bev (King) was absolutely fantastic! Her personality is so warm and energetic, and she was so pleasant to work with from start to finish, always making us feel at ease. She really made our day special, and we would highly recommend her to anyone!! She's one of a kind!
David & Steven
We could not have decided on a better officiant. Beverly (King) was the first and only one we choose and we were delighted with her. She was very warm, funny and pleasant to work with. She made our wedding day even more special then we had already anticipated. I would highly recommend her to anyone and in fact have already done so. Thanks again Beverly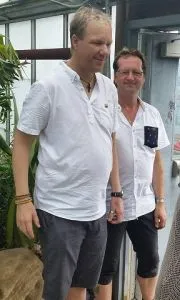 Steven & Lorraine
Beverly King is an awesome down to earth person , she is such a lovely person and makes you feel so comfortable, like she has known you for ever :) Beverly made our wedding so special and we will always remember her.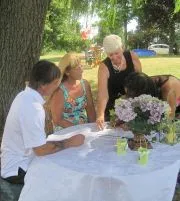 Tyler & Edward
Bev King was great! She gave us exactly what we wanted and was so graceful and relaxed. Everyone commented on how smooth things went at the ceremony!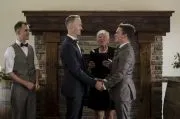 Jason & Misha
Bev King was amazing. She met all of our expectations and was very patient and kind during the whole process. She is a funny person and helped us to have fun while we planned our ceremony. I would definitely recommend her again for someone that is looking for an easy-going atmosphere at their wedding ceremony. She is very knowledgeable and explained everything to us clearly.
Courtney & Robert
I don't think I can thank Beverly King enough, she is such an amazing woman. A kind heart, a beautiful person. She was the perfect person to wed Rob and I, she knows what she is doing and was so helpful preparing our bridal party for the big day. We were blessed to have her as our officiant. I will highly recommend her :D Thank you so much Beverly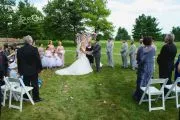 Jessica & David
Bev King absolutely exceeded our expectations, not only the day of the wedding but the days leading up to it as well. She helped with everything from preparing for the day, to forming our ceremony, to calming down my husband and the groomsmen the day of the wedding. Absolutely phenomenal person professionally and personally. We cannot say enough about Bev, she took the time to get to know us; in fact people asked my mother afterwards how long she had known us for. When she responded that we had only met months before people were shocked. She picked up on what we wanted, how we wanted it delivered, and even got to know us so well that she was able to add jokes into the ceremony that everyone thought described my husband and I perfectly. Beverly went above and beyond what we could have ever imagined, I can honestly say that we loved having her as a part of our day. Working with her was an absolute dream and we can say without a doubt in our minds that she would add something special to any couples wedding.
Mandy & Jane
A heartfelt thank-you Bev King! You're easy-going, fun and engaging approach made our wedding ceremony absolutely perfect. You gave us just the right amount of info to prep the way we needed and the right amount of direction and support to make the day exactly what we wanted. You are awesome! We would certainly recommend Bev!
Lisa & Michel
Beverly King exceeded our expectations. She was friendly, bubbly and easy going and listened to everything we wanted. She was a ton of fun and we had many laughs during the ceremony, which made the experience even more memorable and enjoyable than we imagined.
Andrew & Danielle
Met and exceeded expectations. Beverly King was a joy to work with. We are both incredibly happy we were able to find her and share our special with us. The office was extremely helpful. This process was very easy and smooth. Guests were asking how we met Beverly and we would always mention All Seasons Weddings. Beverly was amazing. She helped shape our special day exactly how we wanted. We couldn't have asked for a better person.
Eva & Craig
Bev King was incredible! We had such a great time with her and received great feedback on the ceremony. It was a pleasure to have found her! We would definitely refer Bev to others! Her sense of humour and relaxed personality really shone through. She was a dream to work with :) Thanks for making it a great day Bev!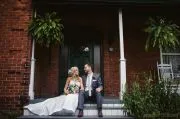 Robert & Amber
Beverly King was so unbelievably helpful to us! When she met with us we told her everything that we wanted to do for our ceremony and she was extremely accommodating. Such a kind, warm-hearted, genuine person. Very strongly recommend her for any ceremony. She definitely made our wedding day extra special with her kindness.
Stephanie & Christopher
Beverly King was very nice and personable. We wanted a casual wedding and she kept the ceremony light and fun.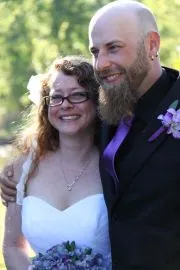 Carol & Jason
Beverly King was lovely, efficient, had a great sense of humour. Thanks Beverly, you made our day perfect... writing in from Isla Pescatori, Lake Maggiori Italy.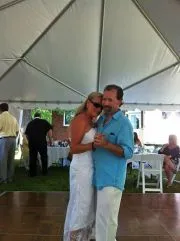 Brandi & Aaron
Bev King was beyond amazing. She was very open to my ceremony ideas and last minute changes, and she was more supportive than I could have imagined. I had so many questions and worries and she had my back the whole time. Beyond just the wedding stuff, she seems like such a ray of sunshine! A very fun and very cheerful and warm person!