Beth Sirett
Beth is one of most requested award winning wedding officiants. She is appreciated for her casual elegance and sense of humour. She loves to sing, musical theatre, walking and traveling. She continues to do extensive volunteer work in her community. Beth offers ceremonies from formal to relaxed, traditional to contemporary, in the setting of your choice. She is open and inclusive, and completely comfortable with people on all paths. You will enjoy Beth's warm, welcoming personality.
Request Beth Sirett
Areas Served
Kingston, Collins Bay, Amherstview, Westbrook, Elginburg, Glenburnie, Sydenham, Harrowsmith, Gananoque, Wolfe Island, Napanee, Verona, Odessa, Yarker, Bath, Amherst Island, Battersea, Newburgh, Sunbury, Inverary, Seeley's Bay, Howe Island.
Reviews
Sarah & Sean
Beth Sirett went above and beyond, meeting with us and talking through the entire ceremony, as well as encorporating elements that were important to us. She was beyond helpful and extremely kind and a pleasure to deal with. I would definitely refer her to others.
Joanne & Michael
Beth Sirett was very friendly and easy-going while remaining professional at the same time. She explained thoroughly at the pre-ceremony meeting, and the ceremony itself was beautifully done. It was exactly what we had planned. She also sent a follow-up email explaining how to apply for our marriage certificate, and encouraged us to get in touch with her at any time if we had questions. I would definitely recommend her to anyone who wants a ceremony that is very relaxed but also very heart-warming.
Dawn & Bob
Beth Sirett was FANTASTIC!!!! We highly recommend her and All Seasons.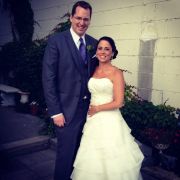 Michelle & Tod
Beth Sirett was wonderful! Very personable and reassuring. She was completely comfortable performing the ceremony that we created. She made us so comfortable that we didn't have a single concern the day of the wedding. She is a lovely person, and it was a lovely ceremony!
Hilary & Kevin
Beth Sirett was amazing. She was exactly the personality that we were looking for to conduct our ceremony :). She was very welcoming, cheery, and down to earth. She was flexible and willing to work with us on the details. It was a delight to share this with her and I would highly reommend Beth in the future. Thank you! Hilary & Kevin Green
Erika & Graham
Beth Sirett was a fantastic match for us, she was warm and open-minded, and very organized! We just loved working with her!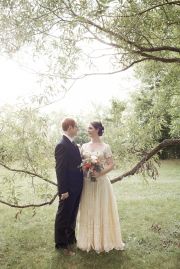 Jackie & Dustin
Beth Sirett was an absolutely amazing officiant!!! We requested her originally because her profile seemed to leap off the information page at us. We were not disappointed at all. She was so warm and encouraging. Although we did not make any changes to the usual program used, Beth still had an uncanny ability to make us and our guests feel that it was unique to us. Several of our wedding guests commented on how wonderful and enthusiastic Beth was during the ceremony and we couldn't agree more. Beth played a lovely role in our wedding day and I would not hesitate to recommend her to anyone
Nancy & Harold
Beth Sirett is absolutely wonderful to work with! We could not have asked for anyone better. Thank you! I tried to send a few pictures with Beth in them.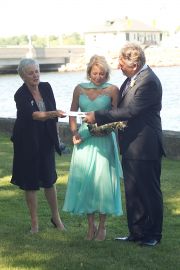 Blair & Justin
Beth Sirett made our day that much more amazing! We could not have asked for more. She made us relaxed for the day knowing we had her up there with us.
Jaima & Ian
Beth Sirett was amazing. We had so many compliments from our guests about how great she was. She seemed very prepared to deal with the emotions that a wedding day can bring. We would HIGHLY recommend her to others. A very positive experience.
Samantha & Mike
Beth Sirett was amazing we could not have been happier!!!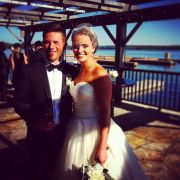 Genevieve & Zoltan
Beth Sirett was amazing. Very kind, caring, attentive and organized. Great communicator by email and phone. Great suggestions from Beth for the script and the ceremony. She drove from Kingston to Rockport to see the site and meet me personally which I really appreciated. I would recommend this company and I would recommend Beth. She was an excellent officiant: great voice, great friendly vibes which made everyone joyful on the day, very organized and knows what she is doing and does it very well. Very impressed with Beth.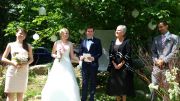 Agnieszka & Mike
Beth Sirett was the perfect officiant! Beth was very organized, personable, professional and sincere - we had many compliments about her officiating at the wedding and we can't imagine anyone else performing the ceremony of our dreams. All Seasons staff were very responsive to e-mails and clear in their responses.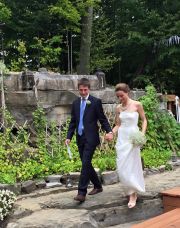 Megan and Ken
Beth Sirett was wonderful. She was exactly what we wanted. She emanates kindness, and warmth. As an introverted bride I was not looking for someone to go off-script and make jokes, I needed someone who I felt calm and confident in and with and this was Beth. We highly recommend her.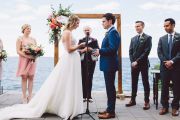 Haley and Brian
Brian and I just wanted to make sure we expressed how happy we were with Beth Sirett for our Gananoque wedding. She was entirely professional, made sure to focus on what we wanted and guide us when we didn't know what that was. She was kind and happy and exuded the relaxed vibe we wanted without losing her composure or professionalism. I would recommend Beth to any couple. Thanks again. Haley and Brian
Matthew & Sarah
Beth Sirett was so wonderful to work with. She was so helpful leading up to the ceremony making the process of preparing so seamless and straightforward. She did a lovely job officiating our wedding and we received so many positive remarks about her style, pace and cheerfulness. Mother Nature ended up giving us some inclement weather on our wedding day but Beth was flexible to start a few minutes late to avoid a downpour - we really appreciated this flexibility and her kindness and support as we made the decision to wait. We would highly recommend Beth! Matthew & Sarah June 2019
Justin & Kelly
Beth Sirett was the most amazing officiant and made our day so special! From the beginning, Beth made sure that the ceremony fit our vision and executed exactly how we wanted it. I actually saw Beth as an officiant at a friend's wedding and really liked the way she delivered and spoke to the crowd. Beth was the perfect balance of being professional, but relaxed which really worked for us! During our meeting about the ceremony script, Beth was open to all of our concerns/changes and also had really good ideas/advice that we hadn't even thought of. On the day, it ended up being rainy but we still decided to have our ceremony outside (in the drizzle). Beth was totally game for the decision and was just as happy to officiate outside as she would of been inside. We weren't able to use microphones during the ceremony because of the rain, but Beth did an amazing job projecting her voice so everyone could hear her (there were 200 people there). We had such a great experience with Beth and with All Seasons Weddings. I would definitely recommend it to anyone getting married! Justin & Kelly September 2019
Michael & Jesicca
Beth Sirett was absolutely amazing. She was so sweet and soft spoken but confident and felt motherly. She eased the groom at the alter and helped us create perfect vows. Michael & Jesicca September 2019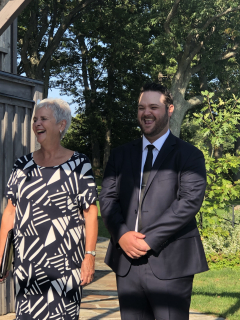 Nicholas & Valerie
Beth Sirett was extremely kind and considerate. She accommodated all the requests that we asked of her including allowing a friend of ours to perform the ceremony along side of her but in French. She was efficient and punctual and would highly recommend her to anyone looking for an Officiant. Nicholas & Valerie October 2019
Brian & Emily
Beth Sirett was great to work with. She listened to us and our vision for the wedding day and was able to make great suggestions to make our service everything that we wanted it to be. The day was perfect. Brian & Emily October 2019