Alex Bostock
I hope to use my many talents to make one the most important events of your life meaningful and memorable. I'm comfortable conducting the wedding ceremony of your choosing. I'm a B.A. graduate of Victoria College, University of Toronto in English Language and Literature, having also studied the Classics and Italian. After having enjoyed a career teaching high school English, Latin and Drama in Toronto for three decades, I've now retired to Bobcaygeon to run a Bed and Breakfast. My hobbies include the Arts, antiques, animals, and travel.
Request Alex Bostock
Areas Served
Bobcaygeon, Fenelon Falls, Dunsford, Lindsay, Buckhorn, Lakefield, Minden, Kinmount, Omemee, Coboconk
Reviews
Mathew & Sarah
Alex Bostock was friendly, patient, punctual, and kind. His voice carries very well and is very warm, perfect for what he does! We would 100% recommend Alex for your upcoming nuptials! September 2021
David & Kara
Alex Bostock did a great job as our officiant at our wedding. A few weeks prior he sent us an email to touch base with us and made us feel very comfortable through the process. He arrived early to make sure everything was ready for the ceremony. Everything was perfect. Thank you Alex! David & Kara August 2020
Nathan & Amanda
Our venue was a bit off the beaten path ,we were worried Alex Bostock wouldn't make it. Alex showed up ahead of time. We were on a dock on a windy day and his voice projected well so all could hear. Thank you Alex! Nathan & Amanda August 2019
Harsh and Alex
Hi Alex: I just wanted to reach out to thank you for making our ceremony on Saturday so special. Even though it was a small, family-only event, I was blown away by how big it felt, and the words that you spoke contributed a lot to that feeling. I'm very grateful that we had you as our officiant on our big day, and I know it's something that we'll always remember.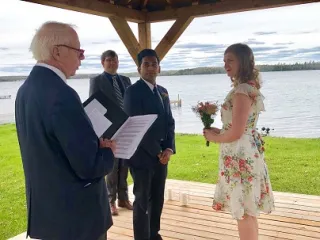 Tawny and Jeramy
Dear Alex, Now that a couple of weeks have passed and we have surfaced from the post-wedding bliss (and fatigue!), we wanted to write and thank you for everything. We appreciate that you very professionally and kindly braved the rain with us, and that you were able to project your voice over the sound of water falling on the pond! We are very happy with how our wedding went; it was a beautiful and magical day. Thank you again for your contribution. Al the best, Tawny and Jeramy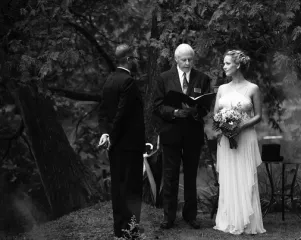 Jeff and Jolynn
Hi Alex We just wanted to thank you for such a great job you did for us. All our family was so pleased we were with your services Thanks again
Biljana and Jim
Dear Alex, Words fail me when i try to express gratitude - you went beyond and above the call of duty to make our wedding special. We will always hold you dear in our hearts and wish you wonderful, happy and successful life. Who knows - we might meet again - your beautiful home left impression on us and we might come for a visit as guests in your B&B! Thanks again, with love and appreciation,
Madeline & Alden
Hello Alex; Alden and I just wanted to send you an email to say that we cannot thank you enough for the ceremony you preformed for us yesterday. Your presence, your demeanor, and your warmth were so wonderful. We could not have dreamed of a better ceremony. Thank you again for making our special day absolutely perfect. All the best Madeline & Alden