Alan Steed
Alan, originally from the U.K., lives in Elliot Lake, Ontario. He is warm, friendly, and respectful of the uniqueness of each individual. He has a sense of humour and gets along easily with those he meets. He is a graduate of Southampton University, in England, and has an interest in the health and well-being of those with whom he comes into contact. He is a retired Elementary School Teacher, and now spends his time helping people to reach their life goals. Alan is a great public speaker who has worked throughout Southern Ontario, Alberta, and New York State. He believes that every person has greatness within. Alan has been with his partner for over 20 years and they married in 2006. Whatever type of ceremony you would like, please consider Alan as a wedding officiant who will work alongside you to create a memorable and personal occasion.
Request Alan Steed
Areas Served
Elliot Lake.
Reviews
Eric & Brigitte
Alan Steed was great. He went out of his way to learn how to say a few lines in French when he learned that we had originally planned a bilingual officiant (and then covid happened and we had to change date and location). He also took time to drive out to the site ahead of time to make sure he knew where he was going (as it was a little ways down a dirt road) Eric & Brigitte September 2020
Thomas & Kristine
Alan Steed was so awesome to work with. He understood our wedding vision for the ceremony perfectly and made us both feel very comfortable with everything! We have nothing but good things to say about Alan and the service he provided us!! Thomas & Kristine August 2019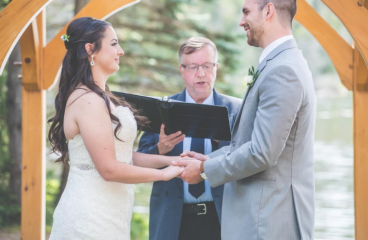 Joshua & Rebecca
Alan Steed was amazing! He helped us stay relax, and made us feel so comfortable. Thank you for everything! Joshua & Rebecca September 2019
James & Cheyenne
Alan Steed went above and beyond our expectations... We highly recommend him to any couple for their special day! Alan helped make the whole planning process easy... Alan helped make our day so much more special! James & Cheyenne August 2019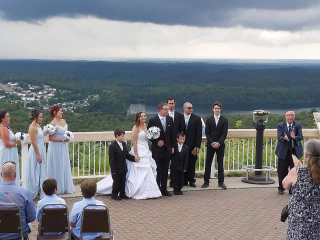 Christopher & Arianna
Alan Steed was amazing! Thank you for everything. Christopher & Arianna August 2019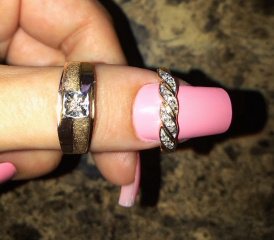 Paul & Andrea
Alan was lovely, he allowed us to create exactly what we wanted in a ceremony. He is highly recommended and such a joy to work with. He always had a smile and is such a happy personality. Paul & Andrea. July 2019.
Sloan and Kevin
Alan Steed just married me and my husband on October 20, 2018....what can we say to express our total delight with him??!! From the very start, he was open, efficient, organized, and super sweet and caring. He listened to everything we wanted and then made it happen! He is a gentle and beautiful soul (and hilarious as well)! All my girlfriends at our wedding demanded his name for their weddings next summer. Guests who have been married over 50 years said he was the best Officiant they have ever witnessed. A HUGE shout-out to Alan! He made our day absolutely magical! And thanks to All Seasons for being a fantastic company to deal with! The personnel all rock! Super friendly and helpful! Thanks for everything, Sloan and Kevin
Jessica & Brandon
My Husband and I were so happy to have Alan Steed as our officiant! He did an amazing job and really got to know us so that he could offer us the best ceremony possible. we are feeling very blessed to have had him as part of our special day and are still blessed to have him as a friend. Thank you Alan! Sept 2018
Elizabeth & Justin
I'd like to leave feedback regarding the All Seasons Wedding Service and our officiant, Alan Steed. Our wedding was in Blind River, ON in August 2018. Firstly, All Seasons Weddings took the stress out of finding a licensed officiant who would allow us to have the ceremony we had envisioned. The booking process was very straightforward and I would recommend the service highly. Our officiant, Alan Steed, was an absolute delight. Alan's approach to planning the ceremony was very collaborative - he wanted us to be involved in structuring the day. Alan was happy to offer his expertise when needed. On the day, Alan was punctual and did a tremendous job connecting with guests before the ceremony. His calm and positive demeanour made everyone very comfortable. We would recommend him highly. Photography provided by Amanda Thirkill Photography.
Melissa & Brett
Brett & I wanted to give a huge thank-you to Alan Steed for officiating. When we told him that we were surprising our parents by getting married at the family cottage, he met the idea with the same enthusiasm that we had for it, which really set us at ease! It takes a special kind of person to balance the solemnity of performing a marriage ceremony with the right dose of good humour, and Alan did just that! Because of this, we'll always have such great memories from our wedding day :) Thank you for everything! Lastly, I wanted to express our gratitude to the entire team at Wedding Ceremonies by All Seasons for helping us make our idea of a perfect ceremony a reality! I first called All Seasons to inquire about the services, and the staff member I spoke with was very helpful; she took the time to ask me what I had in mind for the ceremony and explained the differences between packages. We received informative and thorough emails throughout the process explaining all the steps we needed to take. We really appreciate the excellent communication from your company, as it was one less thing to worry about when planning our wedding! Lastly,
Anonymous
Alan (Steed) was amazing to deal with. He ensured we were both relaxed, organized, and had fun at the same time. Any requests we had, he without a doubt proceeded and made it happen. If he is available, I highly recommend Alan! Thank you for making our day so special and wonderful!
Mackenzie & Cassandra
Alan Steed was absolutely amazing. He was professional, thorough, easy going, and very funny. All of the qualities we had hoped in an officiant for our special day. He made my wife and I feel extremely comfortable on what is typically a nerve wracking day! Thank you, Alan! Mackenzie & Cassandra June 23rd, 2018
Josee & Nick
Alan (Steed) has been the greatest Officiant!! Although we lived out of town he was very accommodating and helped us in any way possible! After our ceremony SO many people commented on how great he was. He was patient, kind, loving and had a good sense of humour throughout the entire process. All in all, Alan has been wonderful and we would definitely recommend him to anyone!! Josee & Nick
Ken and Dawn
Well what can we say!! We are celebrating our eight month wedding anniversary today and have nothing but great memories of our beautiful ceremony. Alan (Steed) was such a pleasure to work with, from the first phone call, to the meeting at Tim Horton's where we customized the ceremony and of course our wedding day. He was easy to talk to and made us both feel comfortable with the process. We are so thankful he was able to incorporate everything we wanted in the ceremony, and also a great photographer. Very grateful for Alan and could not think of a better way to begin our married life together. Thank you for everything Alan! Ken and Dawn
Heather and Jason
Jason and I just want to express our Thanks to Alan Steed for making our wedding day extra special. With the chaos of the kids not wanting to walk down the aisle and my daughter in law performing temper tantrums. I was a little upset. But as I got to the front and being reassured from both Jason and Alan, I calmed down. It was a great ceremony and all the guests complimented. Jay will have no excuse to forget the anniversary since its also your anniversary. We are honored you were available to officiate our day. Really appreciate all the help with including the kids in our ceremony. Thank you again for sharing our special day! Heather and Jason
Jolene
Alan (Steed) was fantastic! He made us feel so comfortable as we are both shy people. He had some wonderful ideas and was open and flexible to questions and feedback that we had. And on top of everything is accent is adorable! Lol ;)
Barbara & Mark
Alan Steed was a perfect match for us. He was professional and had a positive attitude. He was comforting and had met every need we wanted in our ceromony. I would most definitely refer Alan to others. Thank you Alan and All Seasons for making our wedding more special.
Katie & Tyler
From the moment we met Alan (Steed) we were reassured in the midst of all our wedding planning- we did not need to worry about our wedding ceremony on the big day. Alan is very organized, attentive to needs of others and a fabulous, relaxed man to chat with. All of our friends and family commented on how wonderful he was! I would recommend Alan as an officiant to anyone looking to be sure their day runs smoothly and without worries! Katie & Tyler Sept 10th, 2016
Mandy & David
Alan Steed was my grade 6 teacher and it was a blessing to find him on the website! Although it's been 20 years since I've been in his class, there is nothing about him that has changed - Alan is one of the warmest, kindest, and funniest person you'll meet. He always goes above and beyond to make sure you're happy and taken care of, and on the wedding day, it was no different! Alan was incredibly patient as he walked us through the ceremony and was extremely flexible to accommodate anything that we wanted to include as part of the ceremony. He has the ability to calm your nerves and is super responsive with any questions or concerns you may have. Having Alan as part of the wedding was a highlight in our ceremony - we couldn't have asked for anyone better. Thank you!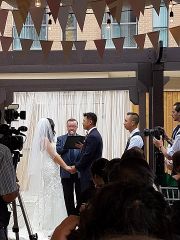 Vanessa & Shawn
Alan Steed went above and beyond expectations for our ceremony. It was an absolute pleasure to have him involved. It was as if he was a part of our family! He completely clicked with the colourful vows and understood humour was a huge part of our families. We had a lot of fun with him and just adored his flair and joie de vivre. He was happy to ad lib when our ring warming was lagging behind and was just the best!!! It was great that we were able to depend on such a company as we live in Montreal, and were coming down to Ontario for our wedding. Thank you! The ceremony was a highlight of the day, everyone was commenting on how well it went and how fun it was!
Matthew & Lisa
Alan Steed was wonderful. We really appreciated him being our officiant.
Ashley & Clayton
Alan Steed was wonderful throughout. He went above and beyond to meet with us, talk through things on the telephone, and made sure everything was just how we wanted it. Alan was quick in response to any emails/questions that we had. Couldn't have asked for more! Anytime I called any of the staff they were helpful and friendly. Thank you for making this portion of the wedding so smooth and effortless. And thank you, Alan, for being a kind and calm soul to guide us in this next step of our lives.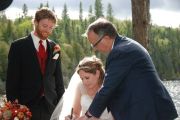 Lynn and Mark
I just wanted to let you know what a Fabulous time we had with our officiant Alan Steed. Alan personalized the ceremony to suit us. Including our out of the way location, our vows and just being a part of our day. He kept us on track and was a huge part of our special day. I loved his enthusiasm and genuine interest in what we were doing. I would highly recommend his services to anyone ! Thank you! Lynn and Mark September 12, 2015
Kirstie & John
Alan Steed was our officiant at our beautiful ceremony in Elliot Lake, Ontario. We knew that it was going to be a easy and relaxed ceremony simply because Alan made it that way for us! He was an absolute joy to work with and we will be recommending him to all of our friends in the future. Everyone continues to compliment what a lovely ceremony we had. Thanks again to Alan for making our day that much more special!
Sarah & Dan
Alan Steed did a wonderful job. He provided great support before the wedding and continues to offer guidance. The accent is a nice touch ;) I would highly recommend him.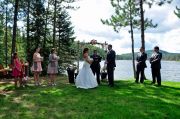 Melissa & Zafer
Alan Steed did a fantastic job! He was warm, genuine and funny and it was truly a ceremony that reflected both our personalities. Alan listened attentively during our meeting before the big day and made sure that we were comfortable with every word that was said during the ceremony. He was a total pro and made the day so special for us.
Marie & Andrew
Alan Steed was a spectacular officiant. He was flexible, understanding, compassionate, motivated, helpful, friendly and thoroughly reassuring. He was completely committed to helping us have the wedding of our dreams, including sticking with us as our first venue/ceremony was unexpectedly changed (resulting in a lengthy drive for Alan in order to make it to our second venue). He was very responsive and motivated us without being pushy or insistent. He was accommodating of our schedule and needs, as we were planning a wedding from the US, and met us at a time that was convenient for us. He was exceptional in our planning meeting, offering advice and feedback but ultimately sitting back and letting us plan our wedding as we liked. He was understanding about our last minute changes and flexible right up until the wedding began! All our friends said that our service was the best they'd ever seen, and we owe Alan a great deal for that!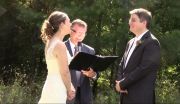 Jessica and Michael
Alan Steed was great throughout the entire process. Couldn't have asked for more! The office staff is very friendly and very personable. I would recommend All Seasons Weddings and Alan Steed to anyone else getting married for sure, he was great.
Dave & Amy
Alan was amazing from the moment we met. He made the process so easy and was accommodating in every aspect leading up to our big day. His genuine, caring & humorous ways made the wedding ceremony that much more special. Compliments continue to pour in after our wedding and we couldn't have asked for anyone better. Thanks again Alan!!!!
Katie and Derek
Alan Steed was hired as our officiant, and quickly became a friend. Not only did he walk us through the entire process of the marriage ceremony, but he fulfilled his duties with excitement, enthusiasm, and sincerity. We received multiple compliments about the beautiful service Alan performed. We will continue to to recommend him to any and all parties that are getting married!
Anne & Nixon
Alan Steed was everything we could have hoped for and more! He was very engaging and we have a lovely time meeting with him and editing the ceremony to fit our personalities. He was inspiring and a joy to be around. The ceremony was completely perfect. We are very happy to have Alan in our lives! Thank you so much for helping us to make the day everything it could be. It was completely magical, and we made a wonderful new friend in the process. Thanks Alan! Alan kept things casual and sweet. Totally awesome !